Cloughaneely's Language Planning group has announced the nominees of the first-ever Irish-language Employee of the Year Awards.
Over 200 people attended the awards ceremony where Mary Duggan of the Gweedore Bar in Falcarragh was announced as the overall winner of the competition, scooping up a commemoration cup and a cheque for €200.
Sile Collum who works in Falcarragh Service station took second place and Liam McClafferty, the well-loved barman in Ostan Loch Altan was in third.
The overall winner of the young people's section of the competition was Aine Jackson of Ostan Loch Altan. Chelsea Gleeson of The Gweedore Bar was in second place followed by Shane McLafferty of Eurospar Gortahork in third.
Two special recognition awards were also presented to non-native speakers, one to Sile Ni Ghallchoir of DNG Kelly and the other to Tara Ni Fhearraigh of Café Batch.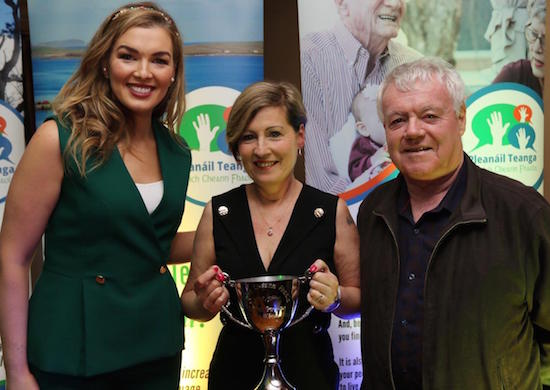 Caitlin Nic Aoidh of TG4 presented the awards and hosted a ceremony that entertainment provided by some of the young talent from the area.
The awards aim to recognise employees who promote the use of Irish in the workplace and who provide Irish-language service to customers. A total of 18 nominations were made.
Speaking at event, Micheal Mac Aoidh, Cloich Cheann Fhaola Language Planning committee said businesses in the Gaeltacht are beginning to realise the importance of the Irish-language to their businesses.
He said "Many visitors to the Gaeltacht want an opportunity to speak Irish in the shops and restaurants they frequent. Even those without Irish want to hear it spoken. These awards aim to reward employees who offer customers an Irish-language service and who promote the language within the workplace".
Ten others were also recognised at the event. They were Seán Ó Gallchóir, Cloughaneely Golf Club; Bríd McCurry, Pobal Le Chéile; Carmel Duggan, Èurospar Gortahork; Grace Ferry, Èurospar Gortahork; Bríd Collum, Circle K, Falcarragh Service Station; Paddy McHugh,An tSeanbhearic; Liam Mac Eachmarchaigh, Óstán Loch Altan; Síle Uí Ghallchóir, Manus Kelly -DNG auctioneers; Mary Bean Uí Mhúrraigh, the Gweedore Bar; and Síle Bán nic Aoidh, Greenes shoeshop.