HUNDREDS turned out for the 49th annual St Stephen's Day 5k at Finn Valley AC this afternoon.
By Chris McNulty Pictures by Dermot McGranaghan
Glenswilly teenager Sean McGinley was the race winner in 15 minutes and 57 seconds.
Letterkenny man Michael Black was second in 16:27 with Finn Valley AC's Mark McPaul third in 16:50.
Finn Valley woman Teresa Doherty was the leading female, finishing in 17:56.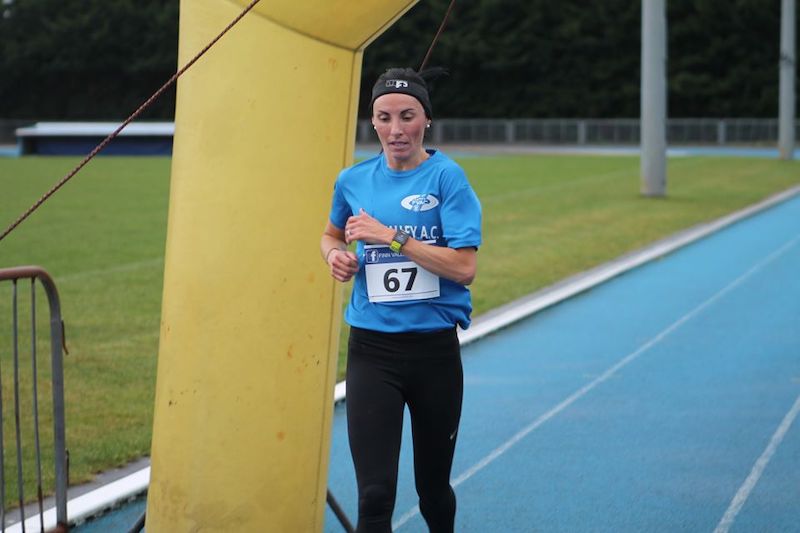 Over 500 turned out to take part beneath the greying Stranorlar sky at midday.
Finn Valley AC Chairman Patsy McGonagle reflected on the first staging of the race, which attracted only 13 participants.
"Everyone at that time thought those people were mad, running at Christmas time," McGonagle reflected.
"Things have changed massively in the years since. We're delighted that this race is still a firm part of the annual calendar.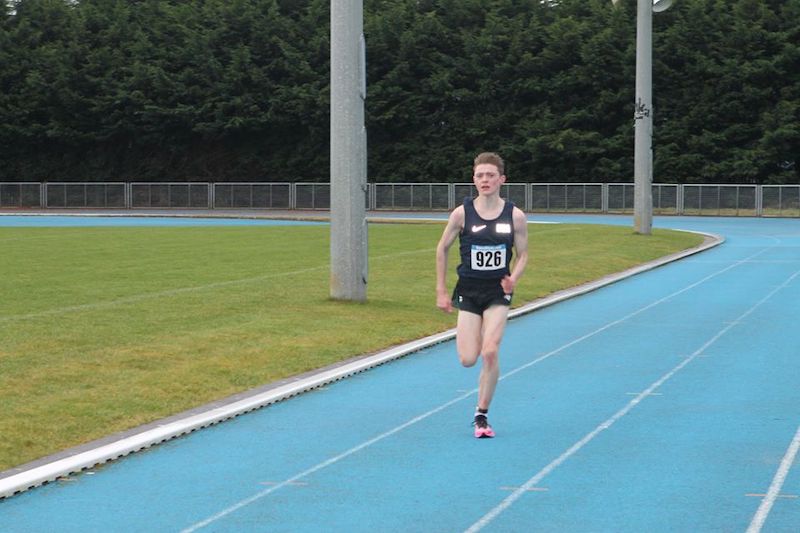 "We have to thank the stewards, to those who came out, the walkers, joggers and runners, everyone who either took part or helped out in any way."
There was a strong presence of Donegal sportspeople at the event, which was officially started by former Donegal GAA star Michael Lafferty and his family.
Middleweight boxer Jason Quigley, who is a regular at the race, took part in a light jog to compliment his busy training schedule ahead of his return to action in early 2020.
Irish rugby international Laura Feely and Dundalk attacker Georgie Kelly – both of whom competed for Finn Valley in their youth – were among those in attendance.
See below for the full results …
Finn Valley Boxing Day 5k 2019
Place
Bib
Name
M/F
AG
Club
GunTime
1.
926
Sean McGinley
M
MO
Individual
15:57
2.
216
Michael Black
M
MO
Ind
16:27
3.
942
Mark Mc Paul
M
MO
Finn Valley A.C
16:50
4.
887
Gavin Crawford
M
Male 40-44
24-7-Tri
17:05
5.
919
Hugh Coll
M
Male 40-44
Milford AC
17:14
6.
923
GERARD GALLAGHER
M
MO
FINN VALLEY AC
17:31
7.
203
BARRY GALLAGHER
M
Male 40-44
FINN VALLEY AC
17:31
8.
246
Oisin Toye
M
MO
Finn Valley A.C
17:40
9.
896
DERMOT BRENNAN
M
MO
FINN VALLEY AC
17:47
10.
67
TERESA DOHERTY
F
FO
FINN VALLEY AC
17:56
11.
108
Sean McFadden
M
Male 40-44
Letterkenny Athletic Club
18:02
12.
910
Kevin Curran
M
MO
Sportsworld  RC
18:09
13.
996
Enda Doherty
M
MO
FVF4L
18:35
14.
221
Edel Monaghan
F
FO
Dublin City Harriers
18:35
15.
925
Leoni Mullen
F
FO
Finn Valley AC
18:41
16.
222
Eamonn Monaghan
M
Male 40-44
Enniskillen RC
18:47
17.
894
Eimear Wiseman
F
FO
Letterkenny Athletic Club
18:48
18.
145
Cian Friel
M
MO
Letterkenny Park Runners
18:55
19.
933
DAMIAN MURPHY
M
Male 40-44
RAPHOE ROAD RUNNERS
19:03
20.
796
Pádhraic Patton
M
MO
Sean Mac Cumhaills
19:09
21.
178
Kathy Ward
F
FO
19:11
22.
883
John McElhill
M
Male 40-44
Finn Valley AC
19:14
23.
915
Patrick Duffy
M
Male 40-44
Millford A.C
19:16
24.
314
Garvin Walker
M
MO
Individual
19:21
25.
292
Eamonn Patton
M
Male 40-44
19:24
26.
72
David McNulty
M
MO
Finn Valley AC
19:30
27.
278
Conor Murphy
M
MO
Finn Valley AC
19:40
28.
179
Conor Ward
M
MO
19:45
29.
957
KAREN GALLAGHER
F
FO
FINN VALLEY AC
19:45
30.
63
RICHARD BURKE
M
MO
FOYLE VALLEY
19:49
31.
198
RYAN KELLY
M
MO
RED HUGHS
19:54
32.
171
CATHAL DOHERTY
M
MO
RED HUGHS G.A.A
19:54
33.
791
Karen Gallagher
F
FO
Finn Valley AC
19:58
34.
220
Shane Gallagher
M
MO
Finn Valley AC
19:58
35.
962
DESSIE GALLEN
M
Male 40-44
PRO FITNESS
20:06
36.
64
STEPHEN JOHN CARLIN
M
MO
PRO FITNESS
20:13
37.
225
George Grier
M
MO
24-7-Tri
20:15
38.
291
Catriona Devine
F
Female 40-44
Finn Valley A.C
20:17
39.
888
Michael Penrose
M
Male 40-44
Finn Valley A.C
20:19
40.
138
JASON CALLAGHAN
M
Male 40-44
RED HUGHS
20:19
41.
946
Carolien Lubberhuizen
F
FO
Finn Valley AC
20:21
42.
241
Joanne Campbell
F
FO
Finn Valley A.C
20:34
43.
277
Patrick Murphy
M
B U15
Finn Valley AC
20:36
44.
237
Joanne Mc Nabb
F
Female 40-44
Finn Valley A.C
20:44
45.
891
Shaun Mc Daid
M
MO
Ind
20:44
46.
213
Tom Thompson
M
Male 40-44
Finn Valley A.C
20:44
47.
163
Mark Sproule
M
MO
Sean Mac Cumhaills
20:46
48.
259
Caelum Bonar
M
MO
Sean Mc Camhaills
20:47
49.
953
Eamon Connolly
M
Male 40-44
Aghyaran Athletics
20:49
50.
885
JOHN FEALY
M
Male 40-44
MILFORD AC
20:53
51.
967
RONAN TOURISH
M
MO
INDIVIDUAL
20:54
52.
316
Bryan Mc Namee
M
MO
Ind
20:57
53.
317
Raymond Mc namee
M
MO
Ind
20:57
54.
897
PAUL GALLAGHER
M
MO
PRO FITNESS
21:00
55.
950
Eimear Gormley
F
FO
Letterkenny AC
21:03
56.
407
Vincent Nally
M
MO
Ind
21:06
57.
217
John Fleming
M
MO
Finn Valley AC
21:07
58.
73
EOGHAN KENNEDY
M
MO
INDIVIDUAL
21:07
59.
130
Conor Lyons
M
B U15
Finn Valley A.C
21:11
60.
243
Alan Catterson
M
Male 40-44
Finn Valley A.C
21:12
61.
406
Patrick Kiernan
M
MO
Westmeath
21:13
62.
795
Ailsh Patton
F
FO
Finn Valley AC
21:14
63.
300
MATTHEW MCGEEHAN
M
B U15
FINN VALLEY AC
21:15
64.
898
DARREN BELCROFT
M
Male 40-44
LETTERKENNY AC
21:16
65.
159
GAVIN GALLAGHER
M
MO
INDIVIDUAL
21:17
66.
952
Michael Connolly
M
Male 40-44
Aghyaran Athletics
21:20
67.
211
Anna Russell
F
G U15
21:23
68.
210
Nicola Wallace
F
Female 40-44
Individual
21:24
69.
348
CAOLAN MCGINTY
M
MO
AGHYARAN
21:24
70.
189
DENVER KELLY
M
MO
FINN VALLEY AC
21:32
71.
794
John Lynch
M
MO
Sean Mac Cumhaills
21:38
72.
932
MARIA HARRON
F
Female 40-44
STAINLAND LIONS
21:40
73.
160
MARTIN MCCAFFERTY
M
Male 40-44
INDIVIDUAL
21:44
74.
239
Ryan Gallen
M
MO
Pro. Fitness
21:44
75.
372
ANNE MARIE LOGUE
F
FO
INDIVIDUAL
21:45
76.
229
Alfredo Campas
M
MO
21:45
77.
909
Adrian Gillespie
M
MO
21:49
78.
908
Caolan Gillespie
M
B U15
Finn Valley A.C
21:49
79.
357
Thomas Dolan
M
MO
Aghyaran Athletics
21:54
80.
789
Evan Kee
M
B U15
Finn Valley AC
21:56
81.
261
Paul Mc Cabe
M
Male 40-44
Finn Valley A.C
21:56
82.
983
Enda Corry
M
MO
Sexeter Runners
21:57
83.
344
John A Mc Mullan
M
Male 40-44
St Marys Convoy
21:57
84.
958
KIERAN COYLE
M
MO
PRO FITNESS
22:02
85.
236
David Crowe
M
MO
22:03
86.
147
John Mc Ginty
M
MO
22:06
87.
212
Trevor Gethins
M
MO
22:07
88.
931
TRACEY MC CAULEY
F
FO
INDIVIDUAL
22:07
89.
401
Paul Lynch
M
MO
Ind
22:13
90.
975
John Cromie
M
Male 40-44
22:14
91.
276
Martina Irwin
M
Male 40-44
Finn Valley AC
22:14
92.
218
Thomas Maguire
M
MO
Ind
22:15
93.
208
Niall Mulrine
M
Male 40-44
Individual
22:15
94.
173
Sean O'Leary
M
Male 40-44
Finn Valley A.C
22:16
95.
340
Joseph McGinley
M
MO
Individual
22:16
96.
765
Daniella Jansen
F
FO
Finn Valley AC
22:16
97.
202
Alan Mitchel
M
MO
Ind
22:21
98.
905
Jonathan Connolly
M
MO
Aghyaran Athletics
22:23
99.
70
Liam Mc Ginty
M
Male 40-44
Finn Valley A.C
22:23
100.
176
liam Gillespie
M
Male 40-44
Finn Valley A.C
22:24
101.
153
GERARD MCCONNELL
M
Male 40-44
SWANLINGS
22:29
102.
74
JOHN GRIFFIN
M
Male 40-44
FVF4L
22:35
103.
199
Shane Dunne
M
MO
22:35
104.
137
TIM CALLAGHAN
M
Male 40-44
RED HUGHS
22:37
105.
768
Noreen Bonner
F
Female 40-44
Finn Valley AC
22:38
106.
257
Eugene Mc Ginley
M
Male 40-44
Swanlings A.C
22:39
107.
981
Ben Austen
M
Male 40-44
Individual
22:40
108.
380
JAMES KEARNS
M
Male 40-44
INDIVIDUAL
22:42
109.
66
JILL THORNTON
F
FO
FINN VALLEY AC
22:43
110.
302
PATRICK MCNAMEE
M
Male 40-44
INDIVIDUAL
22:44
111.
944
JP Mc Granaghan
M
Male 40-44
Raphoe Running Group
22:44
112.
325
Jerome Mc Elchar
M
Male 40-44
Finn Valley AC
22:46
113.
296
SHAUN MCGLYNN
M
Male 40-44
PRO FITNESS
22:48
114.
315
Paddy Costelloe
M
MO
Pro-Fitness
22:48
115.
792
Brendan Patton
M
Male 40-44
Finn Valley AC
22:49
116.
916
BRIAN HARVEY
M
Male 40-44
FVF4L
22:49
117.
928
Aoife Mc Grath
F
FO
Finn Valley AC
22:49
118.
924
Gareth Doherty
M
Male 40-44
Pro-Fitness
22:55
119.
918
Orlaith Mc Crory
F
G U15
Lifford Strabane AC
22:57
120.
408
matthew larkin
M
MO
Ind
22:57
121.
779
Shay Mc Nulty
M
B U15
Finn Valley AC
22:57
122.
775
Shane Mc Nulty
M
Male 40-44
Finn Valley AC
22:58
123.
96
LIAM GORDON
M
MO
SWANLINGS
23:00
124.
242
Michael Mc Nulty
M
Male 40-44
23:00
125.
215
Tereance Quinn
M
Male 40-44
Raphoe Road Runners
23:00
126.
394
ULTAN O GIOLLAGAIN
M
B U15
INDIVIDUAL
23:03
127.
223
Stephen Gallen
M
MO
Pro-Fitness
23:05
128.
200
Jim Mc laughlin
M
Male 40-44
FVF4L
23:06
129.
363
Simon Walsh
M
MO
Individual
23:08
130.
295
Martina Mc Daid
M
MO
Pro-Fitness
23:08
131.
269
Conor Mc Gl;ynn
M
MO
Pro-Fitness
23:10
132.
131
SHAUN BOYCE
M
Male 40-44
INDIVIDUAL
23:12
133.
148
Stephen Henderson
M
MO
23:13
134.
358
Sean Dolan
M
MO
Aghyaran Athletics
23:14
135.
984
Chris Gallagher
M
MO
Sean Mac Cumhaills
23:14
136.
256
Seamus Curran
M
Male 40-44
23:16
137.
197
DAMIEN MURPHY
M
MO
MELVIN WJR
23:20
138.
230
Terry O' Donnell
M
Male 40-44
23:21
139.
753
Paddy Hannigan
M
Male 40-44
Individual
23:30
140.
265
Andy Scanlon
M
Male 40-44
Finn Valley A.C
23:30
141.
182
Kieran Doherty
M
MO
23:32
142.
143
Greg Britton
M
Male 40-44
23:32
143.
172
Mary Hippsley
F
Female 40-44
Finn Valley A.C
23:34
144.
177
Mark Quinn
M
Male 40-44
23:35
145.
94
EMMA LAWRENCE
F
FO
CASTLEFINN RUNNING
23:37
146.
790
Diane Gallagher
F
Female 40-44
KCR
23:39
147.
141
KATHRYN GIBBONS
F
FO
INDIVIDUAL
23:40
148.
345
JAMIE MCCLEAN
M
MO
INDIVIDUAL
23:43
149.
399
MATTHEW DOWDS
M
B U15
FINN VALLEY AC
23:46
150.
71
Karl Doherty
M
B U15
23:46
151.
185
Damien Alexander
M
MO
Finn Valley AC
23:47
152.
168
Paddy Doherty
M
Male 40-44
Finn Valley AC
23:48
153.
165
Noel Duffy
M
Male 40-44
Finn Valley AC
23:48
154.
987
Gavin Kelly
M
Male 40-44
Portmarnock A.C
23:56
155.
214
Hugh Allan
M
Male 40-44
Raphoe Road Runners
23:56
156.
356
Charlie Kelly
M
B U15
Ind
23:58
157.
384
Karen Ferguson
F
FO
Individual
23:59
158.
972
Christopher Diver
M
MO
24:02
159.
228
Lisa Kearns
F
Female 40-44
24:03
160.
180
Liam Ward
M
Male 40-44
24:09
161.
893
Theresa Wiseman
F
Female 40-44
Letterkenny Athletic Club
24:12
162.
343
Michael Mc Elroy
M
MO
Ind
24:15
163.
161
A O DONNELL
M
Male 40-44
INDIVIDUAL
24:16
164.
920
Rodney Irwin
M
Male 40-44
Ind
24:31
165.
118
MARK O SULLIVAN
M
MO
PRO FITNESS
24:32
166.
305
JESSICA LAFFERTY
F
G U15
FINN VALLEY AC
24:33
167.
338
Eanna Mc Dermott
F
Female 40-44
Ind
24:35
168.
195
Dominic Mc Glinchey
M
Male 40-44
Castlefinn Running
24:39
169.
267
Adrian Patton
M
MO
Castlefinn Running
24:39
170.
101
David Gallen
M
Male 40-44
Pro. Fitness
24:44
171.
927
Brendan Coyle
M
Male 40-44
Individual
24:44
172.
311
Annya O'Rourke
F
G U15
Individual
24:48
173.
201
Pauric Mitchel
M
Male 40-44
Ind
24:49
174.
371
Frances McGlynn
F
FO
Individual
24:49
175.
146
Iver Goudie
M
Male 40-44
24:53
176.
304
GRACE LAFFERTY
F
G U15
INDIVIDUAL
24:53
177.
120
Gerard Callaghan
M
Male 40-44
Finn Valley AC
25:00
178.
985
MATTHEW KELLY
M
B U15
PORTMARNOCK AC
25:00
179.
119
Cathal Cannon
M
B U15
Finn Valley AC
25:00
180.
426
Brian McMullin
M
Male 40-44
Tirchonaill Ac
25:04
181.
205
KIERAN CALLAGHAN
M
Male 40-44
INDIVIDUAL
25:12
182.
937
Eugene Gallen
M
Male 40-44
Finn Valley AC
25:12
183.
114
WENDY WATT
F
Female 40-44
FINN VALLEY AC
25:16
184.
420
Paul Trayers
M
Male 40-44
Individual
25:18
185.
209
Ronan Gallen
M
MO
25:23
186.
902
Dónal Bonner
M
MO
Individual
25:28
187.
174
Shaun O' Donnell
M
Male 40-44
Swanlings A.C
25:28
188.
903
Shane Deery
M
Male 40-44
Pro-Fitness
25:31
189.
959
MALCOLM HOUSTON
M
MO
FVF4L
25:34
190.
943
Raj Meehan
M
Male 40-44
raphoe Running Group
25:35
191.
917
CORA HARVEY
F
Female 40-44
FVF4L
25:36
192.
100
GORETTI MARLEY
F
Female 40-44
FVF4L
25:36
193.
993
LAURA CROSSAN
F
FO
FINN VALLEY AC
25:43
194.
107
Joanne Campbell
F
Female 40-44
Finn Valley AC
25:44
195.
884
MEGAN QUINN
F
FO
INDIVIDUAL
25:45
196.
383
Lucy Mc Lean
F
FO
Ind
25:46
197.
949
Mark Ryan
M
B U15
Ind
25:48
198.
248
Andrea Reid
F
G U15
Finn Valley A.C
25:48
199.
892
PJ Sweeney
M
Male 40-44
Finn Valley AC
25:50
200.
327
James O'Donnell
M
B U15
Finn Valley AC
25:51
201.
328
Seamus O'Donnell
M
Male 40-44
Finn Valley AC
25:52
202.
224
Martina Mc Daid
F
FO
24-7-Tri
25:53
203.
934
EUGENE MC GINLEY
M
Male 40-44
RAPHOE ROAD RUNNERS
25:59
204.
895
LIAM WISEMAN
M
Male 40-44
LETTERKENNY PARK RUNNERS
25:59
205.
245
Keth Patton
M
Male 40-44
26:06
206.
999
Helene Mc Menamin
F
Female 40-44
FVF4L
26:10
207.
115
JOHN CURRAN
M
Male 40-44
INDIVIDUAL
26:17
208.
389
Jean McGlinchey
M
Male 40-44
Letterkenny Park Runners
26:19
209.
235
Shauna Finn
F
FO
26:20
210.
258
Ronan Donnellan
M
MO
26:23
211.
899
NIAMH MCBRIDE
F
FO
INDIVIDUAL
26:27
212.
956
THEO TEMPLE
M
B U15
INDIVIDUAL
26:28
213.
95
GARY LAWRENCE
M
Male 40-44
INDIVIDUAL
26:28
214.
886
SINEAD COLLINS
F
Female 40-44
AGHYARAN
26:33
215.
234
Joshua O' Donnell
M
B U15
Finn Valley A.C
26:35
216.
974
P.J Patton
M
Male 40-44
Run for Fun Letterkenny
26:36
217.
240
Frances Wilson
F
FO
K.C.R
26:42
218.
359
tracey Thomas
F
FO
Ind
26:47
219.
947
Irene De Voning
F
Female 40-44
Ind
26:54
220.
136
RONAN BURKE
M
B U15
INDIVIDUAL
26:56
221.
303
MAYA LAFFERTY
F
G U15
FINN VALLEY AC
26:58
222.
882
Damien Floyd
M
MO
Individual
27:00
223.
404
Liam mc Glynn
M
Male 40-44
Mullingar Harriers
27:02
224.
766
Sophie Mc Gee
F
FO
Finn Valley AC
27:16
225.
757
John Mc Gee
M
MO
Finn Valley AC
27:19
226.
175
Jason Quigley
M
MO
Finn Valley A.C
27:20
227.
793
Brian Patton
M
MO
Sean Mac Cumhaills
27:20
228.
929
Joe Gallen
M
Male 40-44
K.C.R
27:24
229.
964
EDWARD CRAWFORD
M
Male 40-44
FVF4L
27:29
230.
405
Molly O'Neill
F
G U15
Clonliffe Harriers
27:33
231.
410
Michael O'Neill
M
B U15
Marino AC
27:41
232.
244
Martin Harkin
M
Male 40-44
27:42
233.
889
Elaine Mc Entee
F
Female 40-44
Donegal County Council
27:45
234.
948
David Ryan
M
Male 40-44
Ind
27:57
235.
951
Eamon Junior Bug
M
B U15
Aghyaran Athletics
28:01
236.
341
Tony Coyle
M
MO
Ind
28:01
237.
122
Hilary Pearson
F
Female 40-44
Individual
28:04
238.
992
SEAN CROSSAN
M
Male 40-44
FINN VALLEY AC
28:15
239.
994
BERNIE CROSSAN
F
Female 40-44
FINN VALLEY AC
28:16
240.
97
Carol Mc Cabe
F
Female 40-44
24-7-Tri
28:17
241.
409
Feargal O'Neill
M
Male 40-44
Individual
28:19
242.
271
Diane McGlynn
F
Female 40-44
Individual
28:19
243.
324
Angela mc Namee
F
FO
Ind
28:20
244.
421
Deirdre Bannan
F
FO
Abu Dhabi Cheetahs
28:23
245.
418
Ciaran Bannan
F
Female 40-44
Letterkenny Athletic Club
28:24
246.
251
John Burke
M
Male 40-44
Individual
28:25
247.
105
Cain Lafferty
M
B U15
28:26
248.
360
Denise Ferguson
F
FO
Finn Valley AC
28:26
249.
382
Annmarie Dalton
F
Female 40-44
Ind
28:34
250.
254
Catherine Given
F
FO
28:39
251.
373
ANNIE MAY MCGLYNN
F
G U15
FINN VALLEY AC
28:39
252.
194
Thomas Boyle
M
Male 40-44
Ardara
28:39
253.
227
Roisin Mc Glynn
F
FO
Pro-Fitness
28:40
254.
121
Bernie McGuire
F
Female 40-44
Aghyaran Athletics
28:42
255.
112
Ricky Gallen
M
MO
Individual
28:42
256.
756
Stephen Patton
M
MO
Finn Valley AC
28:44
257.
68
TORI GLACKIN
F
FO
FINN VALLEY AC
28:46
258.
989
Bosco Reid
M
Male 40-44
Finn Valley A.C
28:46
259.
113
BRENDAN MCSHANE
M
Male 40-44
INDIVIDUAL
28:46
260.
335
Oisin Mc Dermott
M
Male 40-44
Ind
28:51
261.
930
LAURA MCGINTY
F
FO
INDIVIDUAL
28:52
262.
226
Pat Brennan
M
Male 40-44
Finn Valley AC
28:58
263.
181
Aisling Ryan
F
FO
28:58
264.
764
Paula Jansen
F
Female 40-44
Finn Valley AC
29:03
265.
169
Rea Doherty
F
Female 40-44
Finn Valley AC
29:04
266.
255
Marion Given
F
Female 40-44
29:06
267.
249
Lauren Carlin
F
FO
Pro. Fitness
29:06
268.
769
Mary Martin
F
Female 40-44
Finn Valley AC
29:08
269.
326
Michael Doyle
M
Male 40-44
Finn Valley AC
29:08
270.
763
Ben Patton
M
MO
Finn Valley AC
29:14
271.
403
James Kelly
M
Male 40-44
Ind
29:40
272.
337
Conal Mc Dermott
M
Male 40-44
Ind
29:50
273.
980
Matthew Marley
M
MO
Pro-Fitness
29:52
274.
187
George Kelly
M
Male 40-44
Finn Valley AC
29:57
275.
284
Paul Curran
M
MO
29:57
276.
759
John Quinn
M
MO
Individual
29:58
277.
976
Sophie Kelly
F
Female 40-44
Run for Fun Letterkenny
29:59
278.
238
Shauna Molloy
F
Female 40-44
Bolt A.C
30:00
279.
154
AMANDA KIRWIN
F
FO
LETTERKENNY PARK RUNNERS
30:01
280.
98
Kevin Mc Hugh
M
Male 40-44
Ind
30:03
281.
128
Shaun Mc Hugh
M
MO
Ind
30:04
282.
352
Alex Dolan
M
B U15
Ind
30:07
283.
351
Damien Dolan
M
Male 40-44
Ind
30:07
284.
773
Andrew Gallen
M
B U15
Finn Valley AC
30:09
285.
770
Gary Gallen
M
Male 40-44
Finn Valley AC
30:09
286.
961
ARTHUR CONNOLLY
M
Male 40-44
INDIVIDUAL
30:12
287.
336
Donal Mc Dermott
M
Male 40-44
Ind
30:16
288.
982
Peter Austen
M
B U15
Finn Valley AC
30:22
289.
162
ERIN MCGINTY
F
FO
INDIVIDUAL
30:22
290.
116
MARGARET COYLE
F
Female 40-44
RUN FOR FUN
30:25
291.
250
DECLAN BLACK
M
Male 40-44
RUN FOR FUN
30:25
292.
788
Nicola Kee
F
Female 40-44
KCR
30:30
293.
1000
Charlie Byrne
M
B U15
Sean Mc Camhaills
30:37
294.
135
ALAN SPROULE
M
Male 40-44
SEAN MCCUMHAILLS
30:37
295.
900
SINEAD SCULLY
F
FO
INDIVIDUAL
30:38
296.
339
Eva McGinley
F
FO
Individual
30:39
297.
232
Aoife O' Donnell
F
FO
31:19
298.
206
Heather Nicholl
F
Female 40-44
Mourne Derg
31:22
299.
106
Louise Goudie
M
MO
31:28
300.
880
Leah McGonagle
F
G U15
Individual
31:34
301.
853
Max McGonagle
M
MO
Individual
31:35
302.
219
Barbara Mahon
F
Female 40-44
Individual
31:39
303.
151
AARON HEALY
M
B U15
FINN VALLEY AC
31:42
304.
152
THOMAS HEALY
M
Male 40-44
INDIVIDUAL
31:44
305.
117
KATHLEEN MARY GILDEA
F
Female 40-44
INDIVIDUAL
31:55
306.
986
AOIFE KELLY
F
G U15
PORTMARNOCK AC
31:57
307.
988
Amanda Kelly
F
Female 40-44
Portmarnock A.C
31:58
308.
75
ANN STRAIN
F
Female 40-44
CONVOY AC
32:09
309.
995
Helen Mc Closkey
F
Female 40-44
Run for Fun Letterkenny
32:12
310.
998
Michael Mc Menamin
M
Male 40-44
Letterkenny Cycling Club
32:12
311.
142
Maureen Mc Breaty
F
Female 40-44
Run for Fun Letterkenny
32:12
312.
425
EMMETT MCCAFFERTY
M
B U15
INDIVIDUAL
32:18
313.
423
MICHAEL MCCAFFERTY
M
Male 40-44
INDIVIDUAL
32:19
314.
190
KAYSIE KELLY
F
G U15
FINN VALLEY AC
32:24
315.
144
Angeline Driver
F
Female 40-44
Viking Fit
32:31
316.
307
Klara Lafferty
F
G U15
Individual
32:44
317.
308
Raonaid Lafferty
F
G U15
Individual
32:48
318.
310
Nicola Wallace
F
Female 40-44
32:50
319.
188
KAREN KELLY
F
FO
FINN VALLEY AC
32:53
320.
99
Seamus Lyons
M
Male 40-44
Finn Valley AC
32:56
321.
386
Charlene McNeill
F
FO
Individual
32:56
322.
385
Caoimhe McNeill
F
G U15
Individual
32:56
323.
997
Annette Darcy
F
Female 40-44
Run for Fun Letterkenny
33:46
324.
299
ABI MCGEEHAN
F
G U15
FINN VALLEY AC
33:56
325.
780
Dearbhla Mc Nulty
F
G U15
Finn Valley AC
33:58
326.
393
CATRIONA MCGEEHAN
F
FO
INDIVIDUAL
34:09
327.
907
Deidre Deasley
F
Female 40-44
34:16
328.
881
James Deasley
M
Male 40-44
34:17
329.
186
Kathleen Kelly
F
Female 40-44
Finn Valley AC
34:27
330.
355
Carmel Kelly
F
Female 40-44
Finn Valley AC
34:27
331.
954
Owen Dullaghan
M
Male 40-44
Finn Valley AC
34:30
332.
111
Sinead Devenney
M
MO
34:44
333.
293
Orlaith Mc Andrew
F
Female 40-44
34:59
334.
207
Paul Marshall
M
Male 40-44
Ind
35:02
335.
767
Ruby Mc Gee
F
FO
Finn Valley AC
35:02
336.
955
NICKI MCMENAMIN
F
FO
INDIVIDUAL
35:12
337.
167
Ciarán Burke
M
B U15
Individual
35:30
338.
422
SANDRA MCCAFFERTY
F
Female 40-44
INDIVIDUAL
35:30
339.
787
Ronan Mc Elchar
M
B U15
Finn Valley AC
35:37
340.
129
Patrick Gallen
M
B U15
Ind
35:39
341.
784
Dermot Mc Elchar
M
Male 40-44
Finn Valley AC
35:40
342.
430
Leona Slevin
F
G U15
Finn Valley AC
35:45
343.
416
Brónagh Gallen
M
B U15
Finn Valley AC
35:45
344.
290
Ryan MC NULTY
M
B U15
AGHYARAN GAA
36:45
345.
287
PATRICK MC NULTY
M
MO
AGHYARAN GAA
36:45
346.
124
Anita Coyle
F
Female 40-44
Setanta G.A.A
37:00
347.
166
Karen Burke
F
FO
Individual
37:05
348.
164
Elaine Gillespie
F
FO
Individual
37:05
349.
110
Irene McFadden
F
FO
Letterkenny Athletic Club
37:05
350.
963
CORMAC SCULLY
M
Male 40-44
FINN VALLEY AC
37:24
351.
347
NIAMH MCCREADY
F
G U15
INDIVIDUAL
37:44
352.
350
BETTY GALLEN
F
Female 40-44
AGHYARAN
37:52
353.
914
Shaun McGranaghan
M
Male 40-44
Evolve H&F
38:19
354.
904
Rosemary Connolly
F
Female 40-44
Aghyaran Athletics
38:21
355.
346
DEIRDRE MARKHAM
F
Female 40-44
INDIVIDUAL
38:22
356.
364
Cian Speight
M
B U15
Individual
39:16
357.
387
GRAINNE MCCOLL
F
Female 40-44
INDIVIDUAL
39:16
358.
104
Lynda Lafferty
F
Female 40-44
40:10
359.
936
Lauren Doherty
F
FO
Ind
40:16
360.
935
Erinn Gallen
F
G U15
Ind
40:17
361.
266
Danny Mc Gylnn
M
Male 40-44
40:28
362.
65
PADDY GALLAGHER
M
MO
FINN VALLEY AC
40:28
363.
320
Aidan Mc Nulty
M
B U15
Finn Valley AC
40:41
364.
890
Gareth Mc Cready
M
Male 40-44
Ind
40:47
365.
233
Ellen O' Donnell
F
Female 40-44
40:48
366.
231
Brian O' Donnell
M
Male 40-44
40:49
367.
945
Kerry Mc Cready
F
G U15
Ind
40:59
368.
263
Caoilhinn Mc Cabe
F
G U15
Finn Valley AC
41:00
369.
102
Dan Donnelly
M
B U15
Sean Mc Camhaills
41:30
370.
772
Jamie Gallen
M
B U15
Finn Valley AC
41:30
371.
103
Pauric Kelly
M
B U15
Sean Mc Camhaills
41:33
372.
413
Lorraine Larkin
F
FO
Individual
41:57
373.
415
Iggy Larkin
M
Male 40-44
KCR
41:57
374.
280
Emma Murphy
F
FO
Finn Valley AC
42:38
375.
381
Bernie Murphy
F
Female 40-44
Finn Valley AC
42:40
376.
940
Amy O'Donnell
F
G U15
Individual
43:00
377.
264
Caroline Mc Cabe
M
Male 40-44
Finn Valley A.C
43:53
378.
262
Maoliosa Mc Cabe
F
G U15
Finn Valley A.C
43:53
379.
390
Emer Meehan
F
FO
Individual
44:00
380.
391
Danielle Conaghan
F
FO
Individual
44:00
381.
786
Niall Mc Elchar
M
B U15
Finn Valley AC
44:16
382.
785
Aine Mc Elchar
F
Female 40-44
Finn Valley AC
44:17
383.
329
Erin O'Donnell
F
G U15
Finn Valley AC
44:18
384.
377
Conor McLeod
M
MO
Finn Valley AC
44:20
385.
376
Mark Wilkinson
M
MO
Finn Valley AC
44:21
386.
378
Clodagh McLeod
F
FO
Finn Valley AC
44:21
387.
330
Catherine Ryan
F
FO
Individual
44:25
388.
978
John Brown
M
Male 40-44
44:27
389.
140
DOLOURS MCGLINCHEY
F
FO
FINN VALLEY AC
44:27
390.
270
MARIE MCCULLAGH
F
Female 40-44
INDIVIDUAL
44:36
391.
321
BARRY MCCULLAGH
M
Male 40-44
INDIVIDUAL
44:36
392.
279
Ash Murphy
F
FO
Finn Valley AC
44:44
393.
133
SINEAD BOYCE
F
Female 40-44
INDIVIDUAL
44:45
394.
771
Kay Gallen
F
Female 40-44
Finn Valley AC
44:49
395.
395
Geraldine Browne
F
Female 40-44
Finn Valley AC
44:52
396.
318
Shaun Dullaghan
M
Male 40-44
Ind
44:53
397.
977
Noeleen Bradley
F
Female 40-44
44:56
398.
139
MARY CALLAGHAN
F
Female 40-44
RED HUGHS
44:57
399.
253
John Mc Glinchey
M
Male 40-44
Finn Valley A.C
45:12
400.
370
Claire O'Keefe
F
FO
Individual
45:24
401.
367
BANNAN
F
FO
ABU DHABI CHEETAHS
45:26
402.
368
MARIA DEVIN
F
Female 40-44
ADU DHABI CHEETAHS
45:27
403.
322
ELLIE MCCULLAGH
F
G U15
INDIVIDUAL
45:34
404.
354
Grace Kelly
F
FO
Ind
45:50
405.
353
Liam Kelly
M
Male 40-44
Ind
45:50
406.
419
BARRY DOWDS
M
Male 40-44
INDIVIDUAL
45:51
407.
247
Ollie Reid
M
Male 40-44
45:52
408.
127
MARIE HOUSTON
F
Female 40-44
INDIVIDUAL
46:00
409.
69
Julie Mc Connell
F
Female 40-44
46:00
410.
126
KATHLEEN O LEARY
F
Female 40-44
INDIVIDUAL
46:00
411.
323
Ciara Mc Nulty
F
G U15
Ind
46:16
412.
196
Ann Glancy
F
Female 40-44
Finn Valley A.C
46:29
413.
990
MEGAN JENNINGS
F
FO
INDIVIDUAL
46:39
414.
294
Pamela Mc Andrew
F
Female 40-44
47:14
415.
427
Siobhan Keegan
F
FO
Individual
47:14
416.
349
Patricia O'Brien
F
FO
KCR
47:18
417.
362
Ann Kelly
F
Female 40-44
KCR
47:18
418.
286
FIA MC NULTY
F
G U15
AGHYARAN GAA
47:23
419.
298
BERNARD MCGEEHAN
M
Male 40-44
FINN VALLEY AC
47:24
420.
288
SHAUNA MC NULTY
F
FO
AGHYARAN GAA
47:24
421.
281
REBECCA GAMBLE
F
G U15
INDIVIDUAL
47:28
422.
332
Emily Kelly
F
FO
Finn Valley AC
47:29
423.
334
AnneMarie Quinn
F
FO
Individual
47:31
424.
285
JUDE BROMLEY
M
Male 40-44
47:32
425.
282
Maureen Gamble
F
Female 40-44
47:33
426.
283
Paul Gamble
M
MO
47:34
427.
912
Tommy Mc Naught
M
Male 40-44
Ind
47:35
428.
911
Aoife Keaveney
F
FO
Ind
47:35
429.
388
COLLEEN O BRIEN
F
Female 40-44
KCR
47:37
430.
361
Lucia Kelly
F
FO
Individual
47:37
431.
297
ASHLEEN MCGEEHAN
F
Female 40-44
FINN VALLEY AC
48:03
432.
170
WILMA SLEVIN
F
Female 40-44
48:11
433.
62
RACHEL GALLAGHER
F
FO
INDIVIDUAL
48:11
434.
411
Moya Larkin
F
FO
Individual
48:19
435.
184
Clare Scanlon
F
FO
Ind
48:26
436.
183
Francie Scanlon
M
Male 40-44
48:27
437.
973
Nina Patton
F
Female 40-44
48:31
438.
369
Maeve Scully
F
Female 40-44
Individual
48:32
439.
428
Sheila Reid
F
Female 40-44
Individual
48:32
440.
392
GRAINNE REID
F
Female 40-44
INDIVIDUAL
48:34
441.
132
AISLING MULLEN
F
Female 40-44
FINN VALLEY AC
48:35
442.
431
KATIE DOWDS
F
G U15
FINN VALLEY AC
48:35
443.
134
EMILY BOYCE
F
Female 40-44
FINN VALLEY AC
48:35
444.
966
AOIFE CRAWFORD
F
G U15
INDIVIDUAL
48:35
445.
109
LORETTA DEVENNEY
F
Female 40-44
INDIVIDUAL
48:40
446.
252
KATIE CALLAGHAN
F
Female 40-44
RED HUGHS G.A.A
48:40
447.
275
Gerry Hennessey
M
Male 40-44
Individual
48:47
448.
272
Ellis Hennessey
F
FO
Ind
48:47
449.
123
Aoife Coyle
F
G U15
Setanta G.A.A
48:58
450.
125
COLM COYLE
M
B U15
SETANTA
48:58
451.
333
Maria Kelly
F
FO
Finn Valley AC
49:34
452.
429
Andrea Slevin
F
G U15
Finn Valley AC
49:34
453.
778
Caoimhe Mc Nulty
F
G U15
Finn Valley AC
50:01
454.
417
ANNA DOWDS
F
G U15
FINN VALLEY AC
50:01
455.
379
Brenda Coyle
F
FO
Individual
50:08
456.
375
Sam Wilkinson
M
MO
Finn Valley AC
50:08
457.
374
PATSY GALLAGHER
M
MO
INDIVIDUAL
50:08
458.
398
PAULINE DOWDS
F
Female 40-44
INDIVIDUAL
50:21
459.
432
SARAH DOWDS
F
G U15
FINN VALLEY AC
50:22
460.
913
Joanne McGranaghan
M
Male 40-44
Evolve H&F
50:24
461.
273
Roisin Hennessey
F
FO
Ind
50:24
462.
158
Peter Mc Bride
M
Male 40-44
Ind
50:40
463.
155
Tadhg Mc Bride
M
B U15
Ind
50:40
464.
400
SIOBHAN LAFFERTY
F
FO
INDIVIDUAL
52:46
465.
434
NOEL LAFFERTY
M
MO
INDIVIDUAL
52:47
466.
433
TOMASINA LAFFERTY
F
FO
INDIVIDUAL
52:47
467.
76
LILY WITHEROW
F
G U15
INDIVIDUAL
52:52
468.
77
RACHEL WITHEROW
M
Male 40-44
INDIVIDUAL
52:52
469.
157
Molly Mc Bride
F
G U15
Ind
53:30
470.
156
Sinead Mc Bride
F
FO
Ind
53:31
471.
969
JARLAITH BRENNAN
M
B U15
FINN VALLEY AC
53:48
472.
970
DEREK BRENNAN
M
MO
FINN VALLEY AC
53:49
473.
968
CAOIMHE BRENNAN
F
FO
FINN VALLEY AC
53:49
474.
901
Luke Mailey
M
B U15
Finn Valley AC
53:49
475.
797
Paul Mailey
M
MO
Finn Valley AC
53:49
476.
971
Noaise Brennan
F
G U15
Finn Valley A.C
53:49
477.
938
Norbi
M
MO
Individual
53:50
478.
941
Penny O'Donnell
F
FO
Individual
53:50
479.
939
Hugo O'Donnell
M
MO
Individual
53:50
480.
313
Freda Neilis
F
FO
Individual
53:56
481.
309
Michael Lafferty
M
Male 40-44
Individual
53:56
482.
366
Isobel McNulty
F
FO
Individual
53:58
483.
754
Breege Doherty
F
Female 40-44
Individual
54:00
484.
755
Catherine Rose Hannigan
F
G U15
Finn Valley AC
54:01
485.
274
Caitlin Hennesey
F
FO
Ind
54:01
486.
921
MARGARET O NEILL
F
Female 40-44
INDIVIDUAL
54:03
487.
922
LIAM O NEILL
M
Male 40-44
INDIVIDUAL
54:09
488.
397
Michael Sweeney
M
MO
Individual
54:40
489.
396
Leanne Thomas
F
FO
Individual
54:40
490.
412
Denise Sweeney
F
FO
Individual
54:40
491.
342
Grace Mc Elroy
F
FO
Ind
55:01
492.
414
Penny Larkin
F
FO
Individual
55:04
493.
758
Terence Quinn
M
MO
Individual
55:04
494.
760
Charlie Quinn
M
MO
Individual
55:04
495.
193
MARTHA GALLAGHER
F
G U15
INDIVIDUAL
55:37
496.
192
MIA GALLAGHER
F
G U15
INDIVIDUAL
55:37
497.
191
MICHAEL GALLAGHER
M
Male 40-44
FINN VALLEY AC
55:37
498.
331
Florence Vance
F
Female 40-44
Individual
55:40
499.
402
Lasma Araka
F
FO
Ind
55:46
500.
301
PATRICIA TREACY
F
Female 40-44
INDIVIDUAL
55:46
501.
312
Shannon Duncan
F
G U15
Individual
55:50