Two-time Olympian Michael Conlan has the Specsavers Letterkenny Hearcare team to thank for their expertise after he suffered temporary hearing loss over Christmas. 
The pro boxer was visiting Donegal last week when he developed an annoying blockage and couldn't hear out of one ear.
So he took to Twitter to ask locals what to do.
Conlan tweeted: "In Donegal here and my ear is blocked, anyone know how to clear it without going to doc? If not anyone from Donegal know a place I can get it flushed out, in the morning obviously? Lol sounds stupid I know but it's a melt being deaf in one ear,"
The next morning, the Belfast man went for ear suction at Specsavers in Letterkenny and said: "Sorted, thanks to Specsavers Letterkenny! It feels good to hear again lol"
Thanks to Specsavers Audiologist Martina McNulty, a quick microsuction treatment meant that Conlan could enjoy the rest of his holiday hearing clearly, and he was eager to recommend it to his followers.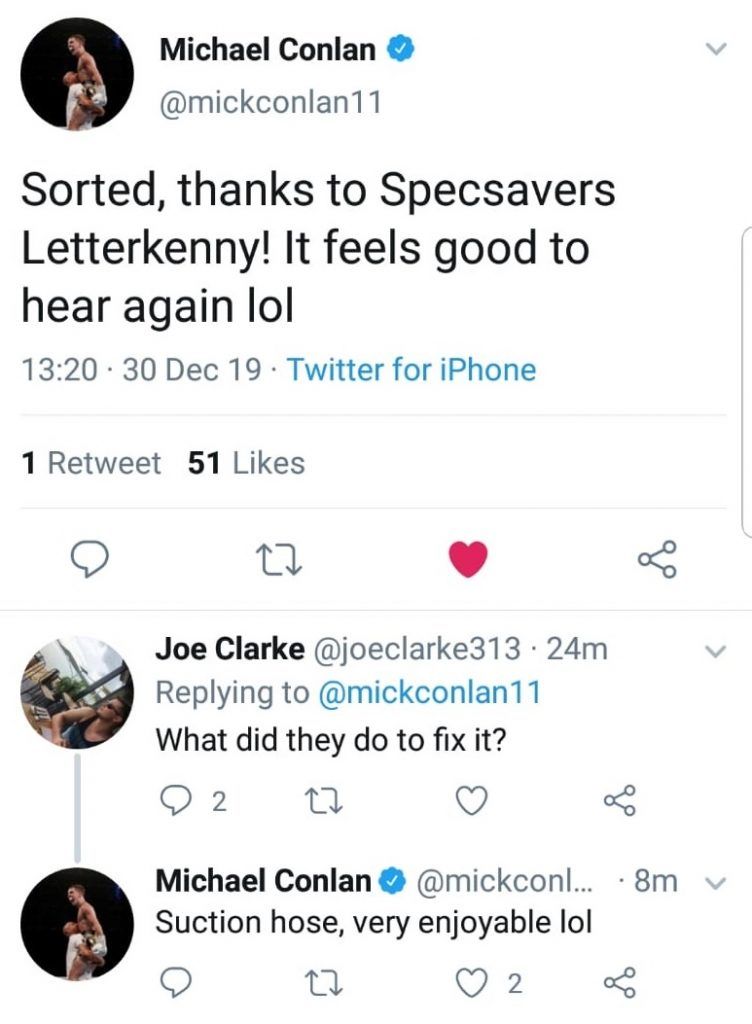 Conlan also used the visit to Donegal to catch up with his good friend and former Irish amateur team-mate Jason Quigley.
https://twitter.com/jay_quigley/status/1211697559326142464
The 2015 World champion and former Olympic bronze medalist is gearing up for a St Patrick's Day fight in New York with Hiroshige Osawa from Japan – a rumoured opponent for the 13-0 Conlan.
Tags: