THE NEXT Donegal Sports Star Awards Hall of Fame Award inductee is to be former Donegal GAA star Sean Ferriter. 
The 81-year-old enjoyed a long and distinguished career in the county colours. 
He was on the 1956 Donegal Ulster Minor Football Championship winning team and made his senior debut as an 18-year-old against Tyrone. 
Ferriter played on many fine Donegal sides but there was to be no Ulster or All-Ireland medals for the big midfielder. However, the retired Garda did play a significant role as the Dublin based 'eyes and ears' for Brian McEniff in the run-up to the historic Sam Maguire coming back to the County in 1992.
While playing for Dungloe, Ferriter did have the honour of captaining the first ever Donegal team to reach an Ulster Final in 1963. He played on two Ulster Railway Cup winning teams and has three Donegal Senior Football Championships medals from his time with St. Eunan's.
Interestingly his first time to play in Croke  Park was as a 19-year-old for the Na Fianna Club in a Senior Championship semi-final in 1958. It was just after he had joined the Gardai. "At that time there was no John McGinley Buses that you could get up and down from Dublin quickly," he said. 
"It would take you nearly two days to do the round the trip. I was in digs in Drumcondra and just asked a man on the street the name of the GAA Club for this area. Anybody from the country was called a 'Culchie'. 
"So I was the first 'Culchie' ever to play for Na Fianna. It was a great experience to play for the first time in Croke Park just a couple of months after joining them."
Sean has a pretty special record when it come to Croke Park as played on the hallowed turf for four different teams – Club (Na Fianna); County (Donegal NFL semi-finals); Province (Ulster Railway Cups) and also for the Gardai. 
He said: "I remember playing in a Garda game in Croke Park when there was a big prisoner escape from Mountjoy Prison. We could see the helicopter overhead but it was only when the game was over that we heard what happened." 
In May 2012, Ferriter was named in the Irish Independent Donegal's 'greatest team' spanning the previous 50 years. He was also included in a Donegal Democrat Millennium team in January 2001.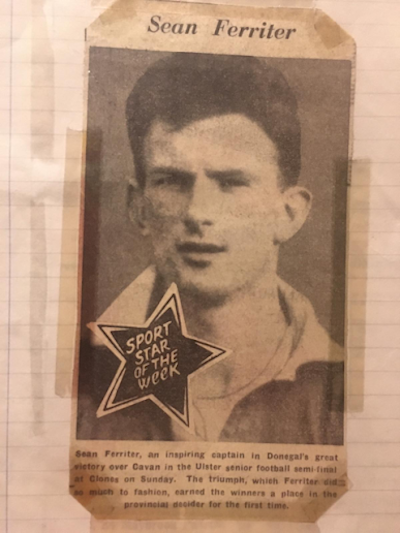 Ferriter was born in Milford on the 15th of September 1938. His father Morgan was a native of West Kerry while mum Tess was from Baltry, Co. Louth. Morgan, a Garda, was stationed in Milford at that time. 
In 1943 the family moved to Cavan for two years where Morgan had been transferred to Kilnaleck. Sean remembers very vividly the date that he came back to reside in Donegal. It was the 7th of May 1945 – the day that World Ward II ended. He was in a furniture removal van with his father heading for a new life in the seaside town of Dunfanaghy.
His love of Gaelic football was spawned in the schoolyard at Dunfanaghy N.S. where Teelin native Eamonn Cannon was a teacher who encouraged the youngsters to play the game. Cannon had played GAA for Donegal. 
The biggest influence on Ferriter's early career was John Wilson, a teacher at St. Eunan's College, who later went on to become Minister for Education and then Tanaiste in a Fianna Fail Government of the early 1990s. 
Wilson, who had won two All-Irelands with Cavan, was establishing GAA structures at the school which had previously been stronger in soccer. 
Ferriter, a boarder, came on the radar of Wilson and was the goalkeeper on a Eunan's side that reached the McRory Cup Final in 1956. Other squad members included – Mick McGinley (Creeslough), Anton McGettigan (Downings), Sean McEntee (Letterkenny) and Hugh Strain (Kilmacrennan). The Dunfanaghy man went on to play on the Donegal Minor Ulster Championship winning side that summer.  His great friend, the late John Hannigan was on that team as was Anton McGettigan whom he described as the outstanding player of that time. 
Ferriter's career was on the rapid rise as at just 18 he made his senior debut for Donegal in 1957 against Tyrone. He was at midfield along with Sligo native Sean McCormack now a resident of Milford.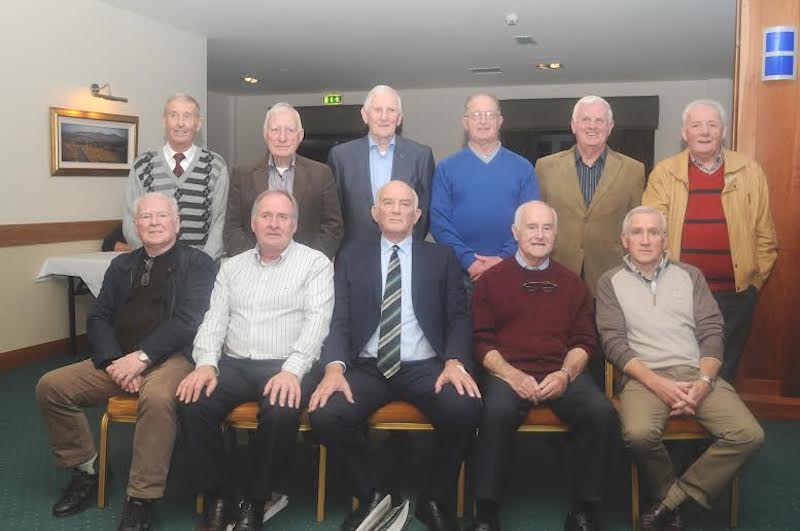 The County struggled in terms of success in those years. They did get to a couple of league semi-finals in the mid-1960s but lost both to Longford and Galway. 
He said: "We played very well against Galway who were the All-Ireland champions. There was the controversy over Neily Gallagher's penalty. The ball was in the net before the penalty was awarded. There was a strong wind and the ball blew of the spot. Neily went to replace it and the ref blew for a free out."
Sean won two Railway Cups with Ulster and Down star Joe Lennon was one player he had great admiration for, not only on the field but also for the assistance he had received from the P.E. teacher. Some years earlier Lennon had sent him a 12-page personal training programme when Ferriter was based in Dungloe. Sean O'Neill (Down), Mick Carlin (Kildare) and Cavan duo Ray Carolan and Gabriel Kelly were top players in Ferriter's estimation. In terms of Donegal his top three players were P.J. Flood, Mickey McLoone and  John Hannigan.
At club level, Sean won a league medal with Dungloe and three Donegal Senior Football Championship titles with St. Eunan's. Sean opted for a career in the Gardai and it's a decision he never regretted from his first posting in Dublin back in 1959. 
That was a historic year for the country as the first 12 female Gardai graduated including two Donegal women. He came back to Donegal and served in Dungloe for four years and it was a similar time span in Letterkenny before finishing his service in Dublin.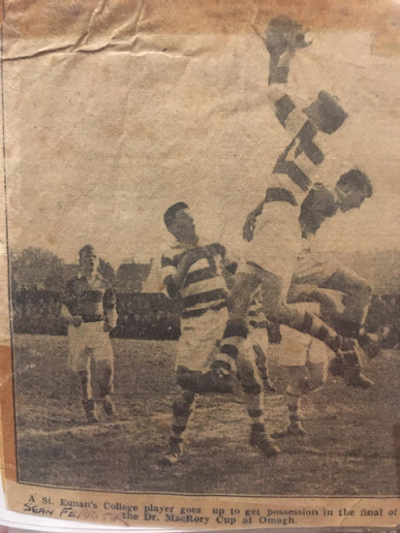 While a Sergeant in Cabra he went back to college and later completed studies to become a solicitor after his retirement. Sean took up employment with a legal practice Blanchardtown where he was to spend 17 years. 
His wife Mary, a native of Thurles, Co Tipperary passed away nine years ago. 
The couple met in Dublin where Mary was a Civil Servant and her husband-to-be was in the Gardai. Sean is a father of eight – Marie (London), Brendan (Creeslough), Sean (Dublin), Maurice (Dublin), Paul (Dublin), Claire (RIP) and Joanne (Dublin).
Sean has a sister Teresa (Dublin) and three brothers Pierce (Laghey), Paul (Australia) and Morgan (Wexford). One sister Bernadette Bernadette predeceased him. 
Ferriter is looking forward to the Donegal Sports Star Awards on Friday the 31st of January when he will be inducted into the Hall of Fame. 
He said: "It's a great honour for me to be getting the Hall of Fame and I'm really looking forward to the night. Football has been good to me down through the years and still is. 
"I enjoyed every minute of it because it was Donegal and that's where my heart is and always will be. 
"I still spend a lot of time there down in Dunfanaghy where I have a house. I go to all the St. Michael's games and I was at all the Donegal games last year."
Sean will be the 44th inductee into the Donegal Sports Star Awards Hall of Fame following in the footsteps of other household names like Fr. Michael Sweeney, Brian McEniff, Jim Sheridan, Danny McDaid and Eunan 'Busty' Blake.
Tags: