WHEN HE first arrived in Ballybofey and reality dawned, Eloka Asokuh wanted an immediate way out.
Almost seventeen years on, Ballybofey is now 'home' and Asokuh – the club's newly-installed Under-17 manager – is a firm part of the Finn Park fabric. 
Asokuh was first unveiled on a damp March Saturday in 2003. A smattering of local media and a handful of supporters greeted the arrival of the Nigerian. The signing was met with a certain level of intrigue.
Ten years beforehand, Asokuh was an Under-17 World Cup winner with Nigeria. Now, Jonathan Speak was plotting a promotion assault with a previously-unknown defender who would become a cult hero down Navenny Street.
Asokuh's landed at Harps from Rangers International in Nigeria. His future at the time was uncertain.
Through a cousin, John O'Sullivan in Dublin, the wheels were set in motion.
"I met John in Nigeria and when he came home from Japan, he said: 'Brother, if I go to Ireland, I want you to come'," Asokuh recalls. 
"I was interested. He talked to Columba Moss and through Columba, John McNulty, who was the Chairman of Finn Harps, he rang me. 'Hey, I heard that you're a good player so we want you here'. 
"I said I would come over. Everything went well and I am still here.
"It is a long, long time ago now. This is my second home. I love it here."
Initially, though, Asokuh questioned his decision.
As he peeked from the curtains that soaking Saturday 17 years ago, Asokuh wondered aloud.
He says: "I won't lie. When I found out after I arrived here that the football was part-time, I wanted to go home or go back to Spain.
"I met lovely people and they made me want to stay. I wanted to show the fans what I could do. From day one, the fans loved me and made me feel so, so welcome. I owe them a lot and that is why I am still at Finn Harps. This club, the people in the town, I love it."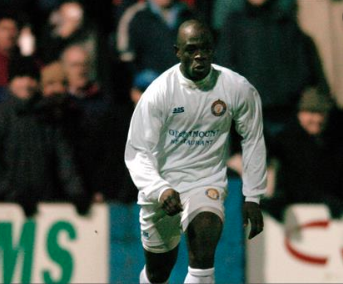 In 1993, Asokuh was on the Nigerian squad that won the Under-17 World Cup in Japan.
Nwankwo Kanu – who carved a career at Ajax, Inter and Arsenal – future Chelsea player Celestine Babayaro and Wilson Oruma, the top-scorer in Japan, who would forge a career in France, were among the stars as Nigeria, via wins over Canada, Argentina, Japan, Poland and Ghana, took the prize.
Asokuh says: "I knew all those guys growing up and playing. They were amazing players. I am so proud of what they achieved in football."
A year-and-a-half after joining Harps, Asokhu helped then then Felix Healy-managed Harps to winning the First Division. Speak departed during 2003 to be replaced by Noel King. Early in the 2004 season, King abdicated and Healy – a former Premier Division-winning boss with Derry City – took charge, guiding Harps to a first-ever League crown.
Asokuh said: "Winning the League was brilliant. Our unity that year was so good. I really enjoyed playing for Harps. The guys I met, from playing for Harps I met good Irish friends."
He has been on the club's coaching staff for the last few seasons, working closely with the recently-departed Joe Boyle and Declan Boyle.
Of all the managers and coaches that he has played with, one stands out more than most for Asokuh.
He says: "The one I played under was Felix. He was so funny. He made me work hard. Felix made me push myself to the limit. I didn't know what he was doing, but he was challenging me and working my brain. He didn't want to just say: 'You are a good player'. He made me work so hard and I loved that. I use that now working with the young kids.
"I learn from everyone. I learn from the likes of Joe Boyle, who I was with for a long, long time. He is a big loss, but you have to move on. He encouraged me not to leave. He told me: 'No, those boys love you, stay there'."
Asokuh has recruited former Harps team-mate Michael Funston as his assistant for the Under-17 role.
The job is a big step for the popular Asokuh, but it's one he's relishing.
He says: "I love this. I like working with the young kids in football. It's a good challenge for me now, a very, very big challenge, but I'm looking forward to it.
"This is the time that I have to show what I have learned from all of the people I worked under. 
"There is so much work going on. Kevin (McHugh) is doing great work and there is loads of talent coming in. I am still working with Joe Boyle with the Emerging Talent Programme. I see a lot of good kids coming through and Kevin is doing a good job of getting young kids to Finn Harps.
"There will be a lot of responsibility and it will not be easy; Playing players, not playing players, taking players off, trying to get the best 11 and be able to tell the guy on the bench: 'You are still in the team, try to keep the head up'. I will try to improve everybody.
"I look at what is going on. If something good will happen, something will come through with it. When I worked under coaches here, I always give the players examples. When I played, I learned by the way we supported each other. Now, Michael Funston is there with me and he will be good. It is all about team work and hard work."
Tags: