JASON Quigley believes his festive work has left him well tuned to climb the ladder in 2020.
By Chris McNulty in Los Angeles
Quigley (17-1, 13KOs) is back in the top 15 of the WBC's world middleweight rankings ahead of a fight against Mexican Fernando Marin  (16-4-3, 12KOs) on Thursday night. 
Marin has stepped into the breach following the withdrawal of original opponent Oscar Cortes. 
The 10-round super-middleweight is the main event of a Thursday Night Fights card, hosted by Golden Boy Promotions, at The Hangar at the Orange County Fair, Costa Mesa.
It is just seven weeks since Quigley stopped Abraham Cordero, also at The Hangar, but the Ballybofey man has stayed primed for a quick-fire ring return.
"I stay in shape all the time," Quigley, who is trained by former WBO world champion Andy Lee, said. 
"It doesn't matter if I have a fight coming up or if it's Christmas."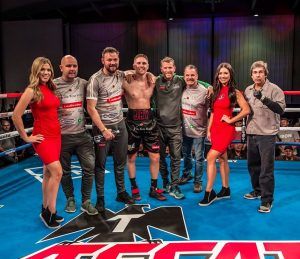 After his win over Cordero, Quigley didn't down tools. Instead, he kept sharp with daily training, including a boxing session on Christmas Eve and a jog around the St Stephen's Day 5k in Ballybofey.
He said:  "In boxing, you need to be ready for the call for a fight date or a fight opportunity. I had a few nights over Christmas and had good fun, but I was in the gym every day and stayed in shape. 
"This shows that I was right to do that. It has given me the opportunity to not regret anything."
Quigley kept the edge sharp, working with Raphoe ABC head coach Gary McCullagh as he sought an early date.
Now, Quigley fights pre-March for the first time in his professional career.
The Golden Boy contender said: "If I had got a date for the end of January and hadn't been in the gym, but just taking it easy, I mightn't have been able to take the fight. 
"That's when you can feel like you've missed an opportunity and regrets start. I kept it going over Christmas, trying to improve all the time. That has paid off for me and I've got rewarded with a quick turnover.
"I want to build momentum. I fought at the start of December got a good win and now I'm straight back in. That's exactly what I want and exactly what I need. 
"It's all about momentum now. I need to get in again, keep it fresh and get out of there ASAP to keep the ball rolling."
The change of opponent has not derailed Quigley's preparations with his full focus on the 18th professional win of his career.
He said: "All the hard work is done. It's about staying mentally and physically focussed.  I don't fixate too much on an opponent. I just concentrate on my own game.
"I'm happy to go back to The Hanger. I liked that venue. It's something a wee bit different to other venues. I have a good feeling for it and I had a good victory there. It's familiar and I can visualise everything: the ring, the walk, the dressing rooms. 
"I don't ned to waste energy thinking on any of that. I know what to expect."
Tags: