IT IS almost three years ago now since Oscar De La Hoya referenced Jason Quigley as being 'the whole package'.
By Chris McNulty in Los Angeles
Quigley was snapped up by De La Hoya after his breakthrough exploits in 2013, when he won European and Irish titles before claiming a World silver.
Picture: Jason Quigley and Fernando Marin at the weigh-in ahead of their bout in Costa Mesa, California. Picture by Tom Hogan for Golden Boy Promotions
Ranked for a period at the top of the world's amateur middleweight rankings at the time, De La Hoya – a ten-times world champion at six different weights – acted swiftly.
In the early part of Quigley's professional game, De La Hoya regularly name-checked the Donegal man across a series of press conferences before big bouts. 
In his first three years as a pro, Quigley fought 13 times and had an unblemished record.
In March 2017, he defeated Glen Tapia to claim his first professional belt – the NABF middleweight title. The world it appeared, was ready for a Quigley explosion.
"If you can fight, if you can demonstrate to the fans that you want to put on a great show and fight to the last second then you are the whole package – Jason is the whole package," De La Hoya said at the time.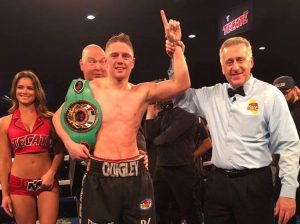 Just six times in the three years since, Quigley has put his toes through the ropes, having shattered his right hand in that win over Tapia, famously boxing eight rounds with only the use of his left.
Having changed trainer first from Manny Robles to Dominic Ingle and now working with Andy Lee, Quigley believes he his ready to shine again.
"I've been wanting momentum and haven't got it until now," Quigley (17-1, 13KOs) says ahead of tonight's meeting with Fernando Marin as a 10-round headliner in Costa Mesa, California.
"My momentum has been very stop-start and I haven't got into a flow. I had a good routine, a fully functioning base the key aspect is that the fights come thick and fast.
"It's all bout the momentum now. As anyone that is into sport knows, momentum is vital, whether it's football, boxing or an individual sport. 
"Success comes from momentum in sport. That's what I want to build on. The momentum is key in a lot of success stories. That's what I've been looking for in my career. I had that when I was an amateur. My best year was in 2013, going from winning the Irish title, getting a European gold and a World silver; one after the other, getting stuck back in.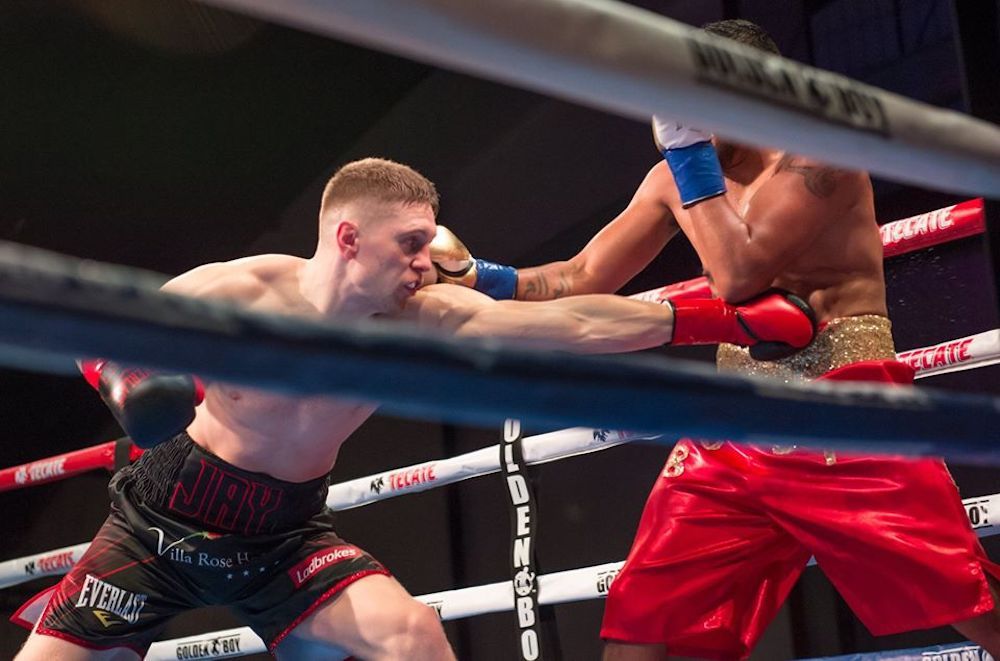 "That's what's key for me getting in, keeping it fresh and new and getting out of there ASAP, to keep the ball rolling."
In early December, Quigley stopped Abraham Cordero inside three rounds at The Hangar. For the first time since turning pro, the former Irish amateur standout fights in January; a clear sign of his intentions to stay active in 2020.
"I want to build momentum," he insists.
"I fought at the start of December got a good win and now I'm straight back in. That's exactly what I want and exactly what I need. 
"It's all about momentum now. I need to get in again, keep it fresh and get out of there ASAP to keep the ball rolling.
"I've been looking to get momentum into my career ever since the hand injury and moving to Sheffield and then coming back home. I fought at the start of December, got a good win and I'm straight back in. I want another victory now to keep that going.
The winds of change blew for Quigley last summer. A first pro defeat, at the hands of Tureano Johnson, meant he lost his NABF crown. On the surface, it was a crushing blow. Yet, behind it all something wasn't right. It was almost as if he knew deep inside what was coming.
A coffee with Andy Lee, the former WBO world middleweight champion, who had been previously a measured analyst of Quigley's trajectory, led to a link-up that has brought the Ballybofey man closer to home – and back feeling a love for the sweet science again,
"I've been asking myself what has changed and what's different," Quigley says thoughtfully. 
"The mindset has changed a bit. It's a butterfly effect. I moved back home to train in Ireland and I'm happier. Training with Andy, I'm learning new things and I've got back in there to winning ways, which has given me a sense of excitement. 
"I've come to a stage in my life and in my career where I know where I'm at. Before, everything was middled around: I was training here and there and everything was kind of all over the place. 
"I have more structure in my life now. With that structure, I've been able to concentrate on what's important.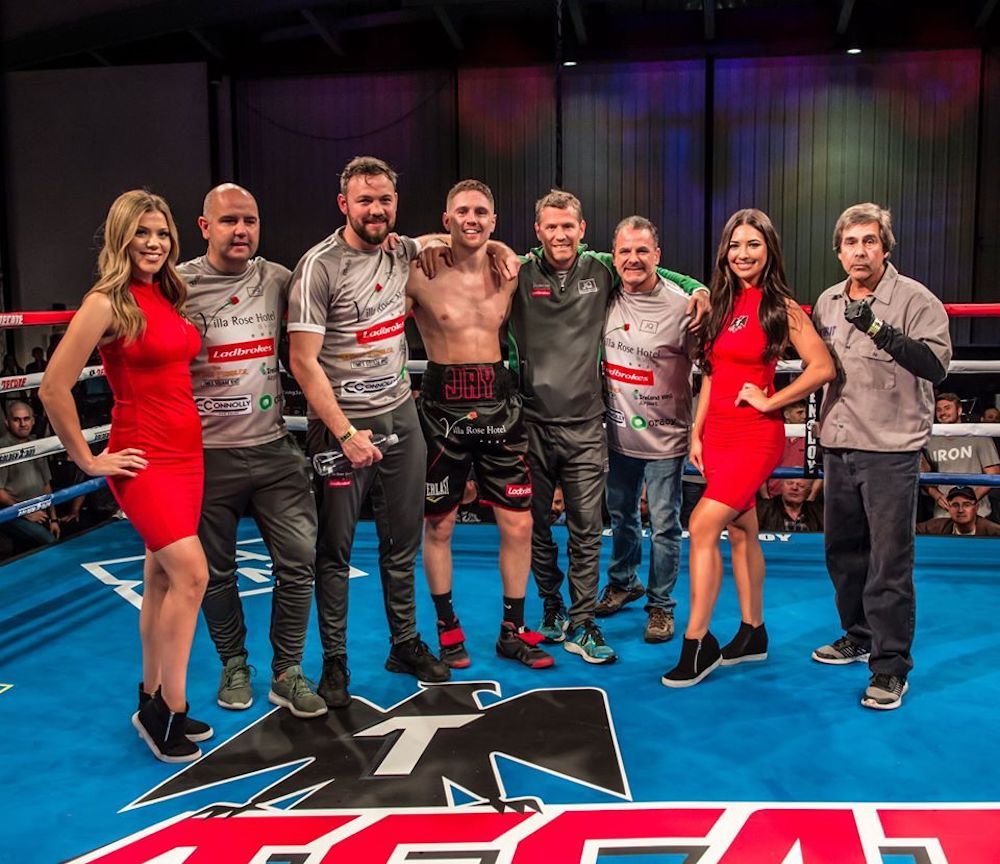 "I'm excited for what's to come, but it's not excitement like it used to be – like a child getting a toy. Now, it's more a business-type feeling. It's like: 'This is it now'. 
"I'm more mature now. This is it; let's do it! There is no childishness. 
"I could have gone out of it, but I mean business now and this is the business end of my career. 
"A happy boxer is a dangerous boxer. I have been happy now for a long time; at times that went in my favour and other times it went against it. At times, maybe I was too happy, but now I'm at a good stage with a good balance. 
"I understand the emotions better. My life has changed now and I have a god structure, a good foundation and a good base."
Quigley had been close to securing a bout with Ryota Murata for the WBA world middleweight title in 2018. 
Recently re-entered at number 15 on the WBC's rankings, Quigley appears again on the cusp of the big days. 
"There is a target and a goal," he says. 
"We're pushing forward for big things.  You'll never be the finished article and there is always room for learning. Andy is putting it all in place in training and it's up to me to put in to place when I get in there. 
"We're working on things for down the line. We're implementing things for the future and that has me very excited."
Behind the scenes, Golden Boy Promotions – led by De La Hoya and with support from the organisation's chief match-maker Robert Diaz – remain unflinching in their belief in Quigley's talents.
Things have changed for the 28-year-old a lot since those heady days when he had the world in his fists in 2013, but one constant has been the end goal. 
"People probably would have predicted that I may be further on, but life has its journey and its hurdles," he says.
"You look at fighters who go and win a world title when they're 22 or look at fighters who don't win one until they're in their 30s. 
"My aim and my goal is to become a world champion. I'm making up for lost time and I'm getting there. 
"I've been a pro now for a good few years.  At times you have to wait until the time is right. That's not always easy and not everyone can appreciate that. 
"I've seen it in training and I've felt it myself, there is a change there and click of things back in place again. I'm excited for what's to come. Things have been put back into place for me again."
Tags: