Update: The Kay McNulty focused episode will air on RTE One Monday 10th February at 8.30pm
---
The amazing achievements of Donegal computing pioneer Kay McNulty will be highlighted in a new RTE series about 'Ireland's EPIC Women'.
Kay McNulty from Creeslough was one of the very first computer programmers in the world.
Born in 1921, Kay was a Donegal Gaeilgeoir who went on to become one of the six original programmers of the ENIAC, the first general-purpose electronic digital computer.
Kay and her family emigrated to Philadelphia in 1924. She studied at the Chestnut Hill College for Women and graduated in 1942 with a degree in mathematics, one of only three women in a class of 92 to do so. She then worked at the University of Pennsylvania's Moore School of Engineering help with the American war effort.
Kay was chosen for a top secret project of the US military, to work on the newly developed ENIAC (Electronic Numerical Integrator And Computer).
In 1997 Kay was inducted into the Women In Technology International (WITI) Hall of Fame and she also took part in a documentary about the ENIAC project and its influence. She died in 2006 in Pennsylvania following a short battle with cancer at the age of 85.
Kay is one of six women whose stories will be told in HERSTORY: Ireland's EPIC Women on RTE between St. Brigid's Day, 1st February, and International Women's Day on March 8th 2020.
Six landmark documentaries have been produced by award-winning production company Underground Films to bring the stories of Ireland's greatest female trailblazers to Irish screens, including Kay McNulty, Lady Mary Heath, James Barry, Mother Jones, Oonah Keogh and Ninette de Valois.
The programmes will air on Monday nights from Monday, February 3rd at 8:30pm on RTÉ One
The HERSTORY celebrations are also going digital, with an 18-part podcast series, produced by Underground Films with Tall Tales, bringing to light the stories of 18 more Irish female pioneers from history. The podcasts can be accessed on rte.ie/herstory
Many of the productions feature women who broke boundaries but whose stories never made the history books.
In addition, HERSTORY events are taking place locally around Ireland. A Donegal Women's Network event has been planned for Saturday 1st February at the St Patrick's Centre in Donegal Town 10:30 am  3:15 pm. This event is a creative day to honour the women who inspire us and celebrate St.Brigid's Day Ireland's triple goddess and matron Saint.
The event attendance fee is €8 with a light lunch provided, spaces are limited, so if you would like to secure your place, please fill in the online form on https://donegalwomensnetwork.org/courses/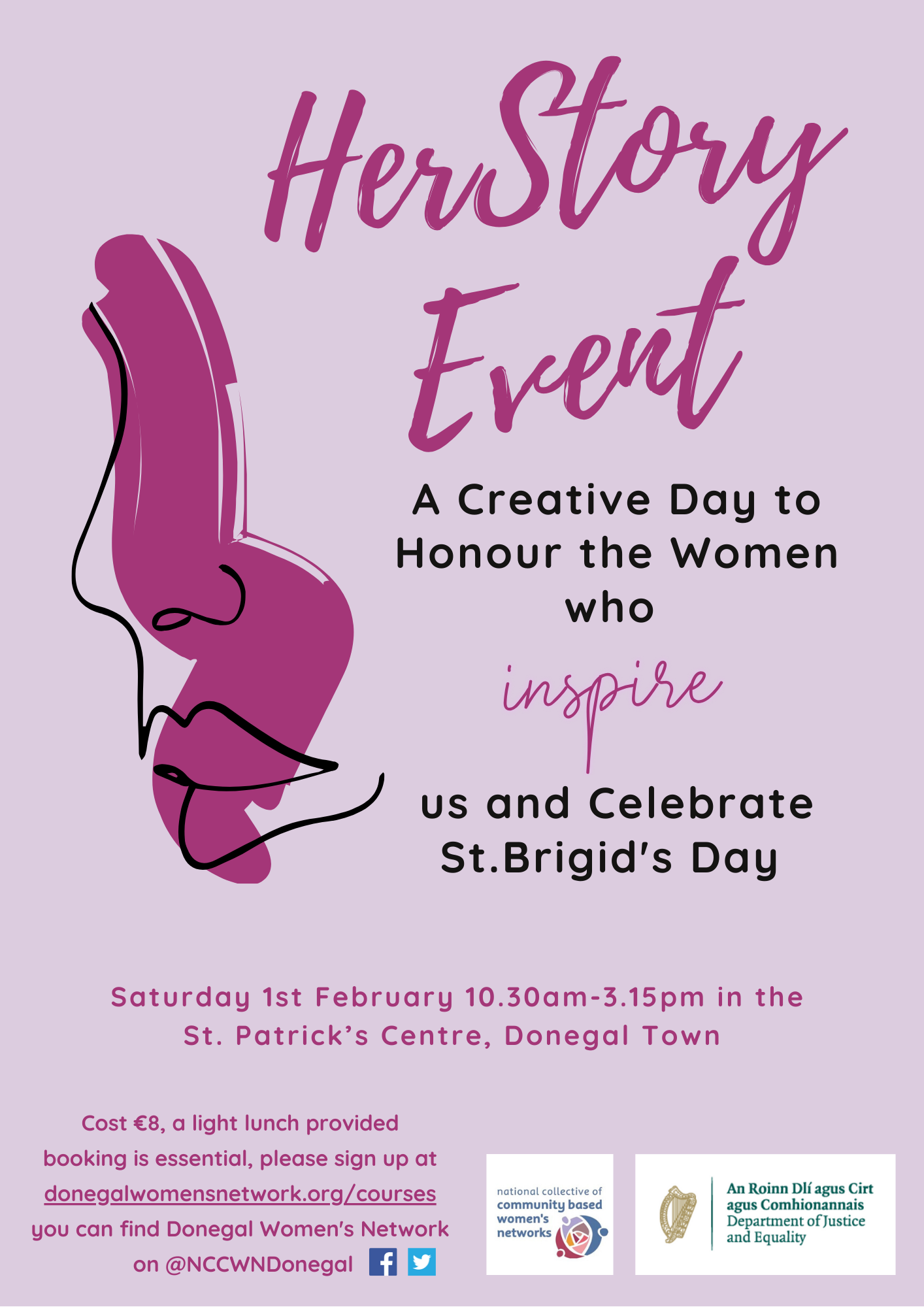 Tags: