The Mica Action Group (MAG) has welcomed the redress scheme for homeowners affected by defective blocks used in the construction of their homes has finally been signed off and published by Government.
Chairperson of the group Ann Owens said the decision could not have come a day too soon.
And the group has dedicated their campaign to the late Paddy Farren from Greencastle, who had to move his family out of their MICA-hit home, but who has sadly passed away.
On Thursday the Government announced it was pumping an initial €40M into homes hit by MICA and pyrite.
Ms Owens said "MAG and affected homeowners have fought long and hard for this scheme and for justice for affected families over the last 8-12 years. Many are living in homes that have been condemned and are at risk of catastrophic failure. This could not have come a day too soon for any of them.
"We want to thank the many people who have worked tirelessly to get this scheme over the line. In particular, thanks must be given to Minister Joe McHugh who as a Cabinet Minister within Government fought hard over the last number of years to get this scheme approved.
"Additionally thanks must be given to Senator Padraig Mc Laughlin, Charlie Mc Conalogue and Thomas Pringle who spoke out on this issue and applied pressure at every opportunity on this issue.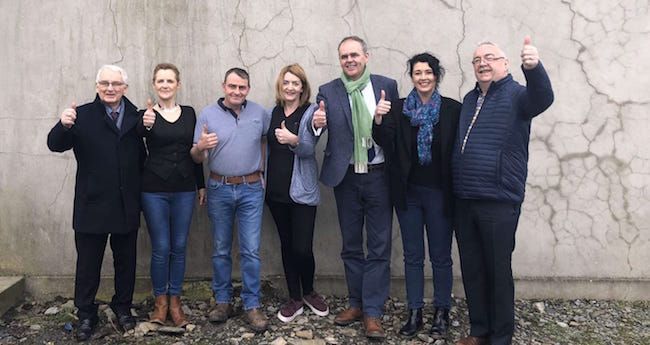 "The scheme details will be uploaded to the Department website within the next day or so. It now moves to Donegal County Council to open for applications over the next number of weeks.
PRO Eileen Doherty said this campaign has been long and very emotional for MAG and all of the families affected.
She said "People have had to leave their homes, marriages and family lives have been adversely impacted and many times those affected have questioned whether we would ever see this day.
"MAG would like to dedicate this announcement today to one of our affected homeowners, Paddy Farren from Greencastle who had to move him and his family out of their Greencastle home due to this issue for fear for their safety. Sadly Paddy is no longer with us but we want to dedicate this to his memory for all that he contributed to the campaign.
"We hope that this news gives families some comfort in the knowledge that they can finally get their homes fixed and move on with their lives.
The Mica Action Group was formed in 2014 by a group of homeowners affected by defective blocks used in the construction of their homes in Co Donegal.
Tags: