Ahead of the annual St Patrick's Day parade in Bundoran on March 17, the theme for this year has been announced as "Welcome" or "Fáilte".
Parade director John O'Connell says Bundoran is renowned for its welcome or "Céad Míle Fáilte" to guests from all over the world.
"We thought it more than appropriate that it be theme of our parade this year.
"It is also particularly fitting as this year we will be welcoming 35 students from 2 colleges in the United States (PIMA College from Tucson, Arizona and Forsythe Community College, North Carolina) as well as a delegation of 16 guests from 5 of our Douzelage Twin Towns across Europe – all of whom will take part in the parade on the 17th of March)," he said.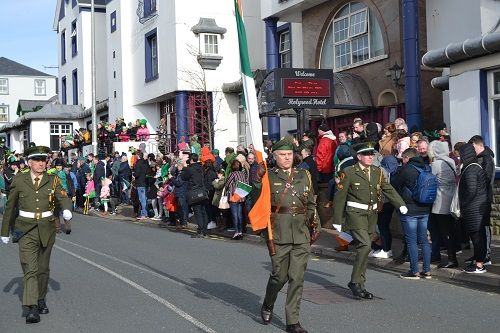 The parade as always will kick off at 3:30 from the East End and make its way up the Main Street and will include marching bands, floats, dancing groups and local community groups and businesses.
For anyone who cannot attend, the parade will once again be broadcast live on the Discover Bundoran Facebook page.
Shane Smyth Bundoran Tourism Officer said 'St Patrick's Day really kicks off the season for Bundoran.
"We're looking forward to welcoming lots of spectators to experience our national holiday as well as our guests from the United States and Slovenia, Finland, the UK, the Netherlands and Spain," he said.
Community groups, businesses and other groups are invited to take part in the parade on March 17th by registering at www.discoverbundoran.com/parade
Visitors can find out about everything happening in Bundoran for St Patrick's Day by logging on to www.discoverbundoran.com/stpatricksday
Tags: