SIX-TIME Irish champion Leah Gallen is pinning her crosshairs on European targets as the Raphoe welterweight aims big for the rest of 2020.
Gallen won the sixth Irish crown of her career on Friday night, beating Crumlin's Shelby Myers in their Irish Under-18 final.
Galen is already a two-time European bronze medalist, but her win on Friday, taken by a 3-2 split decision at the National Stadium. means she can now plan for the European Youth Championships in Montenegro in April.
"This year has so many opportunities and this was the start of it," Gallen says.
"That's why this was probably one of the best wins.  If I had lost it, that was the whole year gone. 
"There is European and World championships, but to get to them I had to win the Irish title first or there would be nothing more for me this year. 
"So, this was the biggest fight. If I didn't win, I had nothing else to go to. I'm so happy now. If I do well at these Europeans, then different internationals could open up for me and the worlds has to be the new target for me now. 
"I said it last year that I wanted gold at the Europeans, but this year I've worked hard, I've stepped up and built up."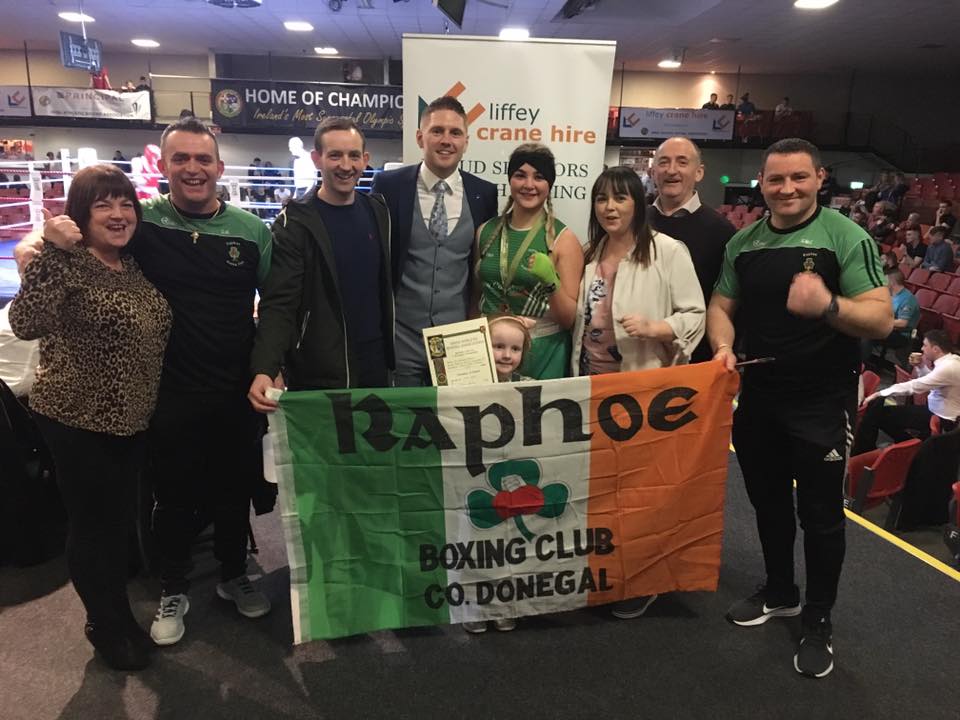 The St Columba's College student retained her Irish U18 title thanks to a fine display. It was a performance that ought to have been more comfortable on the cards than the 3-2 verdict suggested. 
Gallen said: "I was happy enough with my performance. It's still not what I'm capable of. I won it, though, so I have to be happy.
"It was a tough fight, probably one of my toughest fights yet.
"It was good to box a good, technical boxer. She was very technical and I think that's better because the two of us can just get in and box.
"Going into the fight, I knew that I'd be up against it. She's from Crumlin and that always means a tough fight." 
Gallen won bronze at the European Youths in Bulgaria last year, having won a bronze at the 2018 European Juniors in Russia.
Her Mock Exams ahead of the Leaving Cert begin this week, but Gallen will maintain her busy training schedule.
"I just have to keep it lit now," Gallen – who is doing extra classes after school and at some lunchtimes – says.
"I just have to work, work, work.I'll have no time off and I'll be in Dublin now every Saturday from now until the Europeans."
Gallen hailed her coaches, Gary McCullagh and Gerard Keaveney, as she won a fifth Irish title in just under three years at Raphoe ABC.
She says: "I wouldn't be where I am without Gary and Gerry. They give up time with their families to take us away and to train us. They mightn't know it, but we all appreciate it. 
"They have so much confidence in me – probably more confidence than I have in myself. They always say that it's worthwhile when any of their boxers perform."
Gallen added her praise for Peter O'Donnell, Donegal's 'Mr Boxing', who was the proudest man on the South Circular Road on Friday night.
She says: "Raphoe Boxing Club wouldn't be where it is without Peter O'Donnell. He does so much for the club and for the boxers." 
Gallen is working several days a week with personal trainer Shaun McGlynn and she feels much more at home fighting at 69kgs now.
She says: "It always takes me a while to get into a fight, but I felt good, felt fit on Friday night.
"I'm happier at the weight now. I was well under the weight last year, but I'm stronger now and I've gained loads.
"If I had taken a wee break over Christmas, it would only have taken a wee for the fitness to leave me.  In the last rounds, when you know you've done the work in the early mornings, you just bite down when you're finding it tough."
Tags: