Minister Joe McHugh TD presented certificates to the graduates of Ireland's first ever Certificate in Alcohol Licensing today at the LYIT.
In the Autumn of 2019, ten members of An Garda Síochána from across Sligo, Clare and Donegal participated in the inaugural Certificate in Alcohol Licensing in the Letterkenny Institute of Technology (LYIT).
The course, which is an accredited third level 7 Certificate, was developed by the LYIT in collaboration with the Alcohol Forum and the Irish Community Action on Alcohol Network.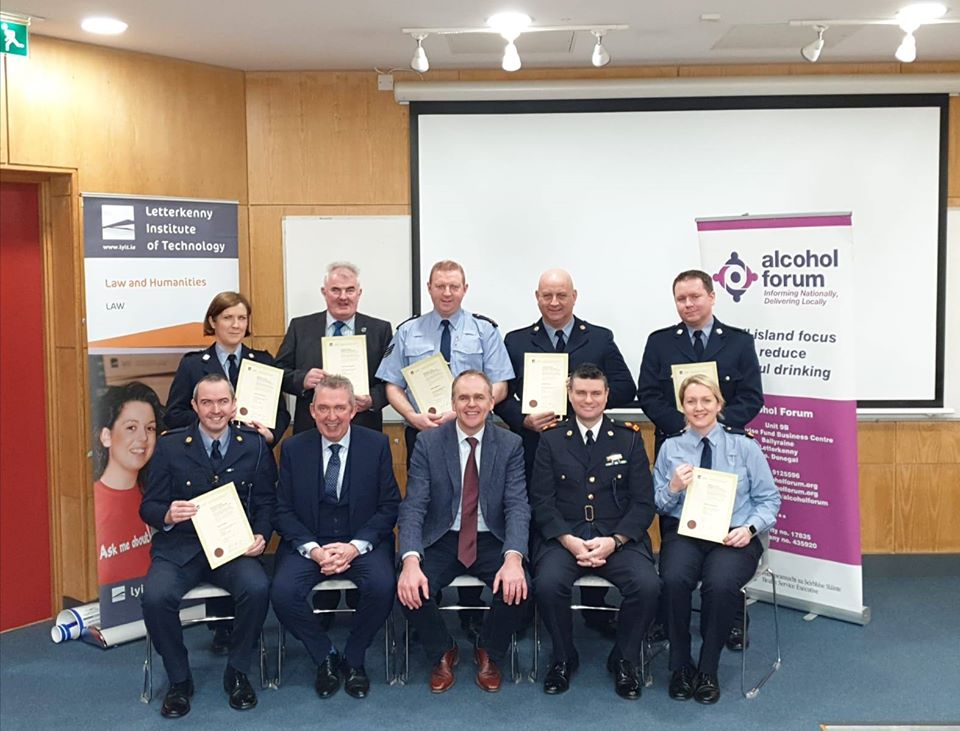 Welcoming the initiative, Minister McHugh has said he really welcome this partnership between the Alcohol Forum, the Letterkenny Institute of Technology and the Gardai which will provide accredited training to Gardai in the areas of alcohol licensing, regulation and enforcement.
"This work will complement the launch, just last November, of the 'Know the Score' a new national resource for teachers of secondary school students which will guide and support them in dealing with the risks associated with alcohol and other drugs.
Gardaí, schools and parents all need to be involved in better protecting our young people from alcohol harm," he said.
Donegal Chief Superintendent Terry McGinn has warmly welcomed this new training initiative.
"We are delighted to have had five Donegal Gardai participate as part of this first programme and welcome the fact that training accredited at this level will add to the skills and expertise of members in An Garda Síochána who have successfully completed this course," she said.
Following the success of the first programme, plans are now underway to offer the Certificate on an outreach basis in the Dublin area later this year.
Speaking ahead of the launch, the National Lead for Community Action on Alcohol, based in the Alcohol Forum, Paula Leonard said she is delighted with the success of this first programme and the feedback from members of the Gardaí has been very positive.
"With support from community action on alcohol sites in Dublin and from the Gardaí, we are now in a position to offer this programme in the Dublin area and welcome applications and queries from any member of the Gardaí who would like to participate," she said.
Tags: