STUDENTS AT Loreto Secondary School in Letterkenny are hoping to win votes for the 2019/2020 Junk Kouture competition.
Junk Kouture is a fashion competition using recycled materials, which challenges young people to design, create and model high end couture – using everyday junk!
It takes in elements of fashion, design, engineering and environmental sustainability and transforms them into a creative contest like no other.
Hitting its tenth year running, Junk Kouture has already captivated over 40,000 students, 8,000 teachers and 100,000 audience members.
Designs can be crafted into any style of wear, from modern to male, to high fashion and feminine. However, the most important rule is that it's made from 100 per cent recycled materials.
Jade Ormond's 'Divergence' is modelled by Chloe Murray. It is made using plastic and old catalogues. Their design represents the acceptance of each others differences.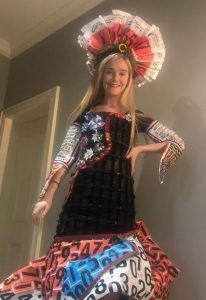 Michaela Galvin an athlete with Letterkenny AC, along with her team mates Molly and Nuala have created 'race against time', which is made by recycled athletics items.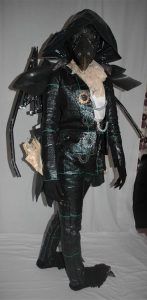 Orlaith Bennis' 'Metallum Avem' is inspired by climate change thats creates wildfire and the destruction of ecosystems caused by pollution. Her main material is scraps of weed control fabric from the local garden center and bike gears and parts from bike repairs
Votes count for 10 per cent of the final score at the Regional finals which are held in Derry at the end of February.