DESIGNER HOMES Exhibition will hold its 9th annual event this weekend, February 29th and March 1st in The Halfway House, Tooban, Burnfoot. 
Entrepreneur, Event Planner and Architect, Breege Galbraith, started the event in 2011 when local businesses in the homes industry were struggling to gain clientele in the economic downturn. 
The exhibition is a two-day event which provides an excellent and knowledgeable experience for all attendees. 
The event offers something for everyone, whether you are building your first home, renovating or just have an interest in everyday lifestyle- this event is for you. Local and nationwide businesses will showcase at the event.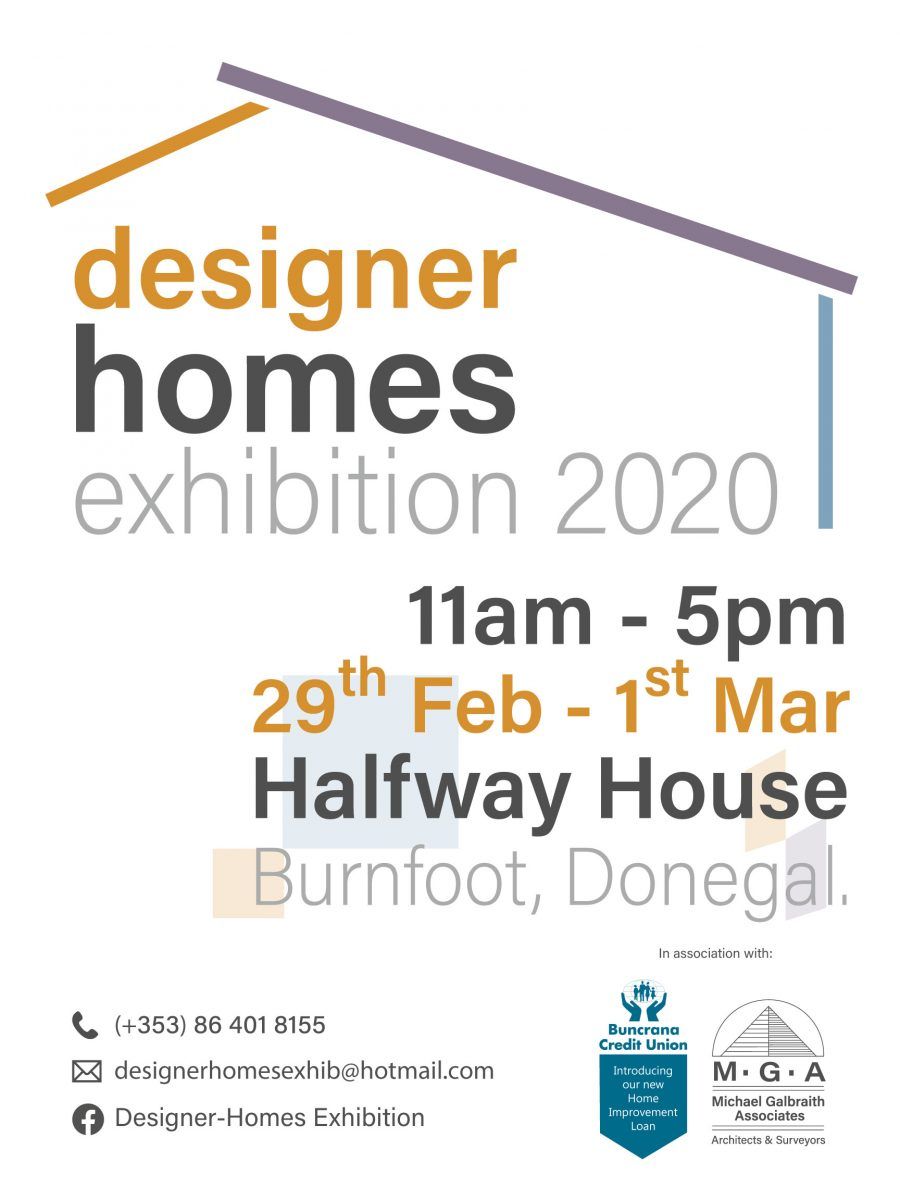 Each exhibitor will offer something different and have utmost experience in the homes industry. Technological enhancements and solar power energy are becoming more popular by the day, leaving homeowners with too many options and not enough information. 
Designer Homes Exhibition aim to give attendees a knowledgeable experience and leave the event with the contacts needed to start and finish building their dream designer home. 
Designer Homes Exhibition hold a one of a kind event where exhibitors can offer potential clients value for money, products that are just on the market and modern developments. 
The event is currently in its 9th year and is becoming more popular as the year's reel in. With the economy rapidly improving and unemployment rates at an all-time low, there is no time than the present for building your dream home. 
Designer Homes Exhibition will provide the resources you need to start building; from mortgages to tiles and home heating systems, they have it all. Buncrana Credit Union will be exhibiting at the show,with their record breaking interest rates and renowned experience they will be a first hit amongst attendees. 
Buncrana Credit Union acknowledge and respect the show so much they have decided to co-sponsor the event along with Michael Galbraith Architects. Michael Galbraith Architects are professional architects based in Buncrana. MGA are fully registered with the RIAI and provide all architectural services, building energy ratings and valuations. 
There will also be entertainment at the Event with Highland Radio's renowned DJs who will broadcast live from the event on Saturday from 12 – 2pm.
Businesses in the homes industry are becoming busier than ever and competitors are introducing themselves into the market regularly. 
Home builders have numerous suppliers to choose from and with a brief talk of what each exhibitor offers will help attendees in choosing their preferred supplier. 
This will enhance the experience of attendees and give them a face to face impression of their supplier. 
Experienced Architect and organiser Breege says "Designer Homes Exhibition is bringing bigger and better things to its 2020 show, there is no time than the present to build or renovate your designer home." 
Whether it be your first home, your first renovation or just an excuse for a day out- Designer Homes Exhibition offers something to everyone… An event not to be missed!
Visit Designer-Homes Exhibition for more updates and information.
Tags: