Three Donegal women are blazing a trail in welding and forging new career goals in a 'non-traditional' sector.
With ample opportunities coming from this specialised skill, employers say it's time that more women joined the field.
Donegal ETB's Further Education and Training (FET) Service has welcomed three female students to its current Basic Welding course in Gweedore. It's the highest proportion of women the centre has ever had in a welding programme. And it's a positive step in the right direction.
The current cohort entered this programme for practical reasons. 
Danielle Burns, 24, came into welding to gain useful skills for her work as a circus performer. The Letterkenny graduate wanted to work on her own props for her fire throws.
"I fell in love with welding," Danielle said. "It's a useful skill for anyone to have. Particularly for women, it's a great trade to get into. It's empowering in a way, you make your own money, you can travel with it and you have the opportunity to grow and develop."
Danielle enjoys the hands-on side of the course as students learn the basics in MMA, M.I.G. and T.I.G. welding.
Donegal ETB prides itself on creating a supportive atmosphere for women in trades. Welding may still be a male-dominated sector, but there are many young women keen to make their mark.
Sarah Louise McGinty, 21, dreams of being a mechanic or a welder. 
"That's my end goal, but I know from experience that people don't take you seriously when you're a girl and want to do mechanics.
"I started with welding to show my interest in mechanics. I love it and in the back of my mind I'm debating staying with welding."
Sarah Louise always saw the value in trades through her father's work as a mechanic. Despite wanting to enter the sector from a young age, she didn't get the encouragement she needed early on.
"When I was in school my careers teacher put me off mechanics, saying would I not do beauty, but there are not enough girls doing this and I would tell others thinking about it to definitely go for it," she said.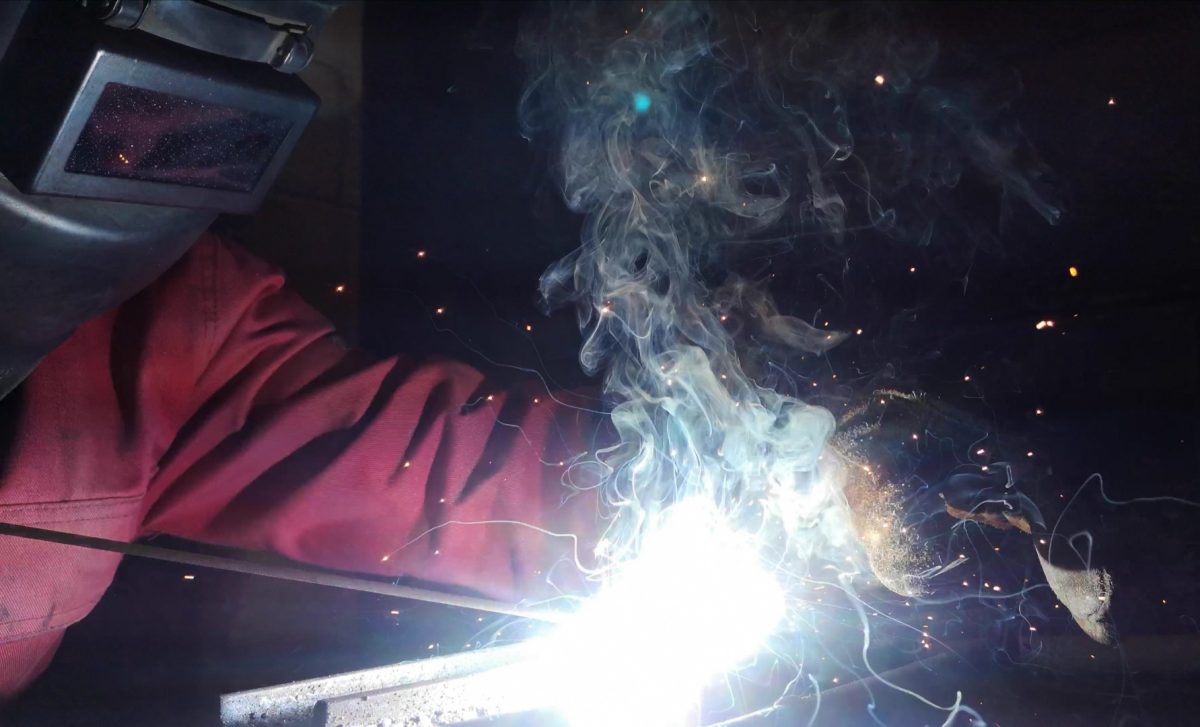 Dominie McDyer, 45, says she wished she had done this welding course years ago.
A qualified goldsmith and silversmith, the Ballybofey native had worked in jewellery repairs before looking for a change. She was between jobs when she decided 'it's now or never' and pursued her interest in engineering and bigger metalwork.
Welding, Dominie said, is a tricky skill to learn.
"It's not easy, it takes a lot of hard work, but it's taught brilliantly here in a very relaxed and easy environment. Everyone is brought along at their own level. This is the most instruction I've ever had in a course," she said.
The course is geared towards equipping students with the skills and safety certificates they need to start off in the industry. Students also take on three weeks of work experience to finish the programme, and many pin their hopes on gaining work contracts afterwards.
"A lot of us are interested in going further or going for the Intermediate Welding course in Letterkenny," Dominie said.
The appeal of welding, for Dominie, lies in the plentiful work opportunities in the industry.
Dominie points out that women, by nature, have two of the most important qualities needed to be a good welder – a steady hand and patience. Women pushed through the glass ceiling during wartime when they were needed in factories to support the war effort.
"There is a major recruitment drive in America at the moment for female welding. The average age of an American welder is 55, and with a lot of those men ready to retire there is going to be a major skills shortage. I would say it's the same here," Dominie said.
"You find now that people with degrees come back and learn the trade."
Danielle's own experiences showed that a degree is not a sure-fire route to a job. She studied Anthropology in Maynooth, but soon found that she got more work from her circus skills.
"There is a lot of opportunities in welding. Every industry needs welders really, you can go into ship yards, food, agriculture, motor mechanics, aerospace and there are so many opportunities to travel."
People may still be surprised by women choosing welding, but Danielle said the reaction has been always positive and she hopes more women will follow suit.
If this feature has sparked your interest in entering the welding trade, why not consider applying for the ETB's next full-time Basic Welding course at their Gweedore Training Centre, beginning on 5th May 2020 and lasting for 17 weeks.
For more information, contact Donegal ETB by emailing coursesdonegaltc@donegaletb.ie or Telephone: 0749120542.
Visit the course page at: https://www.donegaletb.ie/course-detail/?CourseId=273492&course_name=Basic%20Welding&CourseContactEmail=coursesdonegaltc@donegaletb.ie
Donegal ETB's FET Service also provides intermediate and coded pipe welding courses as well as an engineering operations traineeship – further information is available on their website course finder: https://www.donegaletb.ie/further-education-training/course-finder/ 
This specific skills training is co-funded by the Government of Ireland and the European Social Fund as part of the ESF Programme for Employability, Inclusion and Learning (PEIL) 2014-2020.
Tags: