THE DAYS and the weeks are mapped out now for Mark English.
The plans are in place with the destination of Tokyo for the Letterkenny native.
Recently-qualified as a doctor, English has shelved the commencement of a placement year until after the 2020 Olympic Games.
"I want to be in Tokyo to show what I can do," English says, with that familiar solid confidence.
"The Olympics is the pinnacle for every athlete. I'm really excited and it will be a massive chance for me to show what I can do having taken the year off from my studies.
"I feel really good at the moment and I'm injury free, which is the main thing. The motivation is there, too. As long as those things are there, I can perform well. I'm really excited for the next few months."
English is already a three-time European medalist, his most recent continental nugget the European Indoor Championships bronze he secured in Glasgow last year.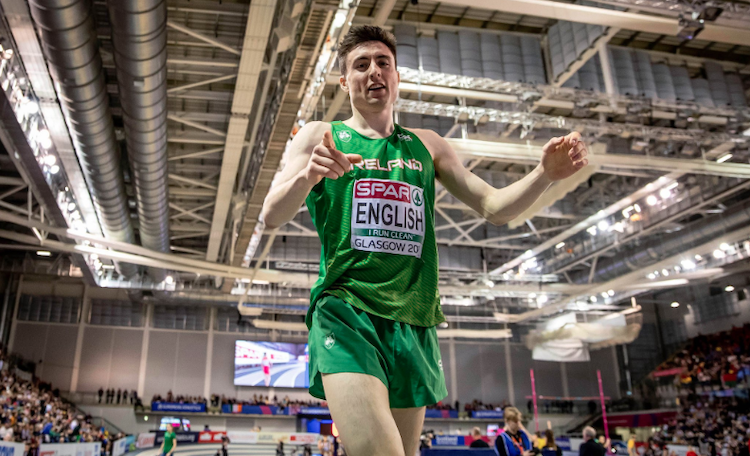 His talent has never been in question.
Long-time Irish Athletics Team Manager Patsy McGonagle said in his memoir 'Relentless' that English 'is and was the most talented athlete that we have every produced in the north west of Ireland'. Just to emphasise the point, McGonagle added: 'Ever.'
On Sunday-week past, English won his seventh Irish Indoor title. He eased to the gold in 1:49.09 having cruised through his heat in 1:51.74.
It was a weekend when the mojo was back.
English was a surprise winner, not least as reports emanating from Athletics Ireland suggested that the mercurial middle-distance star was set to withdraw.
The headlines puzzled him.
"I don't know where that story came from because I was always going to run the Irish Indoors," he says.
"I'm delighted that I did.
"It was a great race for me and I was delighted to come away with a nice end to the indoor season
"I felt really good in my heat. After the heat, I spoke to my coach and actually said it was the best I had ever felt after a national championship heat."
He puts that down to the few weeks he spent at the turn of the year training at altitude in South Africa, alongside the likes of Adam Kszczot and Álvaro de Arriba.
He says: "One of the reasons for wanting to run the nationals was that, after I had been in South Africa at altitude, I wanted to prove that it wasn't detrimental to my performances. If I can get the timing of it right, hopefully it will help me for the outdoor season.
"I was also doing good endurance sessions in Sligo with the likes of Patrick Brennan, John Travers and I put in a really hard winter of work. I think that paid off at the end of the indoor season.
"Hopefully I'll see some nice results when I start the outdoor season in April or May."
English is at ease now that he has just one goal to focus upon. Combining studies with elite training proved testing for the Letterkenny man, who was a student at UCD.
He says: "It was difficult to find the time and the energy to get sessions done after College. Certain things made that easier, like having the car sponsored by Hegarty's Garage in Letterkenny. Those kind of things help along the way and I'm very grateful for that support."
English finished seventh in his heat at the 2019 World Athletics Championships in Doha having impressively won an 800m at a Diamond League meet in Birmingham a month earlier.
This year, English began with sixth and fifth-placed finishes at races in New York and Athlone, but the aim is securing a spot for Tokyo, either via running a 1:45.2 800m or making it trough his rankings.
"Those first two, I didn't race how I wanted to," English says.
"I had pulled my hamstring a few days before I raced in New York. That affected me for New York and Athlone.
"This indoor season wasn't going to be important in the grand scheme of things. This year is all about the Olympic Games and I just need to make sure that I'm ready for the Olympics. Everything I'm doing is with Tokyo in mind.
"My coach (Steve Magness) is helping me to get ready for Tokyo. I have good faith in him.  The main aim is getting ready for Tokyo.
"I hope to qualify by June. Now, it's about getting ready for April and makeingsure that I keep doing what I've been doing for the last three months."
Tags: