SHEEPHAVEN divers attended the Irish Underwater Council 2020 Dive Show and AGM, held this year in the Radisson Hotel, Limerick.
The Sheephaven club members joined a number of exhibitors from Donegal, which included Arranmore Charters, Atlantic Composites from Bunbeg, Divin Dec from Letterkenny and Mevagh Diving from Carrigart.
For the visitors to the show there was the opportunity to see the newest diving equipment available to Irish recreational divers and in particular the very best of cameras, which are supplying a very significant trend in underwater photography.
There were also reports of very strong sales in dry-suits, where potential buyers had the opportunity to get measured for the right fit, rather than take a chance with online sales.
In other areas of the show there were guest speakers on a range of currently topical features, with a significant emphasis on environmental issues, including the ongoing concerns around marine plastic pollution.
One speaker, who is well known in Donegal diving circles, is Barry Mc Gill and he delivered a presentation on the North Atlantic Wrecks, many of which he has dived and photographed off the Donegal coast over a number of years.
The IUC AGM focused on a series of resolutions to bring the organisations governance structures into line with the current changes in legislation, not least of which are data protection issues.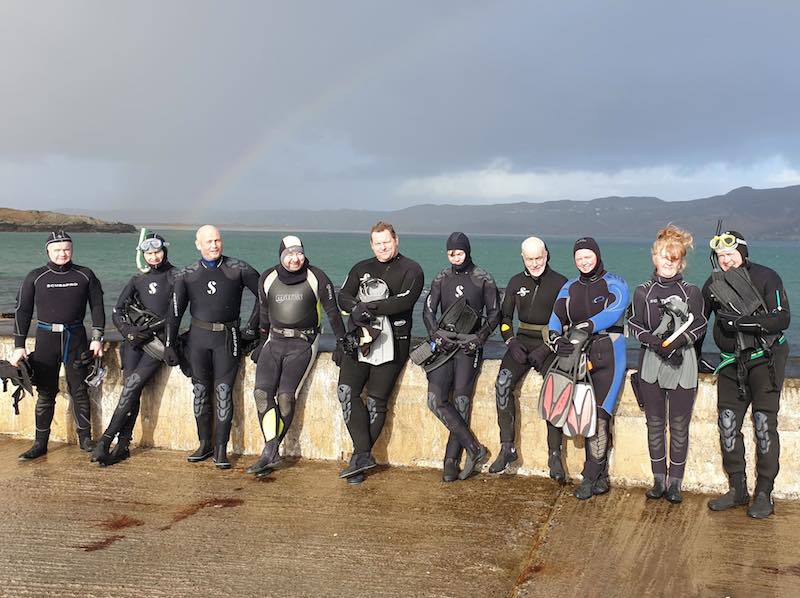 Sheephaven is well represented in the IUC organisational structure with Anne Boyle on the Technical Committee, while John Joe Rowland continues with his position of National Co-ordinator for the IUC Search and Recovery Units, a post he has held with great distinction for a number of years.
Meanwhile back home the Sunday morning snorkel was blessed for a few moments with a magnificent rainbow, relatively calm seas and slightly warmer air temperature, making for a lovely morning in PoartnaBlagh. In-water temperature is around 8 degrees Celsius and there very limited horizontal visibility.