MASS-GOERS in one Donegal parish were unbowed by coronavirus fears as they attended weekend Masses as normal.
The Donaghmore parish in Donegal is a part of the Derry Diocese and Masses at its two Churches – St Patrick's, Crossroads and St Mary's, Sessiaghoneill – were on at their usual times.
Picture: St Mary's Church, Sessiaghoneill; (insert top) Parish Priest Fr Patsy Arkinson; and (insert bottom) Finn Harps Chairman Sean Quinn arriving for Mass. Pictures by Joe Boland, North West Newspix
The Bishop of Derry, Donal McKeown, in a Pastoral message issued on Friday, said that the normal routine of weekend Masses was suspended – a move that was to take immediate effect in the 12 County Donegal parishes of the Diocese.
"This is our only hope," Mark McIntyre said before 11am Mass at Sessiaghoneill.
"As Padre Pio said: 'The earth could exist more easily without the sun than without the Holy Mass'.
"It's a good idea to keep Mass on, but I don't agree about the rule of no communion being distributed on the tongue. Instead, the communion is being placed on hands and the hands transfer germs worse than anything."
He believed the cessation of the hearing of confessions was an 'over the top' move.
Parish Priest Fr Patsy Arkinson, who celebrated the Saturday Vigil and two Sunday morning Masses at Sessiaghoneill, said: "I wouldn't be concerned when you look at the numbers coming out to the Masses."
There were 42 people at the Saturday Vigil with 26 attending 9am Mass on Sunday, while around 40 people gathered for 11am Mass.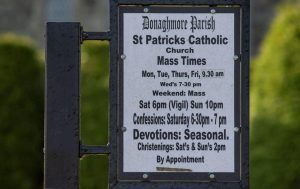 At St Patrick's, Crossroads, where Masses were celebrated by Fr Francis Lynch, there were around 30 in the Saturday evening congregation with a similar crowd attending on Sunday morning.
Fr Arkinson said he was unaware of a specific requirement to suspend Masses this weekend.
He said: "They have said that gatherings of over 100 were to be avoided, but we are not getting near that number. We're just rolling with it at the moment, but all of the Masses within the Diocese will cease after St Patrick's Day."
Most parishioners who arrived on a crisp Sunday morning felt that Masses should continue to form a part of the weekly schedules, despite widespread concerns about the spread of Covid-19.
Local publican Frances Byrne said she came 'in hope' for 10am Mass at St Patrick's Crossroads.
"I think we should be allowed to go to Mass, but if they close one place, then they should close everywhere. Certain places are being closed, so it probably should be extended to everywhere."
The family pub closed this week for the first time ever and, while it reopened for the weekend, Frances added: "We will probably close the pub for a while. People just aren't coming out."
Emily McNulty said she would keep attending Mass until told otherwise by the Church.
"If we keep ourselves right and follow all the precautions, we should be okay," she said.
"I agree that we shouldn't be obliged to go, but I wouldn't have any concerns."
Bernard Devine, a local GAA stalwart, said Sunday Mass was a means of making people feel good.
"I would have no concerns coming with this amount of people here," he said.
Another parishioner, accompanied by his wife, said the option to attend Mass should remain open.
"If we're allowed to come out for a walk, we should be allowed to go to Mass," he said.
"We made a decision this morning to come out, but we will be safe and do everything we can do. I don't intend to sit next to anyone."
Less than 10k away, one young mother, who arrived at Sessiaghoneill with her son, admitted her concerns.
"I would be wary about it," she said.
"I'm hoping for the best, but maybe they shouldn't be on."
Sean Quinn, the Chairman of League of Ireland Premier Division club Finn Harps, is a regular Mass-goer at Sessiaghoneill.
"I come every Sunday and I wouldn't be one bit worried as long as everyone abides by the precautions and the measures in place," he said.
Mr Quinn's club faces a period of financial hardship. League of Ireland football is suspended until at least the end of the month with a lengthier period now seeming certain.
Harps officials have already expressed their fears about what the future holds.
"It's very worrying for all clubs in the League of Ireland," he said.
"The truth is that none of us know how long we can survive. Some of us will be in trouble quicker than others. I'm involved in Finn Harps for a long time and it's always been a wing and a prayer!"
Mr Quinn is a local coal and fuel merchant and noted how the depot where he collects his coal was busier than ever this weekend. "People are preparing for the worst," he said.
On Friday, Bishop McKeown said in his message: "Priests should continue to celebrate weekend Masses privately, remembering in particular, all of those who are most affected by the virus as well as the dedicated services of health care workers and carers.
"The Coronavirus has created a lot of worry for many people.
"Matters are further complicated in this diocese by different approaches taken by the Irish and UK governments."
Tags: