A special Donegal boy is celebrating a birthday like no other today after being inundated with cards and presents from around the world.
Birthday boy Jack Beattie turns nine today but due to coronavirus his party had to be cancelled.
The Raphoe lad's disappointment quickly turned to delight this week when over 1,000 birthday cards and packages arrived at his house from friends and strangers moved by his story.
The deliveries flooded in after Jack's mum Ruth put up a Facebook message asking friends to send a card and celebrate 'nine years of awesomeness'.
Jack, who was born with hydrocephalus and brittle bone disease, is in self-isolation along with his mum since last week due to Covid-19. He missed out on birthdays over the last two years as a result of surgeries.
But his parents' birthday wishes all came true when their appeal went worldwide during the Covid-19 outbreak. In the last week, the Beattie's have received cards from as far away as France, the US, Switzerland, as well as around Ireland and the UK.
As Jack's parents Ruth and Kenneth plan a small party together tonight, they said they were amazed at how far their appeal had gone.
"It's just as well we are self-isolating, because if anyone came into the house they would have nowhere to sit, there are so many cards!" Ruth told Donegal Daily.
"Every time the postman comes Jack is jumping out of his skin he's that excited. And there was no post at the weekend so God knows how many bags will come later today."
Ruth said Jack is loving reading all his cards and looking at pictures sent in from his new penpals.
"It's lovely to see that children have sat down and took time to draw pictures. I couldn't believe it when I opened a card and it was from Florida, it just shows how social media can go so far," she said.
Cards even made it to Jack's house without an address!
"We got an envelope that just said 'Jack the birthday boy in Raphoe'," said Ruth.
Jack and Ruth have been chatting with friends and visitors through their living room window while keeping a distance during the isolation period.
Jack received another special surprise from his neighbours today when each child in the estate coloured in a letter on a huge Happy Birthday placard for outside his house.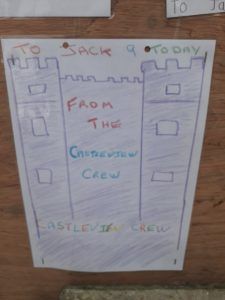 As the Beatties celebrate a birthday like no other, Ruth said, "We just want to thank everyone who took the time to send cards and presents to Jack. This is a birthday we will never forget."
Tags: