SUNDAY was certainly a mother's day with a difference for Katy Herron.
The Glenfin woman just touched down in Ireland, her maiden season playing Australian Rules having been cut short due to the ongoing coronavirus crisis. A flight home secured just in the nick of time.
A FaceTime call from her seven-year-old son, Joshua – who had been with her in Australia until just over a week ago – brightened up her day.
Back at base again after a whirlwind week in Melbourne, deciding what to do it – and, perhaps more pertinently, when to do it.
"Everyone knew that the Irish girls were on edge," Herron tells Donegal Daily/Donegal Sport Hub. 
"It was a big call. People realised that there was more to it than sport.
"The club were so supportive of me with Joshua already back at home.
"There were a lot of questions. The whole thing got more serious day-by-day. In the last couple of sessions, everyone was going into the unknown. No-one knew if we'd be playing and everything was just up in the air."
The AFLW decided to play a game behind closed doors and, after the goalposts shifted some more, the season was eventually shelved.
That Western Bulldogs hadn't qualified for the knock-out phase of the season did make her passage rather more straightforward.
The last couple of weeks were strange, though.
She says: "We just had to prepare as best we could, but then they played a game with no crowd.
"There were only the players, management and the match officials. You'd maybe get 8,000 at a normal game and it's a big family day out for the community. That was really weird. You could hear everything that was going on.
"After that, we were very skeptical and we were just watching the news all the time waiting to hear."
Last summer, Herron landed a deal with the Bulldogs, joining her Glenfin and Donegal colleague Yvonner Bonner, in making a switch to Australian Rules, with Bonner lining out for a second year at the Greater Western Sydney Giants.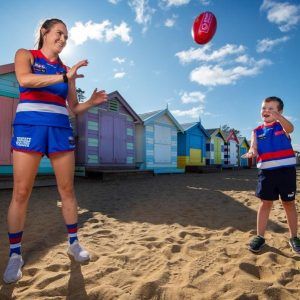 Early this year, Katy – a Maths and PE teacher at Holy Cross College in Strabane – and Joshua – who is a pupil at Dooish National School – headed for their big adventure.
She says: "He loved it. He really did. That was a concern at the start, for definite. There was no issue, he was very excited by it all and everyone in the club was brilliant to him as well.
"When he came home again, Joshua got back in for a week to school in Doosish and he was so excited. They sent over a scrapbook for him to put down his memories of everything we done. He was like a wee celebrity going back in again."
The LGFA yesterday confirmed the cancellation of the remainder of the 2020 Lidl National Leagues and said the Championships will remain under review.
Transitioning the other way was initially a challenge for the former Donegal captain, who was skipper in 2015 when Donegal won the Ulster Ladies SFC title for the first time.
She says: "I practiced at home before I went and thought that I was on top of it. Then, I landed to training and I realised that I wasn't really. It wasn't too bad. A skills coach met me in between training days."
The experience of being a full-time athlete in recent months was an experience the 30-year-old thought had passed her by.
"I loved it," she says now.
"It was a different lifestyle. You just can't compare it, with the weather, the football, everything. You have nothing else to worry about whereas here you have so many external factors. It was an unbelievable experience. It was just brilliant.
"It's only in its fourth year and has a long way to go, but they're so far on already. The money they pump into it is massive. The amount of people in around the club helping out, it's crazy. They are trying to be so professional.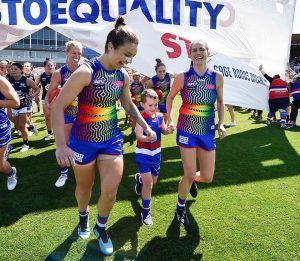 "At the same time, with fitness there isn't a big discrepancy. Girls were would be definitely on a par with the fitness, but the facilities and the lifestyle means it's a completely different world."
Soon, she'll get back to homeschooling Joshua – but has a head-start having done just that in Australia. Sunday's video call, Joshua showing the bunch of daffodils he picked for his mum, and the regular FaceTimes keeps the spirits up as Katy bides her time in self-isolation.
Day four and the countdown firmly on 'til they're reunited again.
Tags: