Donegal Daily is celebrating a month of poetry with the #WeAreThePoetsDonegal series, in association with Poetry Ireland.
Throughout April, we will share daily poetry by established writers from across the county.
This series invites you to take a moment to read, enjoy or share poetry in the lead up to Poetry Day Ireland on Thursday 30 April 2020.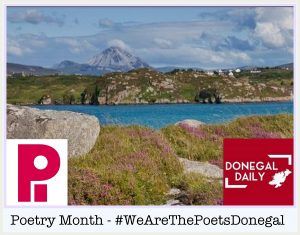 Today's featured poet is Denise Blake:
---
Listen to a reading here: 
---
---
Listen to a reading here:
---
About the poet:
Denise Blake's collections, Take a Deep Breath and How to Spin Without Getting Dizzy were published by Summer Palace Press. Her third collection, Invocation was published by Revival Press, Limerick Writers Centre. Her poem, And They All Lived Happily, was part of Poetry Ireland's Poetry Day '19 promotion. She is a regular contributor to Sunday Miscellany RTE Radio 1 and her piece, Always Remember was included in the Miscellany50 anthology.
Denise has wide experience of facilitating creative writing workshops in schools through Poetry Ireland's  'Writers in Schools' Scheme, with teachers and artists as part of Artists in Education, CAP Poetry in Motion, Pushkin Trust, TY Make a Book Project, Read DL & We Are the Poets '2020, and with a variety of adult groups.
https://www.facebook.com/deniseblakecom/
https://www.poetryireland.ie/education/writers-directory/denise-blake
https://limerickwriterscentre.com/product/invocation-2/
---
#WeAreThePoetsDonegal
Visit www.poetryireland.ie for more as we countdown to Poetry Day Ireland.
If this series has inspired you to write your own poetry, you are invited to send them in to wearethepoetsdonegal@gmail.com to be featured at the end of the month.
Tags: