IT'S AROUND ten years now since Shaun Shields was introduced to Sky Andrew, the former Olympian turned sports agent in London.
Shields was 'twiddling his thumbs' having moved to London, working at 'odds bits and pieces' and living with family when a chance encounter changed his life.
Picture: Shaun Shields with Crawley Town's Tom Dallison.
The Milford man was a graduate of Business Management and French from Ulster University and briefly worked for the Foyle Food Group before upping sticks for London.
A cousin, Donnamarie McBride, facilitated a meeting with Andrew, who had become the first licensed Black British football agent in the mid-1990s. Andrew was looking for an intern and Shields entered a new world.
Over three years ago, along with Imre Varadi – a former Newcastle, Sheffield Wednesday and Everton player – and experienced agent Pat Deane, Shields helped to form Quorum Sports.
"Essentially, I'm an agent, but the role is varied," London-based Shields tells Donegal Daily/Donegal Sport Hub. 
"I get asked a lot: 'What do you do?' It's not a 9-5 job, it's very much a 24/7 role. One day, I might be at an under-18 game in the morning, an under-23 game in the afternoon and maybe a first team game in the evening if it's a Monday or a Tuesday night.
"I do a lot of scoring, reports and analysis, watching individual players. We would give the players some feedback afterwards. It's nerve-wracking if the player you're watching is a goalkeeper or a defender. You just hope and pray they do well and you have to take the emotions out of it.
"The part that people don't see is when you're sat speaking to a financial advisor, arranging a mortgage for a house, a loan for a car – it's not all going to matches, transfer dealings and new contracts.
"We're constantly speaking to clubs. I was on the phone to one club's head of recruitment earlier on. Had we not been in this situation we're in, a lot of clubs would have the plans in place for next season and we'd be looking at clients who were available to go out on loan."
Shields – a son of Martin and Bridget Shields from Claggan, Milford – manages Quorum's London office. The company looks after the needs mainly of players from the Championship to League Two, while they have some League of Ireland players on their books too.
He says: "I've been involved in the industry for about ten years now. We are a new company, but we're a very experienced company in the industry. There are a lot of agencies out there who have x number of players and with a sheer volume they couldn't possibly provide a level of service to each individual. We have around 50 and we're comfortable and happy with that.
"League 1 and League 2 is the bread and butter for us. We're also part of the football agency network, where we work alongside similar, small groups of agents around Europe. We have dealings with others in Europe to share information with."
Shields and Quorum were central to some recent moves from the League of Ireland. They facilitated Kieran Sadlier's switch from Cork City to Doncaster, helped in Zachary Elbouzedi transferring from Waterford to Lincoln and were involved in the move of Conor McCarthy from Cork City to St Mirren.
Irish players Alan Browne (Preston North End) and Dara O'Shea (West Bromwich Albion) are among the others in the Quorum stable.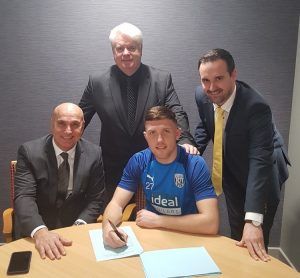 Shields believes that the League of Ireland has become an ideal ground for English-based players to prove their credentials.
"The League of Ireland is a fantastic level for a player and I would encourage any player at under-23 or academy football here to go over and play for a season, or even for six months," he says.
"The hardest thing for young players is getting out of the mindset of: 'I'm at a Premier League club'. Until you're in the first team, you've not 'made it'. If you're playing under-23 football, it's very pedestrian and it isn't realistic. We always say to players to get out and play first team football at the earliest opportunity. It's a completely different mindset."
The football world from the outside can appear a rather cloudy setting, but Shields paints a rather different picture.
"It's only murky in terms of the two types of agents that are in the industry," he explains.
"You have brokers, who are only interested in moving a player from club 1 to club 2 as that's how they get paid. They're employed by a club as they want to get a player in – and it's a case of go and get him. The agent will do that on behalf of the buying club.
"From our point of view, we're a client-based agency. If we have a club interested in one of our clients, we look at everything.
"You might have a player in League 1 or League 2 and maybe financial reasons may be the main factor in a transfer. But you have to take a holistic approach: What style of play do the use? What about the location? You look at the type of manager, too, and the area they're based.
"Location is important. If a player, for example, has a family of four and are moving far away you have to take that into account.
"Every client is different. We have players who never pick up the phone to ask for help. They might have someone in the family who has been involved in financial dealing, or what have you. It all varies from client to client."
Tags: