RESIDENTS in Bundoran have expressed concern as a caravan cortège parked up in the seaside resort overnight.
Locals woke in anger to see a fleet of four camper vans and two caravans parked along the usually popular West End Walk.
The UK-registered vehicles appear to have traveled through the night to Bundoran and has raised the ire of residents abiding by the Covid-19 lockdown.
"Bundoran is completely closed except for supermarkets and chemist shops," Bundoran businessman Diarmaid Doherty told Donegal Daily. 
"Despite the massive financial loss to the business community we are all playing our part to help beat this virus.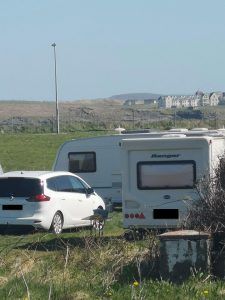 "You can imagine the angler of the local community after we have made such massive effort.
"We are all extremely disappointed at this congregation and that they have been allowed to travel despite all the warnings that are in place. How is this even allowed?"
The vans and caravans have pitched up near to a housing estate which has a large number of elderly residents.
Locals believe that these arrivals are to coincide with a funeral in the area and concerned natives have complained to Gardaí.
"It is disgraceful," Mr Doherty said. "These people should be made to comply with the law like everyone else."
Sinn Féin Councillor Mickey McMahon said he is liaising with the relevant authorities in an attempt to resolve the matter.
Tags: