Donegal Daily is celebrating a month of poetry with the #WeAreThePoetsDonegal series, in association with Poetry Ireland.
Throughout April, we will share daily poetry by established writers from across the county.
This series invites you to take a moment to read, enjoy or share poetry in the lead up to Poetry Day Ireland on Thursday 30 April 2020.
Today's featured poet is Siobhan McLaughlin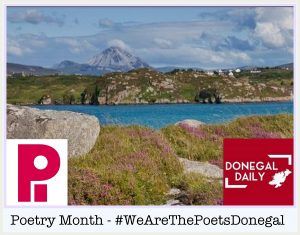 ---

---
*Inspired by 'Grianan Moonrise Two', a photograph by Martina Gardiner
Link to photo: https://www.martinagardinerphotography.com/grianan-moonrise-two
---
About the poet: 
Siobhán is a poet from Buncrana, Co. Donegal. She has a BA in English and a MA in Verbal & Written Arts.
Her poems have appeared in local publications and online on The Ekphrastic Review, The Honest Ulsterman,  Poetry 24 and forthcoming in The Paperclip.
Siobhán is currently taking part in the  National/Global Poetry Challenge  (#NaPoWriMo) for April.
She is also a blogger and shares her love of poetry on www.a-poem-a-day-project.blogspot.com  Find her on Twitter at @siobhan347
---
#WeAreThePoetsDonegal – Click here to read the full series so far.
Visit www.poetryireland.ie for more as we countdown to Poetry Day Ireland.
If this series has inspired you to write your own poetry, you are invited to send them in to wearethepoetsdonegal@gmail.com to be featured at the end of the month.
Tags: