TRIBUTES have been pouring in for Hugo Shiels, the popular former caretaker at Little Angels Special School, who has died.
Hugo (pictured by Brian McDaid), late of 240 Ros Suilighe, Oldtown, Letterkenny, passed away at Letterkenny University Hospital.
Hugo and his beloved wife Maureen – who he met on a blind date on Christmas Eve in Letterkenny back in 1965 – both worked at Little Angels; Hugo as a caretaker and Maureen as a cleaner. The couple retired on the same October day in 2018.
"He was one of a kind and was known by all for his wit and his laugh with which he would draw in many an unsuspecting tradesman before getting him to do a favour for Little Angels," the Letterkenny school said in a moving tribute.
"Such was his popularity and the esteem in which he was held that there was never a no and to this day in the office we have a handwritten list of names and numbers of tradesmen under the title of 'Hugo's friends'."
Staff recounted a funny story from February when, while painting, a notice board was removed and on the wall was written: 'Another free job for Hugo Shiels'.
Little Angels said: "Not alone did he get tradesman to help out but he also fundraised tirelessly for Little Angel's and had a huge part to play in securing our new school bus. It was on his mind even during his illness and he would often phone to see where it was and to get an update on its progress.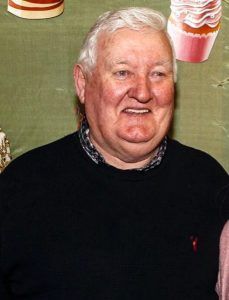 "It is waiting for us to collect when we return to school and the party won't be same with out you Hugo. I know I speak for all of us in Little Angel's when I say that there are tears being shed and there are hearts breaking all over today but no more so than that of his beloved Maureen…
"We will all remember him in many, many ways and will miss him terribly."
Hugo Shiels is survived by his wife Maureen, son Enda and his wife Niamh, daughter Angela and her husband Nicky McFadden, grandchildren Rhea and Caidin, brothers Jim, Declan, Martin and Sean and sisters Mary Agnes O'Neill, Kathleen Shiels, Rosanna O'Rourke and Sally Bogan.
In accordance with H.S.E. and Government guidelines wake, funeral and burial are strictly private to family. A private funeral mass will take place in St. Eunan's Cathedral, Letterkenny on Saturday, April 18th at 10am. The mass will be streamed live and can be viewed on https://www.steunanscathedral.ie/
Tags: