IN an attempt to raise some much-needed funds for Foyle Search and Rescue, Chloe Tinney is going to climb the equivalent of Everest on the stairs of her home.
Chloe, who works for St Johnston-based Emerald Guitars began her ascent today and will complete her gruelling tally over the next ten days.
"Basically, I have to do 340 flights of stairs each day for ten days," Chloe says.
"Everest is 8,8478m high so I need to climb 44,240 of the 20cm stairs, meaning I have to complete 3,403 flights of my stairs. It's a lot of stairs, but it's nothing compared to the work the amazing people at Foyle Search and Rescue do."
An online fundraiser has already gone beyond Chloe's initial target of £250.  To donate, click here:  https://www.crowdfunder.co.uk/chloe-climbs-mount-everest-from-her-home?fbclid=IwAR0s2gd8W0YWr4V7jtC6bt7RiEDd3bbW4l8eIdon9YbGqRVgB9sfsM0Yer0
The early response will keep her spirits high as she climbs the stairs of her home at Ivy Mead in Derry.
"It's really tough and it's a lot of stairs, but I'll pace myself," Chloe, who is training to become a personal trainer, says.
"I only set an early target of £250 and I thought that would be amazing. I had to stretch that to £400 and now I have to increase the total again.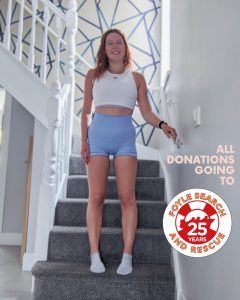 "It has been amazing so far and people really appreciate it."
Foyle Search and Rescue was formed in 1993 in response to the alarmingly high number of drownings in the Foyle. A voluntary-based search and rescue charity, Foyle Search and Rescue patrol the Foyle and also operator an emergency pager crew who are on call 24 hours a day.
Chloe says: "Everyone knows someone who has had some kind of connection. I just think they are really heroes. They always need our help and support, but especially at this time when people can't fundraise how they normal would."
Chloe's granny Kathleen stepped in with some support on day one, completing 20 flights of her stairs.
Chloe says: "I hope this will encourage other people to do something to help charities or organisations that are close to their hearts.
"I've got so many messages already from people and that will definitely keep me going."
To donate, click here:  https://www.crowdfunder.co.uk/chloe-climbs-mount-everest-from-her-home?fbclid=IwAR0s2gd8W0YWr4V7jtC6bt7RiEDd3bbW4l8eIdon9YbGqRVgB9sfsM0Yer0
Tags: