JIM McGuinness remains committed to pursuing a soccer coaching career – and intends to complete his Pro Licence.
Donegal's 2012 All-Ireland winning manager was sacked as head coach of Charlotte Independence last June.
The Glenties man left the club after only 14 games having been given a three-year contract.
McGuinness began his Pro Licence last January, in a group that included Robbie Keane, Damien Duffy, Keith Andrews and Andy Reid – as well as fellow Donegal men Paul Hegarty and William O'Connor.
"I didn't get the Pro Licence finished as two blocks collided with games," McGuinness explained.
"My Pro Licence was fantastic. I still have work to do.
"The group was fantastic. Damien Duff and Keith Andrews were in the group and have gone in with the new Ireland senior back room team.
"The Pro Licence course was absolutely great. I'm looking forward to getting involved again in September of October."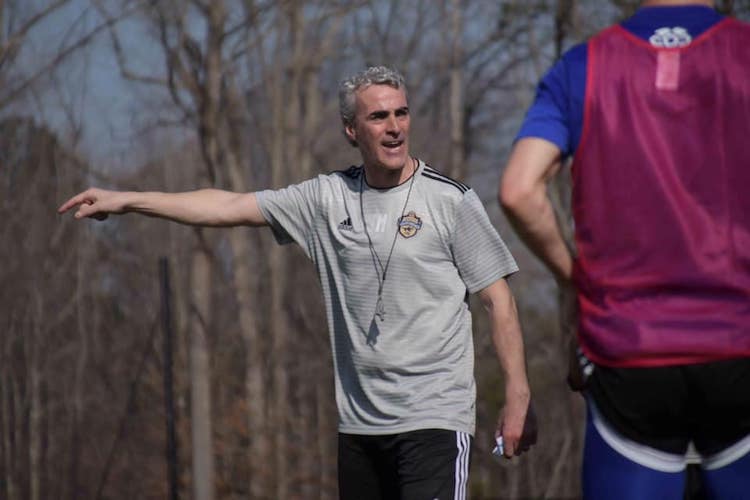 In 2012, after guiding Donegal to a first All-Ireland in 20 years, McGuinness was recruited as a performance consultant by Celtic FC. Having got involved in coaching at Celtic, McGuinness moved to Beijing Sinobo Guan for a short spell, working under Roger Schmidt.
McGuinness took part in a webinar with Modern Soccer Coach and outlined his transition from Gaelic football.
He said: "The FAI have even great. Coming from another sport, it's a completely different world. I was starting from the bottom of the ladder, starting from scratch."
McGuinness and his family are still living in Charlotte, having moved to America when he took up the post at the USL Championship club.
"At Charlotte, I wasn't able to get a long pre-season or able to get the athletes through the door to play a very intense game," McGuinness said.
"Based on my experience in Donegal, I wanted to play with high intensity, to overwhelm the opposition and force mistakes, get when we get the ball to play intelligent, smart football."
Tags: