Donegal Daily is celebrating a month of poetry with the #WeAreThePoetsDonegal series, in association with Poetry Ireland.
Throughout April, we will share daily poetry by established writers from across the county.
This series invites you to take a moment to read, enjoy or share poetry in the lead up to Poetry Day Ireland on Thursday 30 April 2020.
Check back tomorrow for a double helping of poetry!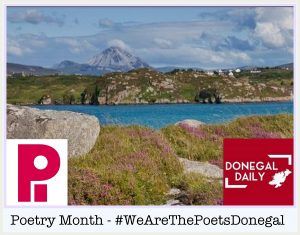 Today, why not take a moment to read and enjoy…
Featured poet: Joan Newmann
---
---
About the poet:
Joan Newmann is a recipient of the Criobh na hEigse for her services to poetry. She and her daughter Kate have published forty-eight books, many of them by Donegal writers, under the imprint of Summer Palace Press.
She has written three plays and has five collections of poetry. Her sixth – A RUSH OF BLOOD TO THE HEAD – is due in 2020.
---
#WeAreThePoetsDonegal – Click here to read the full series so far.
Visit www.poetryireland.ie for more as we countdown to Poetry Day Ireland.
If this series has inspired you to write your own poetry, you are invited to send them in to wearethepoetsdonegal@gmail.com to be featured at the end of the month.
Tags: