An Taoiseach Leo Varadkar has announced five rules where people will be allowed to leave their homes as the first phase of easing lockdown begins.
From Monday 18th May, Ireland will enter Phase One of reopening society and business.
People will still be required to stay at home as much as possible, except for the following reasons: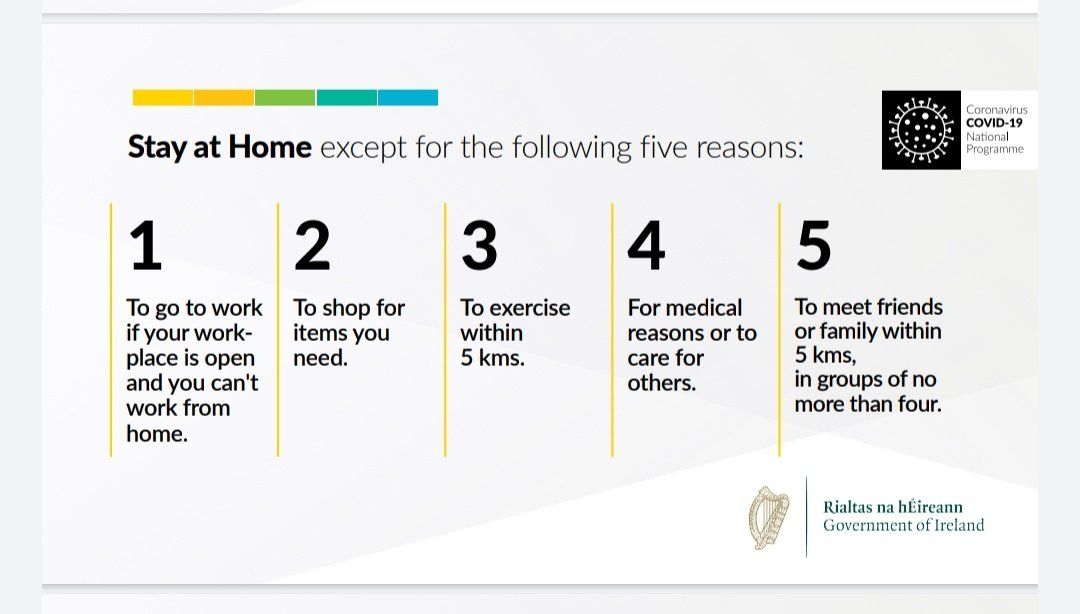 In a statement this afternoon, the Taoiseach said the easing of restrictions "gives us reason to hope, but it is not a cause for celebration. We have a long way to go yet."
All going well, the government plans to enter a new phase of reopening our country every three weeks The next review will take place on June 5th.
The Taoiseach said each step will depend on how guidelines are followed.
He said: "Everything is provisional and reversible, and our progress depends on us all continuing to do what we have been doing. As the restrictions ease and we come into contact with more people, the opportunity for the virus to spread increases."
The Taoiseach announced an additional hygiene measure is to use face coverings when using busy public transport or when in enclosed indoor public areas, such as retail outlets.
Nothing is guaranteed, he said, adding: "Coronavirus is a fire in retreat; but it is not defeated. We must extinguish every spark, quench every ember. We are all bound together in this great national effort and we must rely on each other if we are to succeed."
Phase One of the roadmap will enable people to meet in groups of four outdoors while keeping at least 2 metres apart.
A phased return of outdoor workers (for example: construction workers, gardeners, including people working on allotments) will be allowed. Social distancing requirements continue to apply. Remote working is to continue for all workers or businesses that can currently do so.
Shops that are primarily outdoor (for example: garden centres, hardware stores, farmers' markets) can reopen so long as social distancing measures can be put in place. Shops that were previously open in Tier 2 (for example, opticians, motor, bicycle and repair, office products, electrical, IT, phone sales and repair) can open.
Public sport amenities (for example: pitches, tennis courts, golf courses) can be opened where social distancing can be maintained. People can exercise – either on their own or in a group of no more than 4 people – where social distancing can be maintained and where there is no contact with other people.
Outdoor spaces and tourism sites (for example: car parks, beaches, mountain walks) will be opened where people can move around freely and where social distancing can be maintained.
School and college buildings will be opened for access by teachers for organisation and distribution of remote learning.