FOUR friends from Buncrana completed a gruelling 190km run today in aid of three local beneficiaries. 
The quartet finished the mammoth challenge within their 19-hour target.
At midnight last night, Gerard Doherty, Shane Doherty, Declan Irwin and Christian McGinley set off on their quest.
They conquered consecutive 10km runs to reach the 190km total.
All their efforts were in aid of Buncrana Community Hospital, The Nazareth House and Letterkenny University Hospital in their battle against Covid-19.
Already, almost €32,000 has been raised.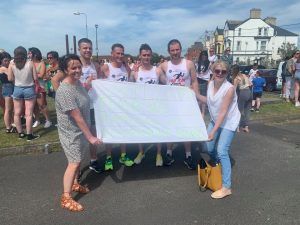 Each man had a total run of 47.5km with approximately 7,500ft of climbing in total
The four finished the challenge together, running 5km as a team from Fahan to their finish at the shore front in Buncrana.
To donate, please visit: https://www.gofundme.com/f/190km-Covid-19-Run-Challenge
Tags: