A peaceful walk in support of Black Lives Matter (BLM) will take place in Donegal this week.
The walk takes place at the Back Strand beach in Falcarragh on Thursday, June 11, at 7pm.
Posters advertising the event have been circulated.
People are encouraged to wear face coverings gloves. The walk has been organised for the beach to ensure the most open space and enable physical distancing.
"The peaceful walk has been organised in support of the Black Lives Matters movement," one of the event organisers said.
"We feel that it is important to keep the ball rolling with this movement and to make sure people know that racism occurs all around us in our own locality and it is not just in the US.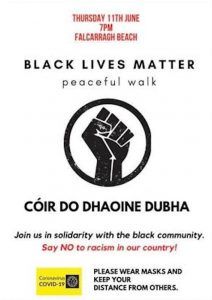 "We need to step up to take a stand against racism, not just in Ireland but all around the world. We all must stand in solidarity with the Black Lives Matter Movement in the U.S and across the globe.
"Our voices can be heard and we want the community to stand in solidarity with the Black Lives Matter movement."
Gatherings in support of the Black Lives Movement have taken place all over the world since the death of George Floyd, while in police custody, in Minneapolis on May 25.
Tags: