PARISHIONERS hoping to attend Mass at St Eunan's Cathedral in Letterkenny from next month will have to obtain a ticket. 
Mass-goers in the Cathedral Parish of Conwal and Leck will need to apply for a ticket for Sunday Mass.
From the weekend of July 5, the Cathedral will again be open to the public for Sunday Mass.
The physical distancing measures will restrict the Cathedral's congregation to around 120 people – which is just roughly 10 per cent of its capacity.
A Parish spokesperson says that booking will be necessary. "The size of the Cathedral makes this unavoidable."
A booking form is available from the St Eunan's Cathedral website. Alternatively, it can be picked up from the Cathedral or the Parochial House.
The form is available here: https://www.steunanscathedral.ie/masses-begin-again/?fbclid=IwAR1yPSvFVDq0NlJGbXBv-6_wPIXKp2fdTMYs826322v1r3CQtlksJTwhM4c
Anyone wishing to attend Sunday Mass on the weekend of July 5 – including the Saturday evening Vigil Mass – must have their form returned by June 19.
Access tickets will be sent by post, text or email and must be shown to an usher before entry.
Due to the restricted numbers, additional Masses have been added to the schedule. There will be two Saturday Vigil Masses at 6pm and 7.30pm with Sunday Masses now taking place at 8am, 9.30am, 11am, 12.30pm, 5pm and 6.30pm.
On the form, Mass-goers are asked to indicate their preferred time.
A spokesperson said: "Even with this number of Masses, not everyone will be able to attend a Sunday Mass, but they can attend on some day of the week.
"Therefore, some parishioners will be asked to make a sacrifice and attend on weekdays instead.
"Daily Mass at 10am will be reserved to those who are older or have underlying health conditions. Please respect this if you are younger and in good health – you can attend daily Mass: 8am or 7pm."
Booking will not be necessary for weekday Mass, although numbers will be limited to 100 on those days.
Masses will continue to be broadcast live on the internet for those who wish to remain at home.
Funeral Masses will be reserved for family and close friends and will be restricted to a maximum of 100 people.
The spokesperson added: "These arrangements are temporary and will be reviewed initially on a weekly and then on a monthly basis.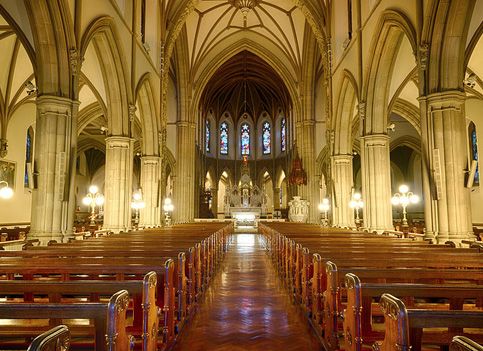 "They will not continue once public health restrictions have ceased, and will depend on the wellbeing of the clergy. However, we may have this situation for some time."
Baptisms have resumed and, until June 29, will be celebrated with the presence of only parents and Godparents, while weddings can resume with a maximum attendance of 100 and no group photography on the Cathedral grounds.
Tags: