THE death took place recently of the Donegal-born grandmother of missing Madeleine McCann.
Eileen McCann died of suspected Covid-19 last month, weeks before Police revealed a huge breakthrough in the investigation into her missing granddaughter.
There are suggestions locally that Eileen may be returned to St Johnston to be interred with her husband, John (Johnny).
Eileen (80) was one of the leading campaigners to find Madline, who went missing in 2007 while on a family holiday in Portugal when she was three years old.
Since 2007, Eileen had kept a large pink teddy bear with a white heart on a bed in her home awaiting Madeleine's return.
German police last week announced that a man jailed in the city of Kiel, named as Christian Bruckner, for an unrelated crime had become a suspect, in a major breakthrough after years of little progress.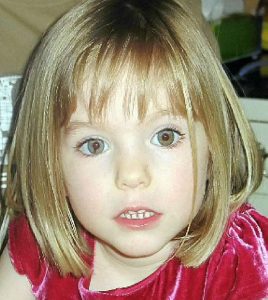 Eileen McCann was born Eileen Ferry in Crolly in west Donegal and later lived in St Johnston with her husband John McCann.
They owned and ran McCann's Bar, which was operated by John's brother Hughie after John and Eileen emigrated to Scotland in 1967, Four of their five children were born in Donegal with their youngest, Gerry – Madeleine's father – born in Scotland.
The public house is still owned by the Cann family and leased to St Johnston man Joe Peoples.
A small funeral service was held for Eileen McCann in Scotland.
In 2005, the ashes of John (Johnny) McCann were returned to St Johnston, some were buried in a family plot at St Baithin's Church and others were scattered on the waters of the Foyle.
One St Johnston resident said: "The McCanns used to come back to the area regularly, maybe once a year. Eileen was a lovely woman. She would always stop for a chat and it's very sad to hear that she has died.
"The McCanns have always been very proud of their roots in Donegal and they showed that by coming back. Eileen was a popular visitor in the area and they were well liked here before they moved away."
Tags: