THE Milford GAA club is staging its '20 in 2020' fundraiser today.
A three-part relay between the towns of Milford, Ramelton and Rathmullan is being organised in aid of Milford Care of the Aged, Ramelton Care of the Aged and St Vincent De Paul, Rathmullan.
The event starts from midday at the Pier car park in Rathmullan with a one-minute staggered start in small groups.
People are encouraged to register to take part. To do so, email secretary.milford.donegal@gaa.ie with '20k in 2020' as the subject or text Sally on 086-8589339 or Tracey at 086-3777458.
"We are delighted to be raising money across our community by undertaking this walk in the club area especially for those at this time most in need," Milford GAA Chairman James McGinley said.
"It has been a long 11 weeks since full lockdown was announced with the over 70s cocooning for slightly longer.
"Care of the Aged in Milford and Ramelton and SVP Resource Centre in Rathmullan have been doing immense work for these people in this time and the more support and financial assistance we can offer them the better.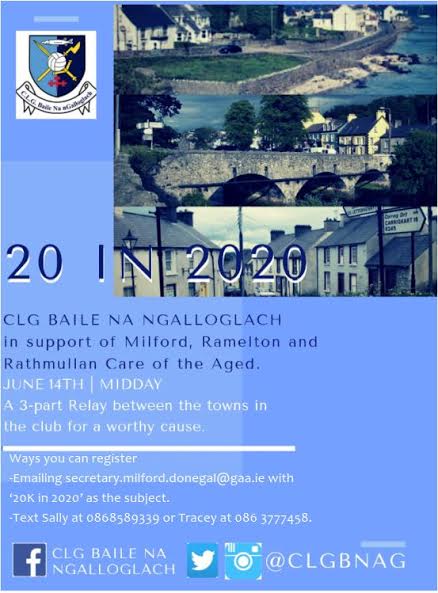 "We would love to see as many people as possible dawn the walking shoes and walking/running through the club area. Be that the full route, as the majority who have registered have signed up for, or just one leg."
Other sporting clubs in the three towns are being invited to play a part.
McGinley said:  "We would also encourage all people from any and all clubs across the area to dawn their colours to take part be that Swilly Rovers, Ramelton Mariners, Milford Untied, Rathmullan Celtic, Whitestrand Untited, Cranford United, Mulroy Hoops, Milford AC, Milford Bowls Club and Milford or Ramelton Tennis Clubs.
"The more clubs, societies or groups we see the more vibrant the event will become."
A GoFundMe page has been set up and you can donate here: https://www.gofundme.com/f/20-in-20-for-senior-citizens
The walk will go to Gamble's Square, Ramelton and finish at the Milford GAA clubhouse at Moyle View Park.
Tags: