The deadline for the CAO 'Change-of-Mind' facility is approaching. And with the deadline fast approaching, Letterkenny Institute of Technology (LYIT) has arranged a number of online CAO 'Change-of-Mind' events aimed at supporting students with their decision making during this time.
Fiona Kelly, LYIT Schools Engagement Officer spoke to Donegal Daily this week and commented: "This has been the most challenging time for Leaving Certificate and prospective students. Leaving Certificate students have not been in school since early March and we fully appreciate that certainty around college choices and college plans is wanted at this time. We have been inundated with questions and queries from prospective students and we are running these 'Live Chat' events to support students with their college plans and CAO choices." 
LYIT plans to welcome first year students to the LYIT campuses on Monday 28 September, and since the Covid-19 pandemic began, LYIT has been running a series of online and virtual events aimed at supporting prospective students.
The CAO 'Change of Mind' online events provide students with an opportunity to 'Live Chat' with our academic and student support staff, students can take a 'Virtual Tour' of our campuses, and can connect with programme experts as they confirm their CAO choices over the coming days. 
If you are looking for advice or information on Level 8 and Level 6/7 CAO programmes at LYIT, of if you need advice on making the right CAO choices for you, or if you are seeking advice and information on SUSI grants, scholarships and student accommodation, be sure to connect to these virtual events.
There are TWO CAO 'Change of Mind' online events taking place on Friday 26 June:
2-4pm: CAO 'Change of Mind' Live Chat event. Connect with LYIT's Academic and Student Support Staff on the LYIT website

https://openday.lyit.ie/

7-7.30pm: Facebook Live Q&A with LYIT Schools Engagement Officer, Fiona Kelly.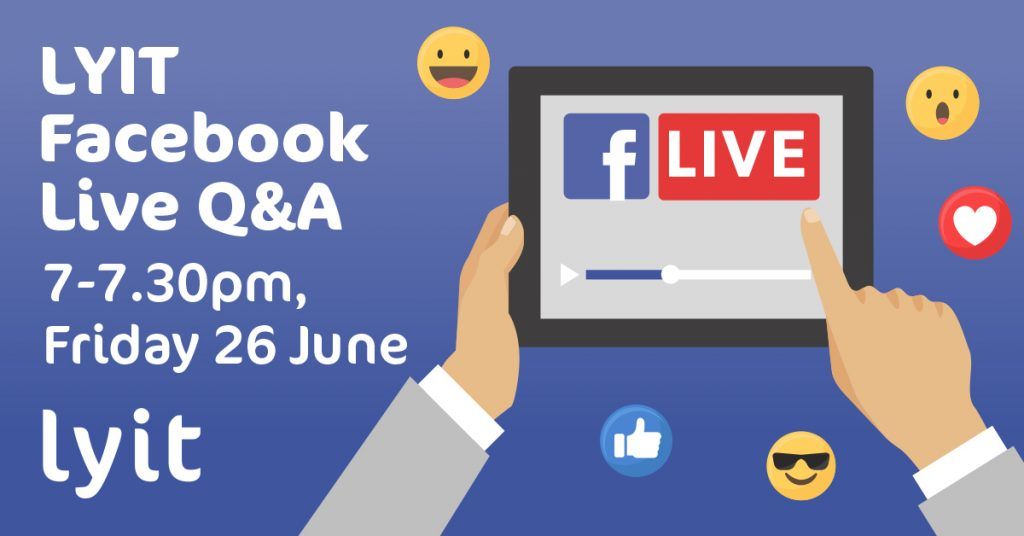 Everyone is welcome to connect to these events. LYIT invites Leaving Certificate students, parents, mature students and anyone interested in returning to education, or interested in upskilling to click and connect with LYIT's CAO 'Change-of-Mind' online events.
For more information visit https://openday.lyit.ie/
The best choice might be closer than you think.
#ChooseLYIT
Tags: