IT FELT like a day of vindication for a hard-working lobby group as the opening of the Mica Redress Scheme was officially announced today.
After years of frustration, it was confirmed today that applications for the scheme will open on Monday.
Picture above: Ann Owens and Eileen Doherty, long-time members of the Mica Action Group (MAG) today at the Aura Leisure Centre.
Around ten years ago, a group of concerned homeowners gathered around Ann Owens' kitchen table for the first talks.
From that summit, the Mica Action Group was formed and today they could finally breathe a sigh of relief.
"I think we had raised peoples expectations to such a level," Ann told Donegal Daily.
"If we had gone back to people and said we're sorry that we couldn't deliver the programme, that weighed very heavily. I feel at least one stone lighter today. I feel lighter, genuinely.
"The whole journey has been epic. It's eight and a half years. We had many, many impediments."
Close-to 5,000 homes in Donegal are believed to have been affected by defective blocks caused by the existence of muscovite mica.
A €40m scheme for households in Donegal and Mayo was announced in January.
Today, at a meeting in the Aura Leisure Centre, Letterkenny, a three-stage application process was outlined by Donegal County Council officials.
A new website, which will serve as a guide for applicants and engineers alike, has been developed and will go live this evening at www.donegalcoco.ie/defecticeconcreteblocks
Eileen Doherty, another long-time member of the Mica Action Group, told Donegal Daily: "We are quite incredulous. We find it hard to believe that we've finally got here. We constantly seemed to go from one gate post to the next. We were constantly having to achieve different things and meet different criteria.
"Today is hard to fathom. We've had so many false promises. The home owners have felt let down at so many stages of the process. This is an unbelievable day and vindicates the power of the people.
"We gathered around Ann's table ten years ago to discuss this. We came together as a group of volunteers.
"Many times it was very upsetting and frustrating so this is just a fantastic end. It goes to show that if something needs done it's worth putting the effort in. I wouldn't have continued if I didn't think it was going to happen."
The objective of the group has been to seek redress for homeowners affected by this issue.
The group has engaged with government on a local and on a national level since its establishment – and there were some frustrating moments.
Eileen said: "People often said that it was a waste of time and it was a pointless exercise. We never felt like that.
"Did we feel that it was drawn out and we could have had better outcomes? Of course. Plenty of times we felt very frustrated and upset because things hadn't gone to plan and we had put so much effort in."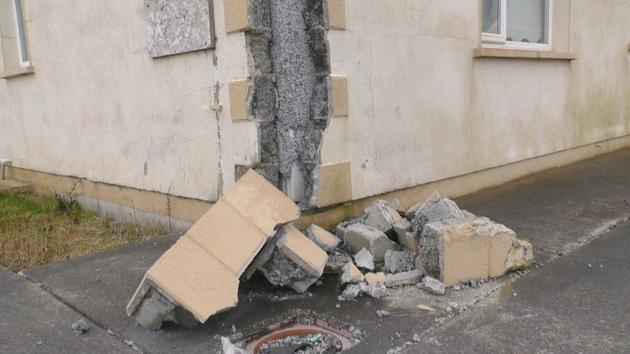 Both Ann and Eileen own homes that are affected by Mica – a word that has become commonplace in the local lexicon.
Ann said: "The first thing was creating the family word that is now known as 'Mica'. Eight and a half years ago no-one knew the word 'Mica'. Now, my grandchildren can talk about Mica. It is just a part of conversation.
"The second thing was trying to convince people and politicians that houses were being destroyed by this substance. That involved a lot of work. We had to find the finances to push along and then we had to try to get the government to take responsibility. The people who made the blocks wouldn't take responsibility.
"There were so many things with the government, like the acceleration of costs of the children's hospital, Brexit, Covid-19. Each one of those put a barrier up in front of us. For us, going through the barrier, no-one thought that it was going to happen. As soon as we reached one marker, another one came up."
Eileen remembers hearing a tale of one homeowner and thinking 'about how horrendous that must have been'.
She said: "Little did I know I would have the same issue myself.
"We went from the ten people at Ann's table to a government report that showed an estimated 5,000 homes in the county
"Ann wrote hundreds of letters and there was a constant rhetoric coming back: 'We acknowledge this, but it isn't our issue'. More or less, it was a problem between the homeowner and the builder. It took an awful lot of hammering on doors, interviews and just not giving up. That was a huge day when the government said they'd take over the scheme.
"The journey from them doing that until now has seemed so long."
Donegal County Council staff have been identified and assigned to the scheme. Since the guidelines were announced in May, staff have been in place and are receiving training.
"This is a very important day for Donegal and for the homeowners who have been suffering for a long number of years," said Councillor Martin McDermott, a member of the Mica Steering Group.
"These people just want to get their houses fixed and get some normality to their lives.
"We are delighted that the scheme has been given a date and will start on Monday morning. It is a momentous day for the county.
"Hopefully we are at the start of a new, important journey and one that is close to our hearts. People have been in dire straits. Hopefully we are on the road to recovery and on the way to getting houses fixed."
Tags: