Scoil Bhríde N.S. Convoy led by their principal Grainne Reid and their Active School Committee have continued their successful virtual Active School Week.
The response from the children and the videos and photographs that they have submitted has been tremendous.
The school has invited many high achieving sports personalities and other celebrities to give advice, motivational videos and challenges.
The children have risen to the occasion and the wet weather that we have experienced at times this week has certainly not dampened their spirits or enthusiasm.
We have had motivational messages from Chloe Magee (Olympic, European and National Badminton Player), Sarah-Marie McDevitt (Dance Instructor, Pinehill Studios), Convoy AC Runners led by John Mailey and our very own amazing Scoil Bhríde parents, Sarah McLaughlin, Paula Kelly and Susan Breen, Irish Country Superstar Derek Ryan (Singer/Songwriter), Miles Sweeney (Coordinator Of Donegal Sports Partnership) and Tina McGurren (Renowned Dance Teacher and Owner of Modern Country Moves).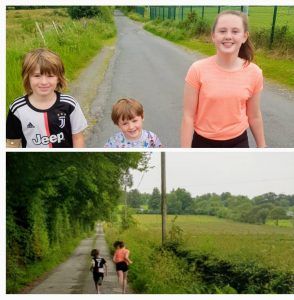 Activities since Wednesday this week have included coordination challenges led by Chloe Magee, Hip Hop led by Sarah-Marie McDevitt, Tennis Challenge led by Master Maguire, Skipping Challenge and Golf Challenge led by staff member Marty McGinty(Former Hibs Player), Line Dancing led by Tina McGurren, Hurling led by Tómas Lyng, parent and Setanta Player, Athletics led by staff member and Letterkenny AC Member Noreen McGettigan, Fitness Roulette led by Liz McLaughlin, parent and PE Teacher at Deele College Raphoe who has given us tremendous support in the Active School Initiatives over the last nine years.
The activities from Monday and Tuesday this week have already been listed in a previous article.
Today is our last day of Active School Week and we finish off with an Active Quiz and the first set of correct answers uploaded wins.
It is also our final day of the School Term so Grainne Reid, our principal will send a closing video message to all the kids announcing the winners of this weeks challenges.
Everything shall be brought to a close by Christy Murray (Donegal Piper) as he plays us out with a rendition of the 'Hills of Donegal' on the bagpipes.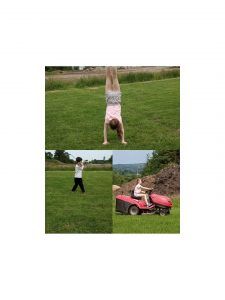 We would like to sincerely thank everyone who helped to make this week such a resounding success.
Remember to stay safe and keep active over the summer months, Get Up, Get Out, Move About, that's the rule in Our Active School!