ENDURANCE cyclist Joe Barr overcame sometimes-treacherous conditions to shatter his own Malin-Mizen-Malin record.
The 61-year-old Newtowncunningham native, who now lives in Eglinton, completed the gruelling ride after noon today when he arrived back to Malin Head.
Barr began pedalling from Malin on Friday and finished the challenge in 44 hours and 15 minutes.
"I had a couple of big moments," he said.
"At one stage, the road was full of diesel oil and I slid in the wrong direction. I was waiting to be spit off like a motorbike, but it wasn't aggressive and I got away with it. I literally couldn't see the road
"The wind was so strong on the way down."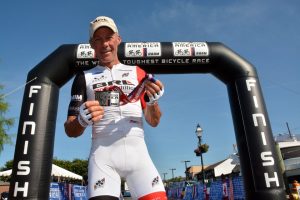 Barr had set the previous record in 2017 but today he was some four hours and 25 minutes faster.
The Malin-Mizen-Malin ride is an astonishing 738 miles.
Barr's time is still to be verified by the UltraMarathon Cycling Association.
He said: "For the first 200 miles, I couldn't even see the road. I've been training really hard, I was riding seven or eight hours every single day.
"Sometimes you get a perfect day. On Saturday, it felt like one of those days, but I definitely started to run out of gas in the last quarter."
Barr was crowned the 500-mile world champion in 2017, when he also won his category in two 500-mile races in the Race Across Italy and the Silverstate 500.
In 2018 he secured the overall win in the gruelling 2108km Race Around Ireland for the second time.
Tags: