Ireland's oldest councillor Ian McGarvey is celebrating his 90th birthday today doing what he does best – serving the people of Donegal.
Born on July 14th, 1930, McGarvey is the oldest serving elected representative in Ireland.
The active Ramelton native wasn't going to put his feet up for the special occasion either, as he had work to do at the Letterkenny Municipal District meeting.
Cllr McGarvey was honoured with a surprise presentation and cake at the council meeting, where he was joined by his wife Marjorie, sister in law Breid and two nephews Colin and Pauric.
"It's a historical occasion to have an elected member of 90 years of age still as active and wanting to do the best that he can for his community," said Cllr Donal Coyle, Cathaoirleach of Letterkenny-Milford MD.
McGarvey had always had an interest in politics, and he was first elected to Donegal County Council as in Independent in 2004 and the age of 73. He was elected as the Mayor of Donegal at the age of 82 and also ran in four general elections.
A champion for positive ageing, Cllr McGarvey remains actively involved in every aspect of his locality. His good health and lively spirit may be down to being a lifelong teetotaller and having a keen interest in football. He was captain of the Swilly Rovers team that won the FAI Junior Cup in 1962.
Ian and his wife Marjorie also celebrated their 66th wedding anniversary three weeks ago.
Speaking today, Cllr McGarvey gave thanks for his good health: "The one thing I had in my lifetime I have always been well. I neither drank nor smoked and tell young people and I would encourage them to get on well in school and learn at every opportunity. It can only be useful to them in the rest of their life.
"If I get through life and have been helpful to others it has been a pleasure for me. Not an obligation or hard work, because at any time I always had that belief of what we can do for each other, can help each other and support each other does not go wrong."
Among the highlights of Cllr McGarvey's political life is having a vine dedicated to himself and Marjorie in a vineyard in the German town of Rudolstadt – which is twinned with Letterkenny.
"It's never about Ian McGarvey," Cllr McGarvey stated, as he counts himself fortunate to be in a positive to represent his community.
"We live in as good a country as everywhere in the world. It's never about land and material wealth but about people. I always had the ambition, anywhere I met anybody in trouble I thought it is useful to listen to them, talk to them and be what help I could."
The birthday celebrations got off to an early start last weekend when McGarvey was surprised by a letter of congratulations from Taoiseach Micheál Martin. Meath Senator Sharon Keogan visited Donegal to present Cllr McGarvey with the letter which thanked him for his years of service to local government. The event was made even more special with the attendance of elected members of the Local Authorities Members Association.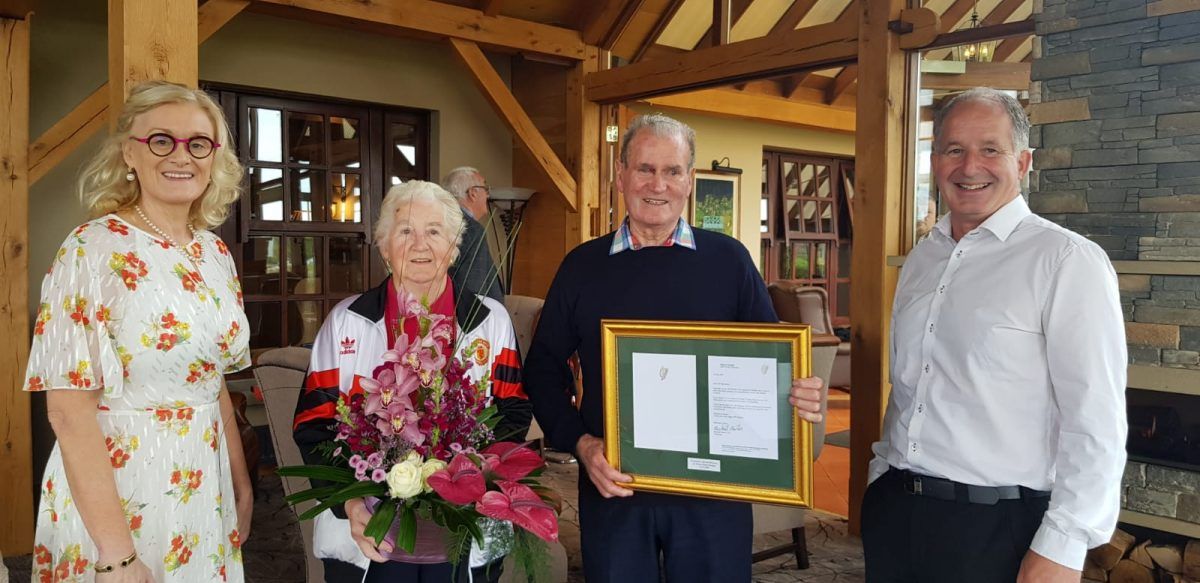 Senator Keogan said: "Councillor McGarvey's commitment to public service serves as a reminder to all of us that age is no barrier when upholding our duty to advocate for those around us. Councillor McGarvey has the ability, skills and passion to serve his local community, and does so with fervour and dedication."
The partying is set to continue into Tuesday evening, as Cllr McGarvey looks forward to having a small family get together. His main request was that he would get no presents at all – "I have enough," he said.