AN OLD episode, starring Geraldine McLaughlin, was repeated this morning as Termon began the defence of their Donegal ladies title with an impressive win.
Termon 7-11 Moville 3-8
By Chris McNulty at The Burn Road
McLaughlin was the star of the show as Termon's favourite flick was screened.
They've seen it so often around these parts of course that they know the script off by heart. Regardless how hard opponents might try – and Moville were no mean side themselves this morning – McLaughlin just keeps on keeping on.
A hat-trick was bagged by the time the 11th minute had arrived and she ended with five goals and six points to her name. Just one of her points came from a placed ball.
Owing to the Covid-19 restrictions on attendance, Termon decided to stream the game on the club's Facebook page. The ratings ought to be impressive such was the stardust sprinkled by their star turn.
Termon were Donegal champions and the beaten Ulster finalists in 2019 and Sean O'Donnell's side showed no mercy with an early onslaught to effectively kill the tie before it had begun.
There were only 15 seconds gone when, after Nicole McLaughlin, the Termon captain, surged forward from the throw-in, the red-hot full-forward smashed past Sarah Faulkner, the Moville goalkeeper.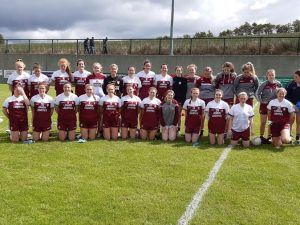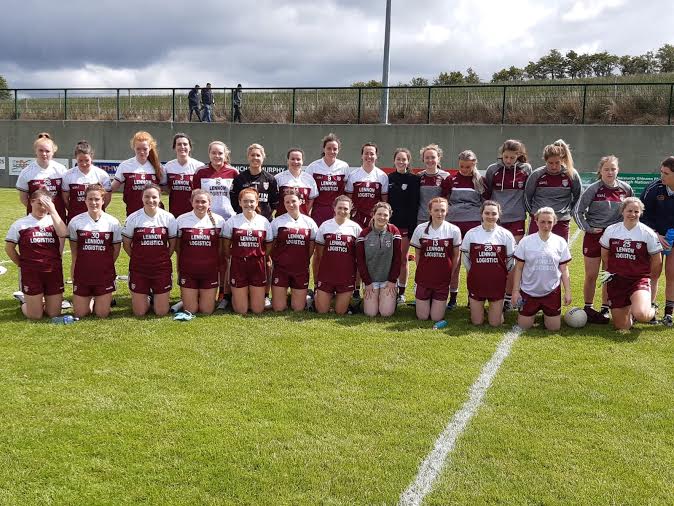 Emer Gallagher surged from deep to set Termon on the way to a second goal. After Roisin McCafferty and Nicole McLaughlin were involved in the move, Ciara McGarvey provided the assist for Geraldine McLaughlin to net.
Another arrived barely 90 seconds later as McLaughlin, from the right-hand side, made no mistake in crashing to the net for a third time.
McLaughlin curled over to put Termon 3-3 to 0-1 in front, but Moville hit back as Niamh McLaughlin finished off a fine move with a tidy finish beyond 'keeper Maureen O'Donnell.
The Termon response was instant, though, and Bridget Gallagher showed commendable strength and determination to fire home from close range.
McLaughlin, smothered by a posse of Moville defenders, kept her composure with a lethal finish just when it seemed as if she'd lost control. McLaughlin's reaction was instinctive as she plundered her fourth of the morning.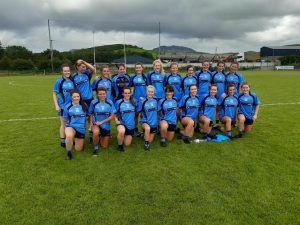 It looked like game, set and match, but Moville fired a warning shot in added time at the end of the half.
Kate McClenaghan tapped over a free and when Moville turned over Termon's short kick-out it was McClenaghan who was on hand to prod to the bottom corner.
McClenaghan bent over to narrow the gap, but Termon held an eight-point, 5-3 to 2-4, advantage at the short whistle.
Former Donegal player Roisin McCafferty has returned from a tour of the world in a significant boost for Termon's engine room.
With the likes of Roisin Friel and Olive McCafferty coming on as replacements, Termon are shaping up as a formidable outfit once more.
Roisin McCafferty kicked two excellent second-half points to cap off a fine return to the maroon and white – for the first time in five years.
McLaughlin pointed 27 seconds into the second half and it took a super save from Moville net minder Faulkner to turn over from Ciara McGarvey's effort.
Six minutes after the re-start, Gallagher netted her second goal. Roisin McCafferty's searching ball in found McLaughlin, who off-loaded for McGarvey and Gallagher finished it off.
Niamh Hegarty powered in to fire a reminder midway through the half, but when Gallagher seized on a mistake to tee up McLaughlin. The ending was inevitable, yet no less enjoyable for the home followers who've seen this movie so often.
Termon: Maureen O'Donnell; Meabh McDaid, Emer Gallagher, Niamh Friel; Maria Carr, Evelyn McGinley, Eimear Alcorn; Roisin McCafferty (0-2), Nicole McLaughlin; Chelsea Gorman, Bridget Gallagher (2-3, 1f), Shannon McLaughlin; Ciara McGarvey (0-2), Geraldine McLaughlin (5-6, 1f), Lucy O'Flynn. Subs: Aine Boyle for Gorman, Olive McCafferty for O'Flynn, Roisin Friel for McGarvey, Jamie-Leigh Murray for Carr, Aibhe McDaid for N.Friel.
Moville: Sarah Faulkner; Realtin McElhinney, Tara Hegarty, Clodagh Skelly; Aobh Faulkner, Michelle Logue, Kathrine McLaughlin; Aisleen McGuinness, Niamh Skelly (0-1); Niamh McDonald, Niamh Hegarty (1-4, 2f), Eimear McGuinness; Kate McClenaghan (1-3, 1f), Niamh McLaughlin (1-0), Shona Kelly.
Referee: Sinead McHugh.
Tags: