THE double life of a Nazi professor, who lived in Teelin in 1937 is to be explored in a new documentary.
Nazi sa Ghaeltacht will be broadcast on Sunday, July 26, on BBC Two at 10pm.
Investigative journalist Kevin Magee uncovers the work of Nazi party member and Irish scholar Dr Ludwig Mühlhausen.
In 1937, Mühlhausen spent six weeks in the Gaeltacht hamlet of Teelin, collecting folklore and improving his Ulster Irish, but that was not the only work he carried out while he was there.
As Kevin reveals, in reality he was working as a Nazi spy, gathering information and passing it on to the Third Reich.
Kevin first visited Teileann 40 years ago to learn Irish. He has continued to visit there ever since and over the years he heard stories of Mühlhausen's visit to the area.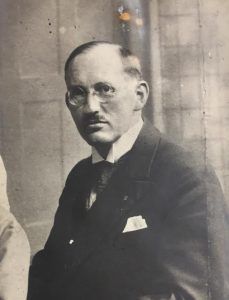 Kevin decided to get the bottom of this mysterious tale once and for all. His investigation takes him from Donegal to Dublin and on to Berlin where he uncovers the real work Mühlhausen was involved in the Nazi Party.
Magee has investigated claims he was scouting the Donegal village out as a possible location to launch an invasion of the Irish Free State.
Mühlhausen was said to have made no secret of his allegiance to the Nazis, and often berated locals for their lack of German efficiency.
In the hour-long documentary, Kevin brings the untold piece of Ulster wartime history to life with historians, locals and military experts.
Kevin said: "I wanted to find out if the story of the Nazi in the Gaeltacht was true, so I began investigating, talking to locals, asking questions and examining a whole variety of sources.
"Piece by piece I was able to pull this remarkable story together. When I began my journey, I had no idea I would discover just how committed Muhlhausen was to the entire Nazi project. The plot reads like a World War Two thriller, except this story is for real."
Tags: