Urgency is growing around the campaign to save the life of baby Olivia Mulhern, who will turn one next month.
The parents of Olivia 'Livie' have issued another plea for funds as their precious baby's condition worsens.
Every day is becoming a struggle for Livie, who has spinal muscular atrophy (SMA) type 1.
Her father Keith, who is from Donegal Town, shared a candid update on Livie's condition this week to highlight her serious health issues.
He wrote: "Little Livie is fighting for her life. We are so proud of her and the strength she shows every second of every day. It is becoming too much for her as the condition progresses and her little body is getting weaker."
Keith described a terrifying moment last week when Livie choked on her lunch and he and Livie's mum, Karen Vickers, had to use first aid to save her.
"She was terrified and could not understand what was happening as she struggled to find air to breathe. WE DO NOT HAVE MUCH TIME LEFT before the muscles in her throat are no longer able to support her eating food and she requires surgical intervention."
Keith and Karen are hoping to raise €1million in crowd-funded donations to purchase a once-off gene therapy called Zolgensma, which is currently only available in USA. It costs approximately US$2,100,000.
The family's hope for a better life for Livie gained a bittersweet boost when €1million was pledged towards their fund this month. The incredible gesture came from another family in Laois who were fundraising for their son Dan, who also has SMA, but they sadly found out he was no longer a candidate to receive the treatment.
A series of large fundraisers are planned in the coming weeks to help Livie's parents raise the remaining €300,000 of their goal.
Livie's "Pink Friday" will take place on Friday the 31st of July, when all Penneys stores across the Republic of Ireland, as well as their head office in Dublin, will be Going Pink for the day.
All workplaces and companies are invited to join the event: https://www.gofundme.com/f/livies-pink-friday
Plus, 2nd August will see a three day 'Go Pink for Livie' event to mark the beginning of her birthday month. Go Pink for Livie asks people to get into their pink gear, get out and walk, run, cycle, dance, limbo, skip, hop, and do anything for Livie by donating to the fund.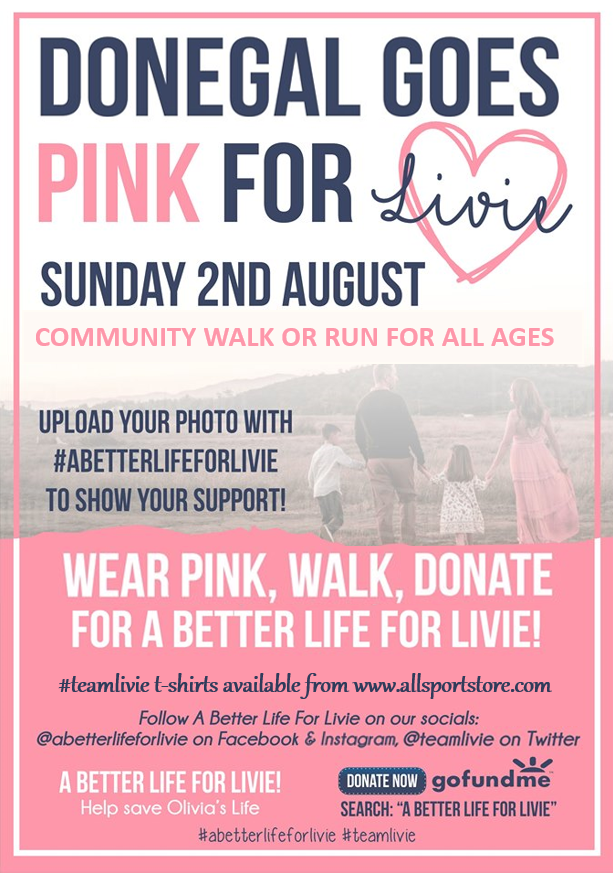 In a recent update, the Team Livie said that the target is in sight – if 14,750 more donations of €20 are made to the fund.  "There's power in numbers, please help spread the word," they said.
"We are so grateful for the incredible support received from you all over the last ten weeks. It has been a bright light of hope to us in a very dark time. PLEASE PLEASE PLEASE help us to make a difference before it is too late," Keith said.
Visit the A Better Life for Livie for updates on all the upcoming fundraisers.
Read Livie's story on: https://www.gofundme.com/f/a-better-life-for-livie
Tags: