For a man whose life was plotted by decades of complex meetings and negotiations to broker peace in his homeland, John Hume's funeral was a very simple one.
It was an occasion that touched on his many battles and achievements in offices and boardrooms of Belfast, Washington, London and Strasburg.
But it was ultimately an occasion one which remembered John Hume for what he was to those who knew him best – a loving husband, father, grandfather, great-grandfather, friend and decent human being.
Because of Covid restrictions, just 120 people could attend John's funeral's mass at St Eugene's Cathedral in Derry today.
His funeral cortege left Moville last night as local people lined the streets of the Inishowen town and clapped the funeral as it made its final journey to his native Derry.
Those who attended the funeral mass included John's devoted wife Pat and their children, President Michael D Higgins, Taoiseach Micheál Martin, Minister for Foreign Affairs Simon Coveney, the North's First and Deputy First Ministers, Arlene Foster and Michelle O'Neill, and the North's Secretary of State, Brandon Lewis.
At the start of the funeral mass messages of sympathy were read out by Bishop of Derry, Dr Donal McKeown from a number of well-known personalities.
They included messages from the Vatican, the Dalai Lama, former US President Bill Clinton, British Prime Minister Boris Johnson and U2 singer Bono.
Delivering his father's eulogy, Mr Hume's son John said summing up his dad's life in a few minutes was not an easy task.
But he eased his task of paying tribute to such a packed life by referring to his dad's love of chocolate including Yorkies, Crunchies and Cream Eggs!
He also referred to his singing and how he found peace in Donegal in his many hideaways in Bunbeg, Greencastle and Moville.
"For a man who supposedly had only one single transferable speech, Dad did a lot of different things in his life," he said.
"He made us laugh, dream, think, and sometimes look at him and scratch our heads in amazement (and on rare occasions, bewilderment)."
He added that if his dad was here today he wouldn't waste the opportunity to say a few words.
"He'd talk about our common humanity, the need to respect diversity and difference, to protect and deepen democracy, to value education, and to place nonviolence at the absolute centre.
"He might also stress the right to a living wage and a roof over your head, to decent healthcare and education. If he were here now, he might quote his friend, Congressman John Lewis, who sadly passed away a few weeks ago, appealing to the "goodness of every human being and never giving up".
But John Jnr said his father's greatest achievement was marrying his mum Pat and once again Donegal played a huge part in that chapter of Mr Hume's extraordinary life.
"Dad was also a father, a husband and a man who loved and cared for his family at all times. Marrying Pat Hone, our mother, was without a doubt Dad's greatest achievement and she enabled him to reach his full potential. Mum and Dad met at a dance in Borderland in Donegal, the starting point for many a Derry family.
"Romance was followed by a wedding, and a December honeymoon in a freezing B&B in Gardiner Street in Dublin. Thankfully for Mum, the quality of the accommodation got better as the marriage went on.
"Our mum, who loved, supported and guided him throughout his tireless work for peace, and later in his frailty, was his greatest blessing. None of us remember him changing nappies, or indeed putting many (any?) dinners on the table.
"What we do remember are endless coffee cups & overflowing ashtrays, newspapers everywhere, and constant stream of callers night and day to our home in West End Park. But he was there for all of us throughout his life.
"There were times when we felt that he was absent, but he wasn't, he was just with us from somewhere else. Along with Mum, he taught us all our values and gave us all our moral compass. And for that we will be forever in their debt.
"As a family we will remember the man who was rooted in his community, a man who was most comfortable sitting in front of the TV, with half a dozen crunchie bars to keep him company, and his family around him. Or the odd time holding court around the corner in the Park Bar. A man who ordered the same dinner in the same restaurants in Strasbourg and Greencastle for 25 years…
"A man who didn't need to be invited twice to lift a mike himself, and give us a blast of the Town I love so well or Matt Hyland, and many, many, many, more besides.
"A man who truly believed in Derry and the talents of our people, and became our greatest Ambassador to the world."
He stressed the love Hume had of his home town and how the people of Derry and Donegal helped him throughout his life.
"Dad was a Derry man to his core, and those deep roots of neighbourhood and community served to nourish him through the difficult years," he said.
"From the beginning, the European Union was like a homecoming to him, bringing together diverse cultures in an interdependent relationship, allowing for unique identities while also holding a bigger picture of unified kinship.
"At this time of planetary fragility, more than ever, he would be urging that we move beyond our flag-based identities, and recognise the need to protect our common home".
He added; "In the last years of dad's life, his physical and mental health became more visibly vulnerable.
"And yet in those recent years, more than ever, we as a family witnessed the absolute importance of dad's core ethos, of building community based on respect and love. The kindness shown to him by the people of Derry and Donegal, who stopped to talk to him in the street every day, guided him to protect his independence, and received him with gentleness if he was agitated, was a profound gift to all of us.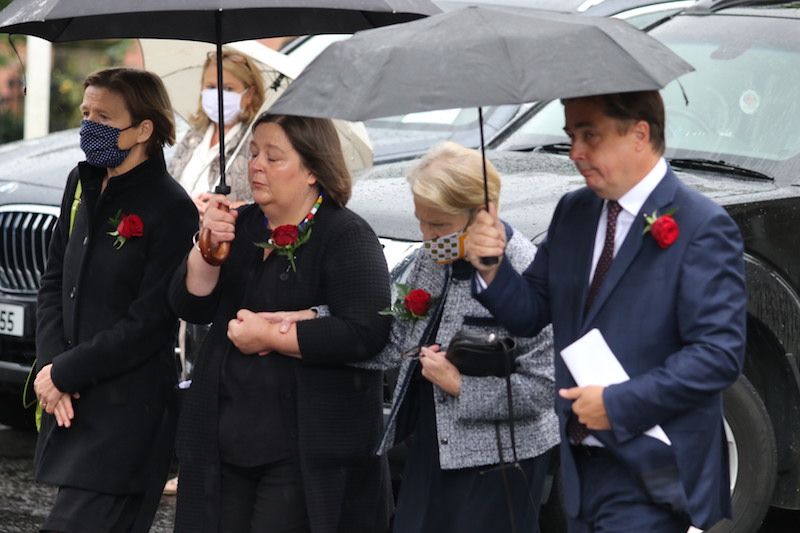 "We are eternally grateful to all those that helped over the years."
He also praised the staff at Owen Mor nursing home in Derry who made his life so comfortable in the final years of his life.
"The deep attention and love shown to dad and to the many friends he made among carers, residents and their families, will remain a lesson to us for the rest of our lives."
"During the long weeks of lockdown when we as a family were unable to be with him, we knew that, despite the major difficulties of infection management & bereavement, the Care and Nursing staff in Unit One were doing their absolute best, to care deeply for him, and for all his fellow residents."
"We know that he continued to sing songs every day, to teach them all a wee bit of French, to tell his jokes, to demand more buns, and to question everyone daily about where they came from, their origins and their families."
He remained deeply interested in every individual, even if he remembered little of it, until the end of his days."
Fr Paul Farren said Mr Hume was "a man who gave his life for his country" and who saved the lives of others.
"Make no mistake about it – there are people alive today who would not be alive had it not been for John's vision and his work. It could be any one of us," he added.
He gave "thanks to God for the gift of life itself that so many people have today simply because of John's vision of peace, commitment to peace and to making peace a reality".
Fr Farren also paid tribute to Mr Hume as "a proud Derry man first and foremost", whose "aim was to bring life and prosperity to this city – to lift people out of poverty and he did everything possible to make that a reality."
John and Pat Hume, he said, "have secured their place in the history of Ireland, John being Ireland's Greatest".
He said: "Today we pray that John has secured his place not in Ireland, not in Europe but in paradise."
In his homily, Fr Farren described Mr Hume as a man who "never passed by on the other side. John never kept a distance. He stopped. He showed compassion. He got involved. He gave dignity and he gave life to so many people.
"In a time in our world when often small mindedness and self-focus seems to be the driver John never put anybody or any specific group first. He put everybody first. He didn't focus on difference and division.
"He focused on unity and peace and giving that dignity to every person. We should never underestimate how difficult it was for John to cross the road and do what was intensely unpopular for the greater good," he said.
Fr Farren spoke of Mr Hume's compassion, recalling the tears shed by him at the funerals of those killed in the Greysteel massacre in Co Derry in 1993, and the renewed determination it had given him to secure peace in the North.
"It was compassion – a compassion that visibly bubbled over in the cemetery in Greysteel that drove John on the final and often lonely and always difficult road to peace.
"Even in the darkest moments, when people would have been forgiven for having no hope, John made peace visible for others.
"His vision revealed what could be and with time and determination and single-mindedness and yes, with absolute stubbornness, he convinced others that peace could be a reality.
"John never lost faith in peace and he never lost faith in his ability to convince others that peace was the only way.
"If ever you want to see a man who gave his life for his country, and his health, that man is John Hume, " he said.
John was led from St Eugene's Cathedral to his final resting place to the haunting sound of Phil Coulter's 'The Town I Loved So Well."
All pictures by kind permission of Northwest Newspix.
Tags: