The public has been asked to give a number of whales plenty of space after they were stranded on a Donegal beach overnight.
The group of Northern Bottlenose Whales came ashore at Rossnowlagh this morning.
A spokesperson for the Irish Whale and Dolphin Group said there is very little can be done to help the dying animals.
Trained staff from the IWDG and the National Parks and Wildlife Service are on site.
"Please give them space and respect to die without too much stress," said a spokesperson for the IWDG.
The deep-diving offshore species of whales are the largest member of the beaked whale family.
Updated: The tide is now coming in on the live stranded Northern Bottlenose Whales. Some are stranded and some are still in water.
All are alive but stressed with high breathing rates. The IWDG is providing some first aid on the beach. The euthanasia of whales of this size very difficult without Immobolin, which is not available in the Republic. Shooting requires highly trained personnel.
The NPWS and Donegal County Council on their way to assess situation too. Images by Nicola Coyle/IWDG who is on the beach.
Dr Simon Berrow of the Irish Whale and Dolphin Group said this is a very unusual event.
"We know very little about them but they are prone to mass strandings.
"This is the largest mass stranding of this species ever in Ireland. To be honest, there is very little we can do about it because the average whale weighs about three tonnes so they are not really good candidates for refloating," he said.
However, there was some good news late last night when one of the whales managed to refloat itself and swam out with the incoming tide.
"We are cautiously optimistic it will make it out but IWDG will standby and check to see if it restrands," said a spokesperson.
All pictures by Thomas and Louise Coleman and IWDG.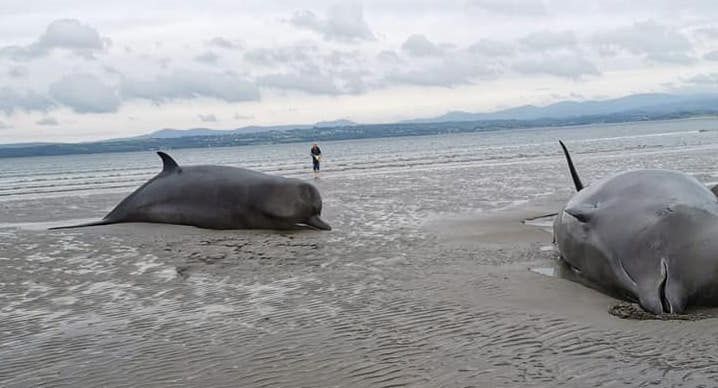 Tags: