EXCLUSIVE: THE Donegal Junior League's Premier Division title race has been thrown into disarray after Kilmacrennan Celtic, the leaders, were docked three points last night.
Kilmacrennan were seen as the champions elect ahead of a showdown with Drumkeen United on Sunday.
A win over Drumkeen at the Curragh Sports Complex would have seen Kilmacrennan crowned as champions, but that scenario is now under a real cloud.
Donegal Daily/Donegal Sport Hub understands that a meeting of the Donegal League's disciplinary committee last night stripped three points from Kilmacrennan Celtic from their 3-2 win over Cranford FC on August 9.
It is believed that a protest was lodged alleging that Kilmacrennan played a player who should have been serving a suspension, following a red card in a game the previous Sunday in a 1-1 draw with Kildrum Tigers.
However, the disciplinary committee have awarded Cranford FC a 3-0 win.
Kilmacrennan Celtic, who are are understood not to have been present at last night's disciplinary hearing, are believed to be angry at the decision.
Sources within the Lurgysider club have suggested that the green light was given to play the player in question against Cranford FC.
Kilmacrennan Celtic have the right to appeal the decision to the Ulster Football Association and are said to be exploring that option.
The Donegal League have declined to comment on the matter.
Were last night's decision to stand, it would catapult Kildrum Tigers and Cappry Rovers firmly back into the title race.
Below is the Premier Division table BEFORE last night's decision.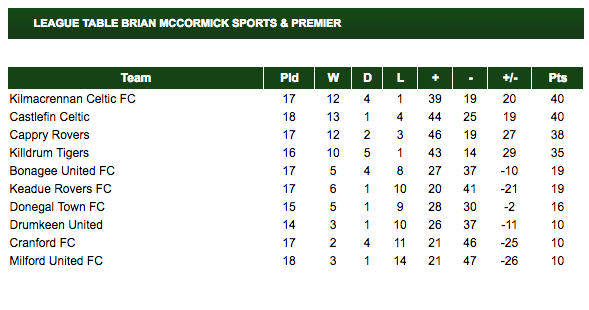 Tags: