NAOMH CONAILL rocked their way to the top of the standings last week to conclude the first round of fixtures in the Donegal SFC.
Manager Martin Regan, though, did admit that his team have yet to play any of the other seven quarter-finalists and expects things to kick up a notch from now on.
Instead of the conventional four groups of four, which was in operation since 2013, this year all the 16 sides in senior bracket were put in one large group, with the only guarantee being two home fixtures and two away each.
For example, Termon had to travel to both Kilcar and Naomh Conaill, as well as welcoming Bundoran, who finished as the fifth best team in the standings. The Burn Road side came 16th of the 16 teams – but the draw wasn't kind to Francie Friel's team.
So, for no reason in particular, let's use each club's final position as an indicator and give them points per position but with the top receiving the most, so Naomh Conaill 16 points, Gaoth Dobhair 15 … Termon one.
We can accumulate their opponents to date to see the standard of opposition they played – please note this is completely derived out of curiosity!
| | | | | | |
| --- | --- | --- | --- | --- | --- |
| Team | Actual position | Points (reverse of position) | Opponents (points) | Total points | Difficulty |
| Termon | 16 | 1 | Kilcar (14) + Bundoran (12) + Naomh Conaill (16) + St Naul's (8) | 50 | 1 |
| Ardara | 15 | 2 | MacCumhaill's (10) + Naomh Conaill (16) + St Michael's (11) + Bundoran (12) | 49 | 2 |
| Glenswilly | 11 | 6 | St Michael's (11) + Four Masters (7) + Kilcar (14) + Naomh Conaill (16) | 48 | 3 |
| Milford | 13 | 4 | Naomh Conaill (16)  + St Michael's (11) + Bundoran (12) + Four Masters (7) | 46 | 4 |
| St Eunan's | 4 | 13 | Bundoran (12) + Kilcar (14) + Killybegs (5) + St Michael's (11) | 42 | 5 |
| Killybegs | 12 | 5 | Glenfin (9) + Goath Dobhair (15) + St Eunan's (13) + Dunlgoe (3) | 40 | 6 |
| Glenfin | 8 | 9 | Killybegs (5) + St Naul's (8) + MacCumhaill's (10) + Kilcar (14) | 37 | 7 |
| Gaoth Dobhair | 2 | 15 | Four Masters (7) + Killybegs (5) + St Naul's (8) + MacCumhaill's (10) | 30 | 8 |
| Dungloe | 14 | 3 | St Naul's (8) + MacCumhaill's (10) + Four Masters (7) + Killybegs (5) | 30 | 9 |
| Kilcar | 3 | 14 | Termon (1) + St Eunan's (13) + Glenswilly (6) + Glenfin (9) | 29 | 10 |
| MacCumhaill's | 7 | 10 | Ardara (2) + Dungloe (3) + Glenfin (9) + Gaoth Dobhair (15) | 29 | 11 |
| St Naul's | 9 | 8 | Dungloe (3) + Glenfin (9) + Gaoth Dobhair (15) + Termon (1) | 28 | 12 |
| Four Masters | 10 | 7 | Gaoth Dobhair (15) + Glenswilly (6) + Dungloe (3) + Milford (4) | 27 | 13 |
| St Michael's | 6 | 11 | Glenswilly (6) + Milford (4) + Ardara (2) + St Eunan's (13) | 25 | 14 |
| Bundoran | 5 | 12 | St Eunan's (13) + Termon (1) + Milford (4) + Ardara (2) | 20 | 15 |
| Naomh Conaill | 1 | 16 | Milford (4) + Ardara (2) + Termon (1) + Glenswilly (6) | 13 | 16 |
Here's the actual table: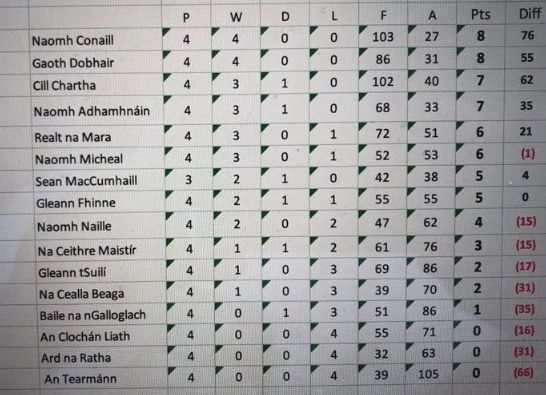 Tags: