A beautifully-restored cocktail cabinet is up for grabs in a special raffle in support of Letterkenny University Hospital.
The 1958 vintage piece was a labour of love for Buncrana woman Mary Doherty, who has put many hours of work into bringing it back to its former glory.
Now that it is complete, Mary has donated the cabinet for a draw. If a profit is made, she plans to donate the proceeds to the Renal Dialysis Unit in Letterkenny University Hospital.
Mary originally bought the Beautility 'Kingston' Cocktail Cabinet as a personal upcycling project. She was going to paint it but decided at last minute to strip it back and sand it to see what lay beneath the layers of varnish.
It was well worth the extra work, Mary said, when she uncovered a beautiful wood grain.
With a touch of navy suede fabric, painted gold hardware and a G&T logo, the cabinet was completely transformed. Mary also got a light built into the cocktail drawer for an extra touch of glamour.
"This little piece took many many early mornings before the kids got up. And late evenings after I got home from work and got everyone sorted. But worth every minute," Mary said.
Mary, who is originally from Longford, was going to keep the cabinet for her own home until she fell for another similar piece elsewhere, and decided the one-of-a-kind restored cabinet should go to a good home.
Mary's raffle is taking place through Facebook, where people can enter for free by liking and sharing her post (click here to see the post). Alternatively, people can buy an entry by donating €10 to the fund (details here) and proceeds will be donated to the hospital.
"After I cover my expenses I plan on giving 50% to the dialysis unit in Letterkenny. If by some miracle I raise more then, of course, that percentage will go up," she said.
And the drinks, glasses and mixers pictured below are being thrown in for good measure!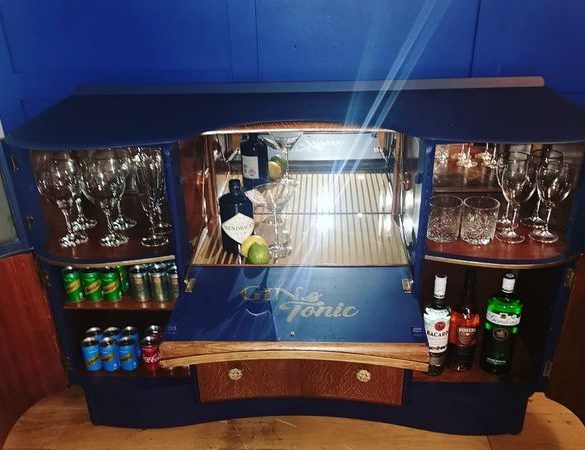 See all the details on Mary's Facebook here: https://www.facebook.com/mary.doherty.777/posts/10157561972167844
https://www.facebook.com/mary.doherty.777/posts/10157561972167844?__cft__[0]=AZUVUDa38qkutIFpfqbYgjawD6jQyoVpK6Sg-nyV84eyEsmKhG0Ol_KVKzUTfUSqesicS1duDvlZNP3spouUvcQu4WHqWVLNmiE_Vf78v_Mi0UvQ4fViaGP9iXDXNhjlXEQ&__tn__=%2CO%2CP-R