Mark Tighe has been in the news all week with his much anticipated book 'Champagne Football – John Delaney and the Betrayal of Irish Football: The Inside Story ' hitting the shelves yesterday – but he hasn't forgotten his Convoy Arsenal days.
Tighe was educated at St. Bridget's in Convoy, Raphoe Royal and Prior, whilst his family home is in Donegal town, and has been the legal correspondent of The Sunday Times in Ireland since graduating the NUI Galway MA in Journalism in 2006.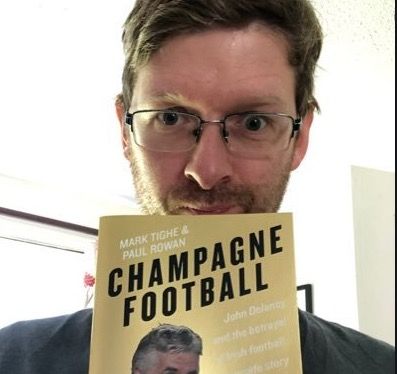 He is the co-author of Champagne Football, which was released yesterday, along with colleague Paul Rowan. The duo have broken a series of stories over the last 18 months over mismanagement in the Football Association of Ireland by their now former CEO John Delaney.
The book is described by Eason's: "Over the course of fifteen years, John Delaney ran the Football Association of Ireland as his own personal fiefdom. He had his critics, but his power was never seriously challenged until last year, when Mark Tighe and Paul Rowan published a sequence of stories in the Sunday Times containing damaging revelations about his personal compensation and the parlous financial situation of the FAI. Delaney's reputation as a great financial manager was left in tatters. He resigned under pressure, and the FAI was left hoping for a massive bail-out from the Irish taxpayer.
"In Champagne Football, Tighe and Rowan dig deep into the story of Delaney's career and of the FAI's slide into ruin. They show how he surrounded himself with people whose personal loyalty he could count on, and a board that failed to notice that the association's finances were shot. They detail Delaney's skilful cultivation of opinion-formers outside the FAI. And they document the culture of excess that Delaney presided over and benefited from, to the detriment of the organization he led."
However, Tighe didn't forget his own footballing days at home, when replying to a tweet from former Convoy Arsenal teammate Allan McDevitt.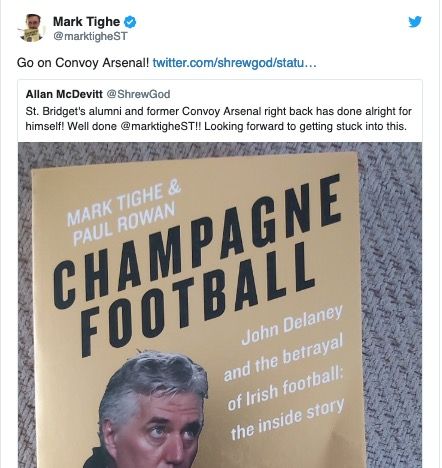 Tags: