ONE generous Letterkenny bar and restaurant has donated all its perishables to local charities after having to close its doors again.
With Donegal entering three weeks of Level 3 Covid-19 restrictions at midnight on Friday, indoor dining is banned until October 16 at least.
Many establishments were just returning to some semblance of normality after having closed during the Covid-19 lockdown and have now had to shut their doors again.
Donaghy's bar and restaurant at the Cill An Óir Complex at Killylastin in Letterkenny decided to put their leftover stock to charitable use.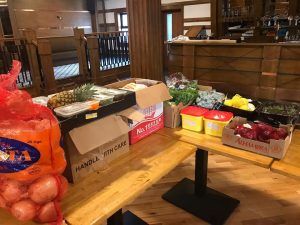 "Although we can't cook for you, we can still help feed the community," they said.
"We've provided all of our perishables to local charities, we hope it benefits those who need it the most in these strange times.
"Thank you to everyone for their suggestions and we appreciate all of your kind words."
On Thursday night, Donaghy's asked for suggestions as to where they could donate and were flooded with messages about needy local charities, who will now benefit greatly from their act of kindness.
It was a strange few days, Donaghy's said, with a full house on Friday and an empty building just 24 hours later.
They said: "Stay safe everyone, we'll be back open really soon!"
Tags: