Spraoi agus Spórt in Carndonagh has appealed to the public to support their new €2K fundraising draw, launched this week.
The draw aims to help mitigate the impact of a second lockdown and enable the multi-award winning social enterprise to continue providing its vital services for children and families throughout Inishowen during the coronavirus pandemic.
10 x €200 vouchers are up for grabs in the new Spraoi agus Spórt fundraising draw. Entry fee for all 10 draws is €20, which is only €2 per draw. Winners will be able to choose from a range of vouchers available for Smyths Toys, local supermarkets, oil companies or the cash equivalent.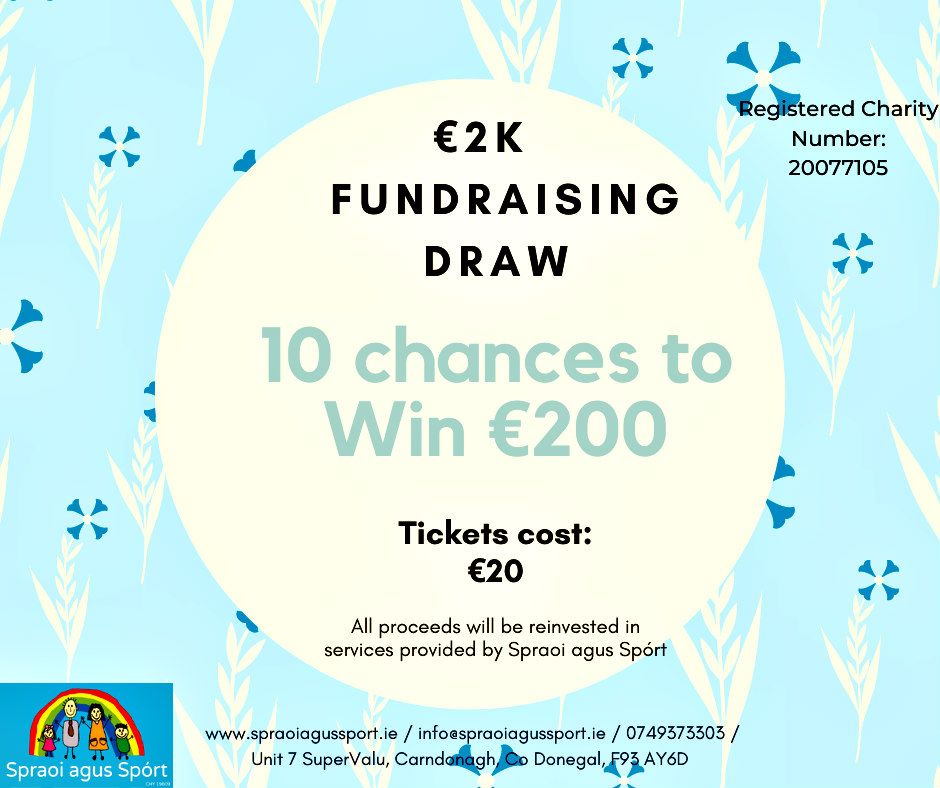 During this year's first Covid-19 lockdown, Spraoi agus Spórt delivered wide-ranging supports to the local community – including 898 calls taken through their Project Cineál grocery & prescriptions delivery service for older people, over 200 parcels delivered through the Inishowen Food Bank, 2,500 hours of alternative respite for families of children and teenagers with a disability and/or autism and the production of over 1,000 visors for frontline workers.
Urging the public to support the new draw, Spraoi agus Spórt Manager Eimear McLaughlin said: "Due to Covid-19 restrictions we have had to cancel our annual fundraisers including the Couch to 5K, the Golf Classic, coffee morning and bag packs.
"Our only fundraising was through our charity shop Fadó but as of the 15th October and Level 4 restrictions, we had to close its doors to the public and will now be operating as a 'click and collect' function.
"We have had to come up with new ideas, like the €2K fundraising draw to ensure we will continue to offer our range of services. We are asking the people who would normally contribute to our annual fundraisers to now support our draw. We are more reliant on the goodwill of the Inishowen public now than in the last 10 years of providing services locally.
"However, I also want to reassure people that we are doing everything in our power to continue to offer vital services to meet the needs of the community.
"As an example of this, we are currently preparing to run new online activities for children during the Halloween break. This follows on from our hugely successful Zoom activities throughout the summer aimed at educating & entertaining children and teenagers in a creative way – which has also helped parents in terms of respite and their child's mental health and wellbeing.
"Indeed, since we first went 'live' with our Zoom meetings on 20 April, we've had a great response and really wonderful feedback from parents – many of whom have sent us messages saying how much they value the new resource.
"Importantly, by entering our new €2K fundraising draw, you'll not only be in with 10 chances of winning a €200 voucher of your choice, but you'll also be supporting Spraoi agus Spórt in helping us navigate our way through the coronavirus pandemic and continue to deliver our wide-ranging services to the local community.
"I would also like to take this opportunity to thank the people and businesses throughout Inishowen who have already supported Spraoi agus Spórt during this difficult and uncertain time.
"If you'd like to enter our new €2K fundraising draw you can do so online by visiting https://spraoi-agus-sport.myshopify.com/products/2-000-euro-draw, our website www.spraoiagussport.ie or our Facebook page.
"Alternatively, you can also find out more about our new draw or donate to Spraoi agus Spórt in the more 'traditional way' by contacting us on 074 937 3303 or emailing support@spraoiagussport.ie "
Tags: